Live HTC Flyer Review: Video on the Go
With front- and rear-mounted cameras, the HTC Flyer begs to be used for capturing and sharing video. As luck would have it, that's exactly what I was tasked to do for work this past week. I was glad to have the Flyer in hand to do it, and I've got the YouTube videos to prove it.
[Click here for Part 1 of my live review "First Impact", here for Part 2 "Inking Experience", and here for my ongoing ink note-taking in Evernote.]
To recap, my work for SNM, The Society of Nuclear Medicine, took me to San Antonio this year for our Annual Meeting, pitching in for press and PR support. Part of that was recording and producing video of the event. When HTC offered a Flyer to evaluate during the same time period, I jumped at the chance to put it to the test at the meeting.
I should also point out that our budget for this aspect of the meeting was zero. Our equipment consisted of an old Flip cam and whatever we provided ourselves. We all had iPhone 4s, so we were covered for cameras. However, since the Flyer arrived in time for me to take with me, I chose to put its 720p HD video and 5MP still camera to the test. How did it fare? The proof is in the YouTube.
Both clips were composed entirely of photos and video taken from the Flyer. The editing and production was done in Windows Live Movie Maker with royalty-free music downloaded from Amazon. There are three other videos from the event (two still pending approval), but they include content captured on iPhones. All content in these two are 100% pure HTC Flyer captured.
Obviously, the quality is not equal to a professional-level camera (or photographer and editor), but compared to a smartphone or point and shoot, the Flyer has some advantages. The 7″ screen was helpful in framing shots. I would do a pass over an area to see how it would look in motion before recording. The larger screen better conveys how the shot would appear when viewed on a full monitor. Despite its heft, the size made it easier to hold more firmly with both hands and steady the shot. I don't have the steadiest hands, so this was an important factor for me.
On the downside, the screen gloss and lack of camera flash were problematic in opposing areas. The camera performed well in sunlight, but the screen was impossible to see at some angles. On the flip side, the screen was crisp in low light, but video focus was sketchy. Most shots in low light were too blurry to use. The audio was good for a phone-style camera, but with the microphone geared to record from the front, it captured my voice at a louder volume than that of the target. Great for narration, but not interviews.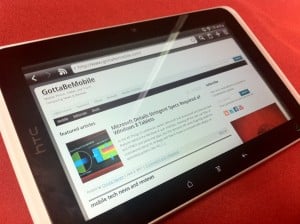 While there's no dedicated camera button, accessing the camera was quite easy. The lock screen includes a shortcut to launch the camera app with one move, as well as for mail, Internet, and calendar. The camera app offers the usual toggling between still/video and front/rear cameras, and access to the camera roll. Another button offers artistic effects, such as color filters and distortion, and it is capable of digital zoom.
Again, the Flyer's not professional level in the camera department and it suffers some flaws, but it is more than adequate to use in place of a point and shoot. In general though, I think tablets in the 7″ range are in a good spot to provide better video recording. They offer enough space for a larger lens and flash than a smartphone, but are not so big as to be unwieldly. This could be a good niche for future models. Regardless, the Flyer delivered what I needed, and I'm quite pleased by that.

As an Amazon Associate I earn from qualifying purchases.