Livescribe 3 Smart Pen Review
The Livescribe smart pen allows users to combine the analog with digital to more effectively capture handwritten notes and drawings, something that could be difficult on a smartphone. We've seen various attempts in the past from different companies to allow a similar paradigm, including Evernote, which allows users to 'scan' in their Moleskin journals using a smartphone camera, capacitive touch stylus devices, and a more precise active digitizer like the S Pen on Samsung's Galaxy Note series. Still, Livescribe offers enough flexibility while still being able to retain the natural pen to paper feeling for those who prefer to jot on paper, rather than skid a stylus across a slippery glass screen of a phone or tablet. So how does the Libescribe pen work, and is it worth the $150 minimum investment?
For students and business users who attend meetings, lectures, and seminars regularly, the Livescribe is a simple companion to an iPhone. At this time, the pen comes with three parts–the pen, a special notebook, and also a companion iOS-only app that will work with iPhone, iPod touch, and iPad.
The pen itself feels hollow, but is nicely weighted to offer a good experience without being too heavy. Like previous Livescribe pens, the Livescribe 3 packs in a lot of technology, but Livescribe has simplified this third iteration so that many of its functions require a phone.
Relying on Bluetooth 4.0 Smart, or Bluetooth Low Energy, the Livescribe 3 now pairs with an iPhone rather than requiring users to connect the pen to a laptop or synchronizing over a WiFi connection. It's a more portable and easier to use solution as it doesn't require you to have to connect to WiFi and enter complicated WiFi passwords for protected networks.
In use, the Bluetooth synchronization is quick and happens in real time with minimal delays. Although there is a little delay, essentially whatever you write using the Livescribe 3 and the specialty Livescribe notebooks will appear on your iOS Livescribe+ app within seconds.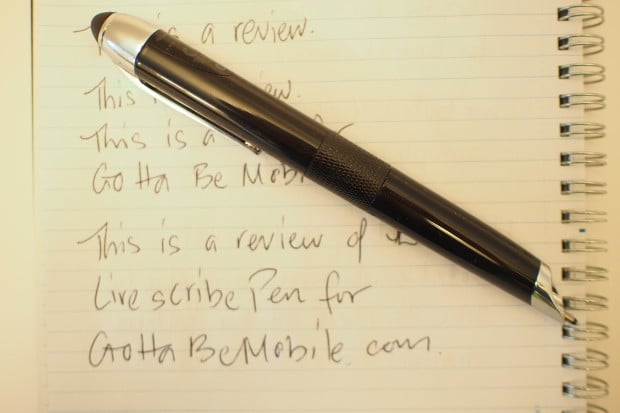 To turn on the pen and pair, just twist the barrel where at the center. This will not only turn on the pen, but also extend the ballpoint writing nib so it sets you ready to capture notes. On the first cover page of each notebook, you can tap on the pairing box with your ballpoint and it will begin the pairing process. Just launch the iOS Livescribe+ app and you're good to go.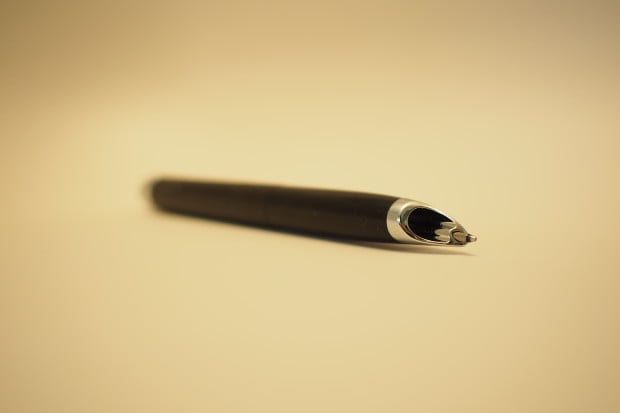 As to taking notes, the process is really as easy as writing in a regular notebook. Just write and you're good to go. A camera that's mounted on the pen right behind the ballpoint tip scans the dots on each page and picks up your handwritten this way, sort of like reading topography on a map, and then synchronizes in real-time with the app. There is nothing complicated and other than pairing, there isn't any setup required to begin capturing handwritten notes.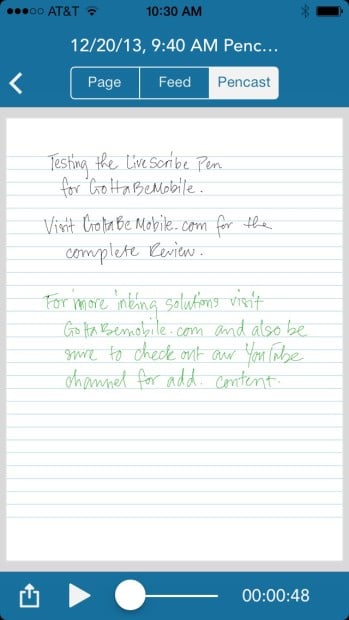 With the Livescribe+ app, there are a number of things that you can do besides just storing handwritten notes and drawings. For one, on each page of the notebook, there are buttons to record audio and either pause or stop recording. To activate audio recording, which will then be captured and synchronized with the handwritten text, you just use your ballpoint pen and press the button, and the audio will be captured and synchronized.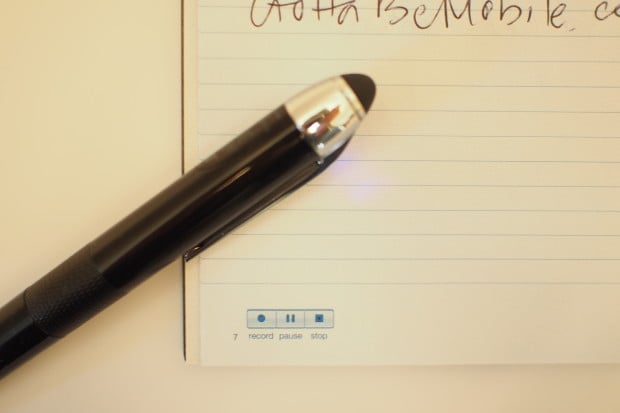 This feature is great for students who attend lectures as it allows the audio and the notes to be synchronized so you can replay this later. Be sure, though, to have your iPhone out on your desk when you're doing this. The first time you try to record, the app will ask you to authorize the use of the microphone, so you'll have to accept this and approve it on the iPhone.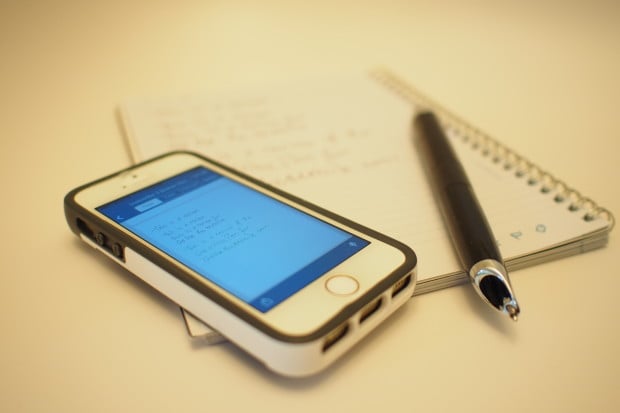 Additionally, as the pen offloads the audio recording to the iPhone or iPad, you'll also need these devices out to capture the recording–having the phone in a bag or pocket could muffle the microphone and prevent a clean audio recording. In the past, audio recording was done and stored on the pen, but with Livescribe 3, this feature is now taken over by your iOS device. Not only does this keep the pen costs down, but it also allows for more storage so you won't have to worry about your pen running out of space.
Additionally, with your notes you can add tags and flags to make them more easily searchable. Tags are similar to dogearing a book.
Moreover, to easily search your handwritten notes, you can also go into the Feeds section of your notebook and swipe from left to right to convert handwriting into text. This works pretty well with a high degree of accuracy, despite my bad handwriting, and is a useful feature to have so you don't have to re-type the note. Swiping again from left to right will display the handwritten text, which is useful to check to see if the transcription is accurate.
In general, the pen's features work well. In use, sometimes the pen doesn't automatically pair when you launch the app, and it may require a re-pair. It's not a complicated set-up, but it's not as instant as I'd hope. Still, even without maintaining a paired connection, you can still capture notes and store it with the pen–the next time you re-establish the Bluetooth connection it will automatically connect and sync to your iPhone or iPad so nothing is lost even if you use your pen without a connection.
Battery life is quite good. If you use the pen heavily, you will likely need to recharge every night. Livescribe says the rechargeable battery is good for 14 hours of use, and I generally got about 2 full days of use taking notes before I had to recharge. REcharging is simple. At the top of the pen is a capacitive touch nub that you can pull off, which exposes a micro USB port so you can recharge the pen that way.
Conclusion
The Livescribe 3 is an excellent tool for those who like to write or keep journals. It's a way to take your handwritten notes with you without having to resort to writing on the screen. With the iPad, you can replicate many of the functionality of the Livescribe 3 pen through the use of a capacitive touch stylus, but the one killer feature you cannot re-create is the feeling of writing with a pen and paper. Ultimately, it's this simple feeling and the ease of use that makes the Livescribe an excellent companion for students and those who need to capture notes at meetings.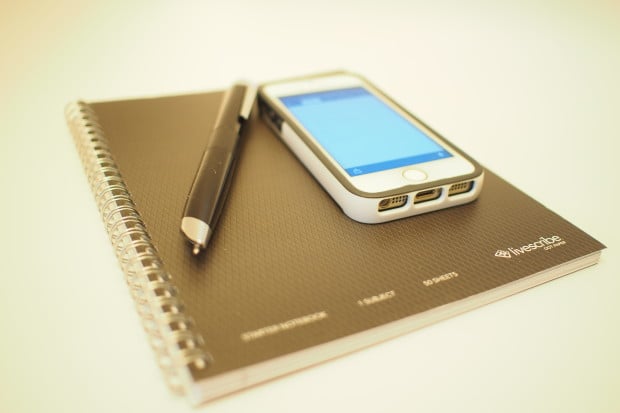 The only downside with the Livescribe 3 compared to previous iterations of the smart pen is that you do need to have an iOS device present for the pen to make audio recordings, which makes this a two-device rather than a built-in all-in-one solution. The pen itself becomes an accessory to the phone, rather than a standalone device. Another downside would be the cost of the paper. As the pen requires this specialized paper, you won't be able to use any regular paper and replacement cost could become expensive, depending on how much you write.
That said, the Livescribe 3 is one of the most accurate solutions on the market today. There are competing products that have a clip-on Bluetooth piece that will work on any paper, but these products do not offer as reliable nor as accurate a solution. For the student, the mathematician or scientist who need to jot down complex formulas, or the executive who needs audio and handwritten notes, the Livescribe is a valuable tool to carry along that's accurate and easy to use, just as long as you also own an iOS device.