LiveScribe Pen: Paper Based Computing
With all of the hullabaloo focusing on announcements from Microsoft, Palm, and the Steve Jobs/Bill Gates combined appearance at D: All Things Digital conference there is another announcement forthcoming that should be of some interest to those who enjoy pen based computing. Livescribe is about to unveil their Digital Pen. And they are calling this pen based computing. Instead the mantra is Paper Based Computing.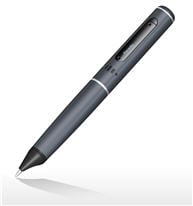 We seen digital pens before that can capture notes and transfer them to a computer, but check this out. According to this CNET report the pen has a camera and speakers. You can record as you take notes. If you draw a calculator on paper and make it work by tapping the keys with the pen. You can draw a piano keyboard on paper and play music.
Jim Marggraff, who is behind this, has been working with LeapFrog for quite some time. The technology is slated for a fourth quarter 2007 release. More info in this article from Crave.
(UPDATE: I swapped the earlier picture of a prototype out with this one that is an artists's rendering of the pen. Given that this is aimed for a Q4 2007 release things could still change.)

As an Amazon Associate I earn from qualifying purchases.