LiveScribe Sky Wifi Smartpen Adds Wi-Fi and Evernote
The new LiveScribe Sky wifi smartpen takes a great idea and makes it even better now that it includes Wi-Fi and uses Evernote for note and audio storage.
The original LiveScribe smartpen recorded both audio and a digital version of a writer's notes. The pen links the two together so a user can tap a spot in their written notes and the pen plays the audio associated with that spot. Users offload the notes via USB to a computer and store them for later user.
With the upgrade to the Sky wifi smartpen, the user no longer connects their pen via USB, except for charging purposes. Now the notes and linked audio offload via Wi-Fi to Evernote. That's a better option. Our review of the original LiveScribe smartpen found the software acceptable, but it's not as good as Evernote. Pen buyers get an extra 500MB of additional upload capacity in their Evernote account. Get the 8GB pen they throw in a premium subscription to Evernote for a year which raises the data transfer limit and adds priority OCR for scans.
With Evernote included, students can study their class notes using their phone or tablet during the commute to and from school. Business people can get access to meeting notes on the road without hauling out their laptop.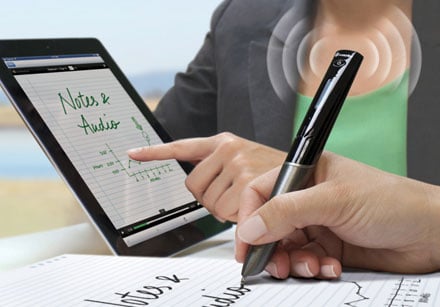 The pen still looks large and might feel heavy for people with tiny hands. Most will still find it useful even if a little big. The pen helped my middle school son become a lot more productive. He used it in his classes and studied from the digital notes and audio. Seeing and hearing the information helped his learning process.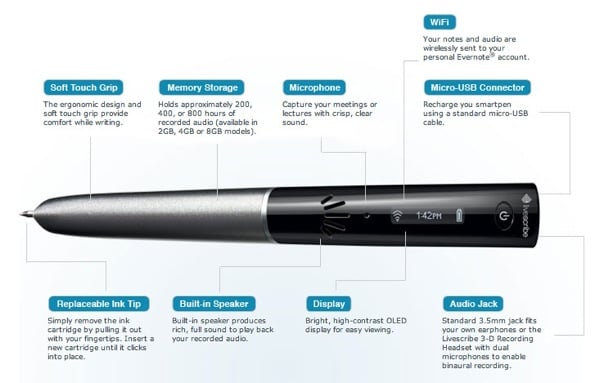 The pen comes in one of three storage sizes with pricing as follows:
2GB – 200 hours – $169.95
4GB – 400 hours – $199.95
8GB – 800 hours – $249.95
The special Dot Paper hampers the LiveScribe system. A few printers will print the paper, but most users will need to buy expensive notebooks or writing pads. They start at $8.95 for a small flip pad. Pay up to $24.95 for one of the executive quality paper tablets or portfolios.
The LiveScribe system works best for people who love writing on real paper. For those who don't care about paper, there's Notability on the iPad. It costs $.99, links digital ink with an audio recording and works with Evernote. The app made its way into our recommended essential college apps.