Logitech introduces new FabricSkin Keyboard Folio iPad Case
iPad and iPad mini users looking for a bit of fashion along with utility now have a new option in keyboard cases, as Logitech is now taking preorders for its FabricSkin Keyboard Folio for iPad and FabricSkin Folio for the iPad mini.
According to Logitech the new high-end case and keyboard combo was designed with those who desire a "perfect balance of the functional and fashionable". In addition to providing the user's iPad with complete protection, its Bluetooth keyboard is woven into the fabric of the rest of the case.
Logitech asks $149.99 for the FabricSkin Keyboard Folio's fashion and function..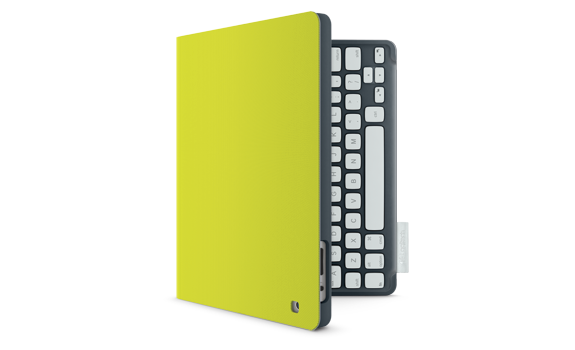 The FrabricSkin Keyboard Folio can also act as stand. Users can prop their iPad inside the case and use it on their lap, desk, or other semi-flat surface, creating an experience that isn't all that dissimilar from a laptop. The FabricSkin is able to do this thanks to magnets that are invisible to the user. These magnets effectively lock the case into the position it's in.
Read: iPad Keyboard Case Buying Guide
Though the outer and inner portions of the case are made of fabric, the keyboard itself is liquid resistant as it uses a repellant coating to ensure that if water does come in contact with the user's FabricSkin Keyboard Folio, there will be no need to panic. Equally impressive is its ability to wake up or go to sleep with the user's iPad itself, ensuring that users get as much battery life from the case and keyboard combo as they possibly can. The FabricSkin Keyboard Folio is rechargeable, according to Logitech users should only ever need to charge it every three months.
Logitech also says that it worked with world-class designers and color experts to decide what colors and the FrabicSkin Folio should ship. These colors include black, blue, yellow, and red.
As the video documentary on the creation of the Fabric Skin Keyboard Folio showcases, Logitech feels that it's gone through a lot of painstaking research to design and manufacture the case, that time and effort has resulted in a build quality above what other cases in its class ships with.
Pairing a tablet with a keyboard has increasingly become the primary way users attempt to bridge the productivity gap between traditional Windows and Mac OS based PCs and tablets. Microsoft's Surface RT and Surface Pro both ship with cases and kick stands designed to simulate a laptop when using the device's touch screen isn't a productive choice.