Logitech Keys to Go Review: Mechanical Keyboard for iPad & iPhone
The Logitech Keys to Go is an excellent way to add productivity to your iPhone or iPad without strapping a keyboard case to your device. As an added bonus, this is a mechanical keyboard for the iPad, iPhone and other devices including the Apple TV.
Logitech mechanical keyboards are well-known in the gaming community, but this is the first portable mechanical keyboard that we've had the opportunity to review for the iPad and iPhone. While it is not going to deliver the same feel as typing on Cherry MX Blues, Browns or Clears — it is a cut above many iPad and iPhone keyboards.
I love that this is not a case, which makes it easy to use with any iOS device I own and it is incredibly slim so it can fit in a bag or the back pocket of my SCOTTeVest when I don't want to carry a bag.  Most often I use this with my iPhone 6 Plus and the [easyazon_link asin="B00HUV8GNU" locale="US" new_window="default" nofollow="default" tag="gbm-ea-20″ add_to_cart="default" cloaking="default" localization="default" popups="default"]Nite Ize QuikStand[/easyazon_link] to work with a very mobile solution.
After using it during CES 2015, while traveling and while catching up on work at a TV tray at my in-law's house regularly it's clear that this is an excellent iPad and iPhone keyboard.
The Logitech Keys to Go keyboard is about 2-inches shorter than the Apple Wireless Keyboard, but the key placement and size is still very good. Logitech cut the size of the edge keys like, shift, enter, tab and fn to keep the size of this accessory down. The letters and numbers are about the same size as on the Apple keyboard or on a MacBook Air. There is also a top row of function keys to quickly perform activities like multitasking, taking a photo, controlling media and checking battery life at the top of the Keys to Go.
Although this is a mechanical keyboard for the iPad and iPhone, there is a FabricSkin covering the keys. This keeps water, dirt and other things that are in your backpack, and in coffee shops, out of the keyboard. If you spill something on it, just wipe it off and it is good as new.
This skin makes it harder to know which key you are on when you start using the keyboard. There are small dimples on F and J to help users find the home row, but finding a key is a little more challenging than on a chiclet style keyboard. After a week most people will adapt to this.
Users will notice a good amount of travel for an iPad keyboard and the keys are fairly springy. Again, this is not going to deliver the same experience as hauling around a WASD or full size Logitech mechanical keyboard, but it is vastly better than using the on-screen keyboard and among the best Bluetooth keyboards we tested in the last year.
The Keys to Go is available in red, blue and black for $69.99. Logitech promises three-month battery life and after almost a month of use the battery indicator still shows plenty of power. It charges with a Micro USB cable when you need more power.
After using the Logitech Keys to Go with the iPhone 6 Plus and the iPad mini it is an essential tool and helps deliver portable productivity that blows typing on the screen out of the water and doesn't add the same bulk or commitment as a traditional iPad keyboard case.
Best iPhone 6 Plus Bluetooth Keyboards
Flyshark Folding iPhone 6 Plus Keyboard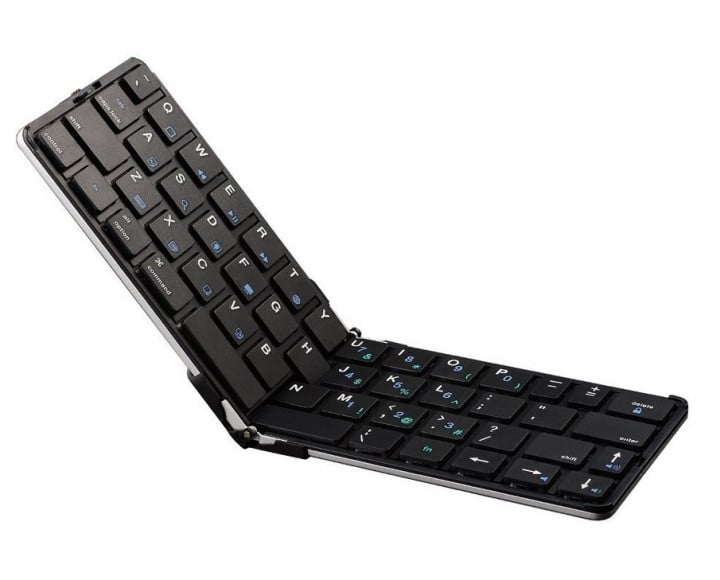 The FlyShark folding keyboard is one of the best options out there for users looking for a slim folding iPhone 6 Plus Bluetooth keyboard. This includes a fold in the middle while still offering a large space bar and keys that most users will need on a daily basis.
For users that need to use numbers and a lot of punctuation, this may not be the best option. There is no number row, which leaves you to press a function key for numbers and a function key for the punctuation that is normally above your number row.
Choose from silver or black and which language you want from English, Spanish, French or German.
$49.99 at Amazon

As an Amazon Associate I earn from qualifying purchases.