Logitech Launches Colorful New iPad Keyboard Folio Cases
Logitech's newly launched line of Keyboard Folio cases are designed to keep an iPad's screen and case looking good, while at the same time providing all the typing conveniences of a traditional laptop computer.
The $99 Logitech Keyboard Folio and Keyboard Folio Mini, announced and available for preorder via Logitech.com, are designed to make using an iPad with a built-in keyboard the easiest it can possibly be. Keyboard Folio for iPad provides a full sized island-style keyboard, that (according to Logitech) gives iPad users the comfort of having a near full-size keyboard wherever they go. The Keyboard Folio for iPad mini also provides the same keyboard design, albeit smaller, so that its users can get in on the action with a case designed for their device size.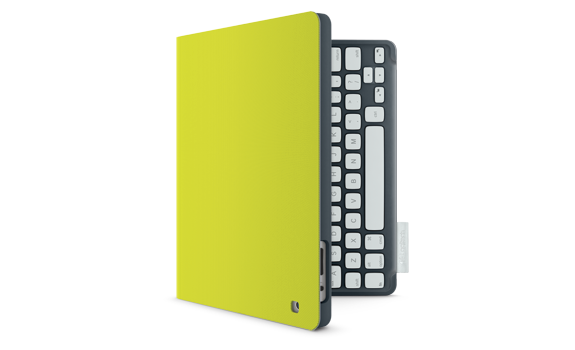 Both of these keyboards are built around using Bluetooth wireless technology to communicate to a user's iPad; there are no cables involved. Logitech claims the Keyboard Folio cases can run for up to three months after being fully charged. They use Micro USB adapters to recharge, just like most non-Apple manufactured smartphones and tablets do.
Each Keyboard Folio covers both the iPad and the built-in keyboard's keys from the elements via a mesh fabric that wraps around the entire device.  The color inclined can choose mesh fabric in black, blue, green or pink. An on/off button that's meant to save as much battery life when the keyboard isn't being used matches the device's accent color.
There are also two positions for iPad owners to make use of: one for those looking to get work done in the traditional mode, and a new 180 degree angle for those looking to enjoy their iPad in a more relaxed setting.
Logitech's Keyboard Folio follows the Ultrathin Keyboard for iPad mini in the company's lineup of iPad keyboard peripherals and matches most of the Ultrathin Keyboard's features, though it goes beyond the Ultrathin' s casing with its bright color scheme.
In the video below, Logitech's Mike Culver offers a short look at the Keyboard Folio and Keyboard Folio mini.
In the iPad Keyboard Case Buying Guide last spring, GottaBeMobile took a long, hard look at what styling and features make for the most useful addition to a user's lineup of essential accessories.
Read More: iPad Keyboard Case Buying Guide
A recent study by Poll Position found that 46 percent of those who were willing to talk to the firm on their beliefs in tablet computing thought that at some point tablets would replace laptops as the primary mobile computing device. That's a question GottaBeMobile's Troy Frommer attempted to tackle during his stint using an iPad with external keyboard exclusively while attending university.