Logitech MX Anywhere 2S Review: Best Bluetooth Mouse
If you want a great mobile mouse, the Logitech MX Anywhere 2S should find a place in your computer bag. The mouse lasts forever on a single charge and feels comfortable with plenty of features.
People use laptops less and less. However, plenty of us still drag around a computer bag with a laptop and some accessories. Since I hate almost every touchpad or trackpad I've used, I always carry a mobile Bluetooth mouse. For the last 7 months, I carried the Logitech MX Anywhere Bluetooth mouse. Recently Logitech updated the pointing device with the Logitech MX Anywhere 2S for $79.99. It comes in three colors including Graphite, the one they sent me for review, Midnight Teal and Light Grey.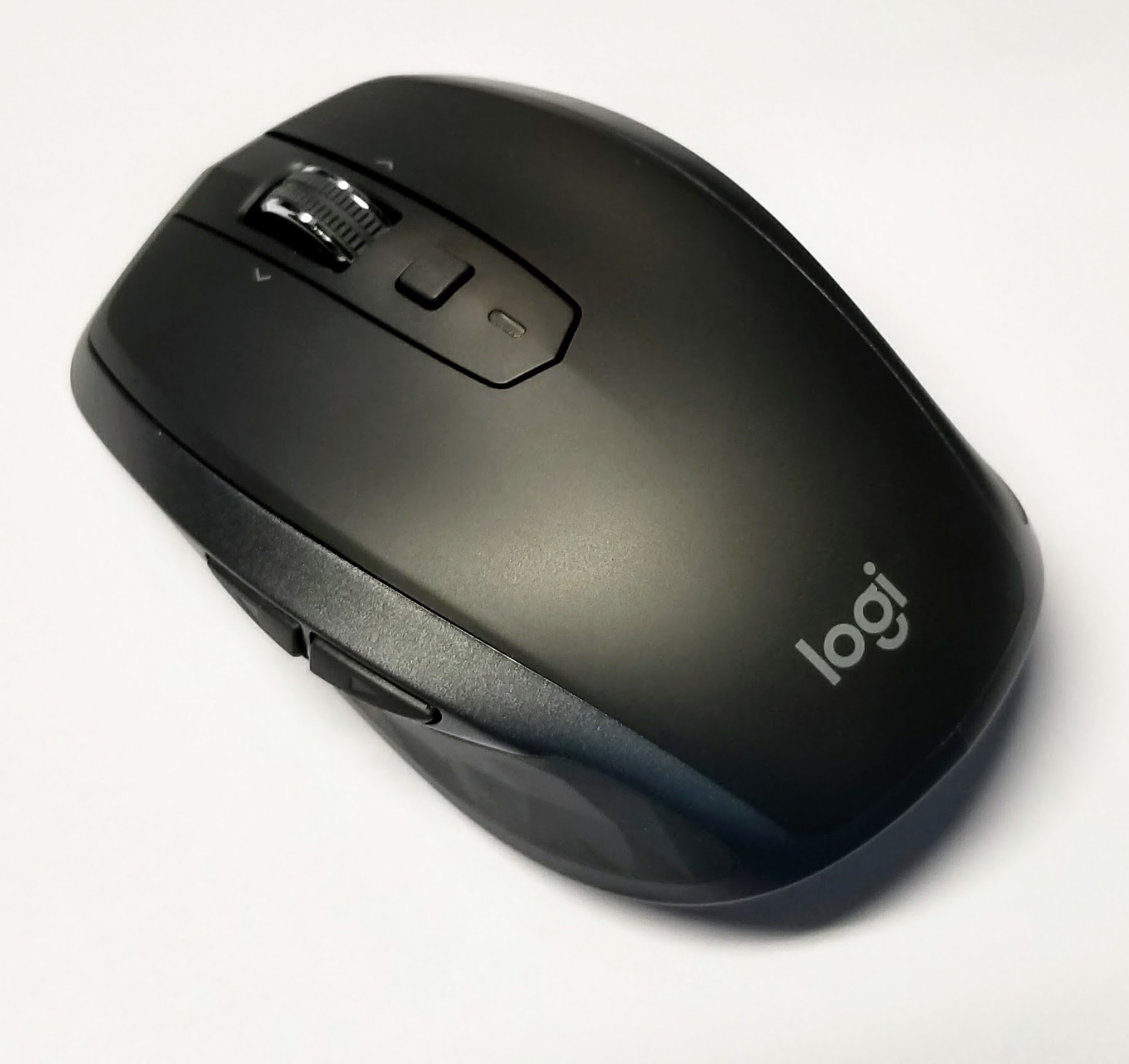 Logitech MX Anywhere 2S – Design
Anyone with large hands might find most mobile mice uncomfortable. That's not the case with the Logitech MX Anywhere 2S. It's large enough for big fisted users, but not so big that people with normal hands will feel it's too large.
The mouse has the typical left and right-click buttons. On top, there's a scroll wheel and a third button. By default the scroll wheel is set for smooth scrolling that's great for quickly moving up or down long web pages. Click the button to enter precision mode with a clickable scroll wheel. That's more useful for smaller scrolling.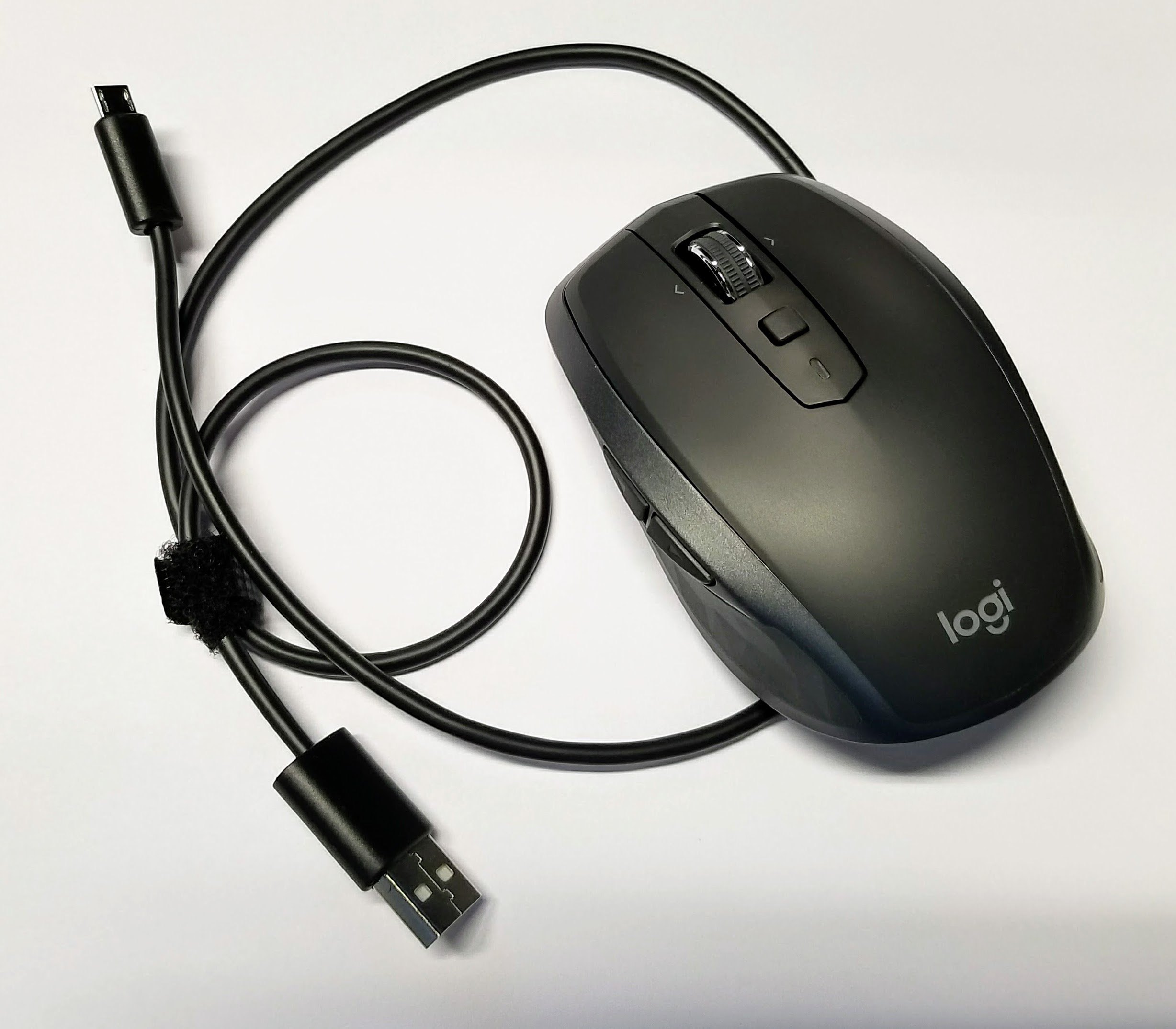 The LED indicator on top tells the user how much battery life is left when they turn on the mouse. It stays green when there's plenty of battery life. It shows red when it's too low. The mouse comes with a high-quality micro-USB to USB cable. Plug it into the port on the front edge to charge it up. The port's a little too snug and it's hard to plug in or unplug. And that's the only weakness I could find.
The left edge, where a right-handed person would place their thumb, includes a comfortable rest with some grip on it. It's comfortable to hold for long computer sessions.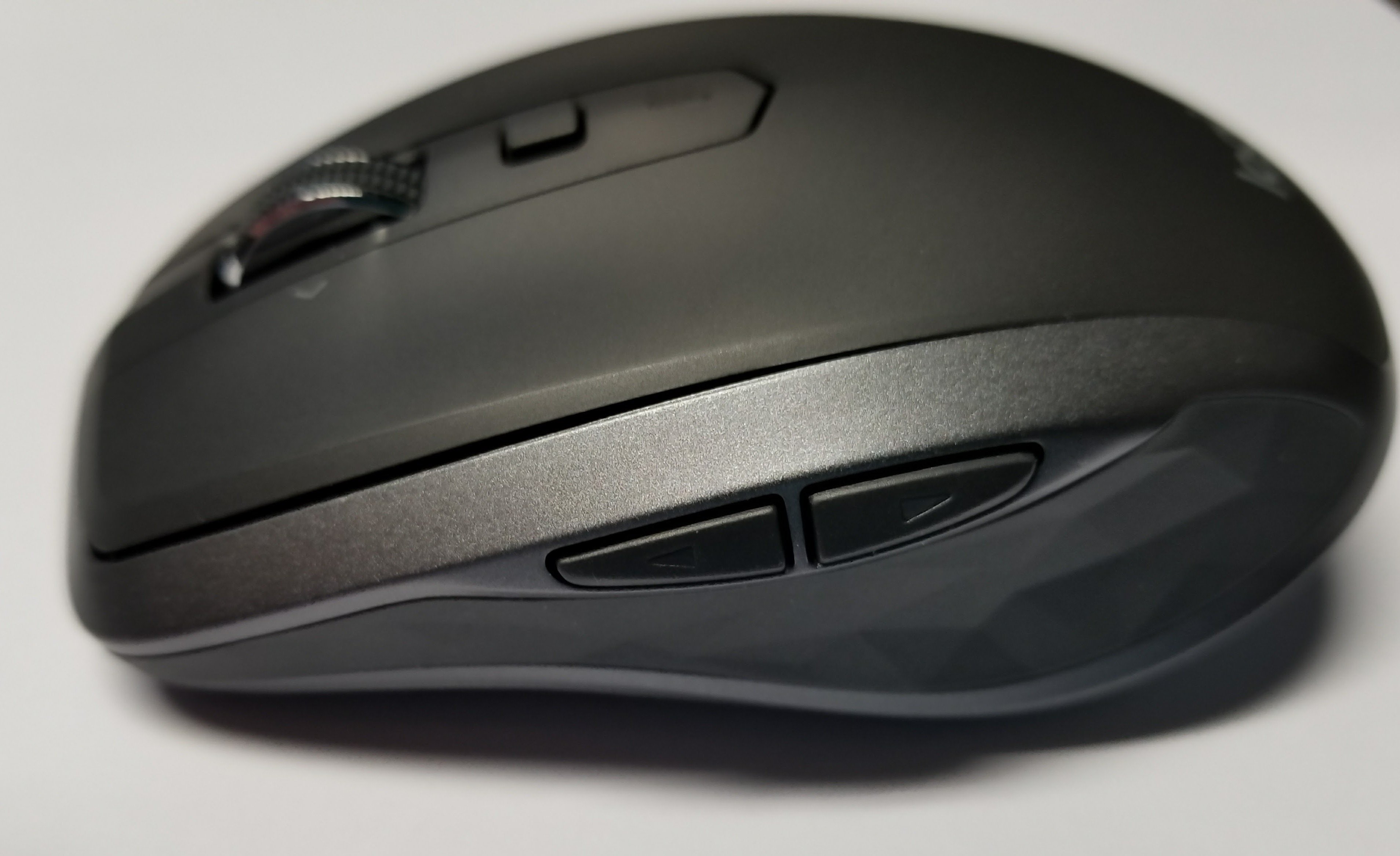 Two buttons adorn the left side as well. By default they go back and forward in a web browser or in Windows Explorer and macOS Finder.
The bottom brings the real excitement. That sounds strange, but turn over the mouse and you'll see the On/Off switch. This saves battery life while you're storing the mouse in the bag. Otherwise, you can drain it quickly if one of the buttons gets pressed continuously in the bag.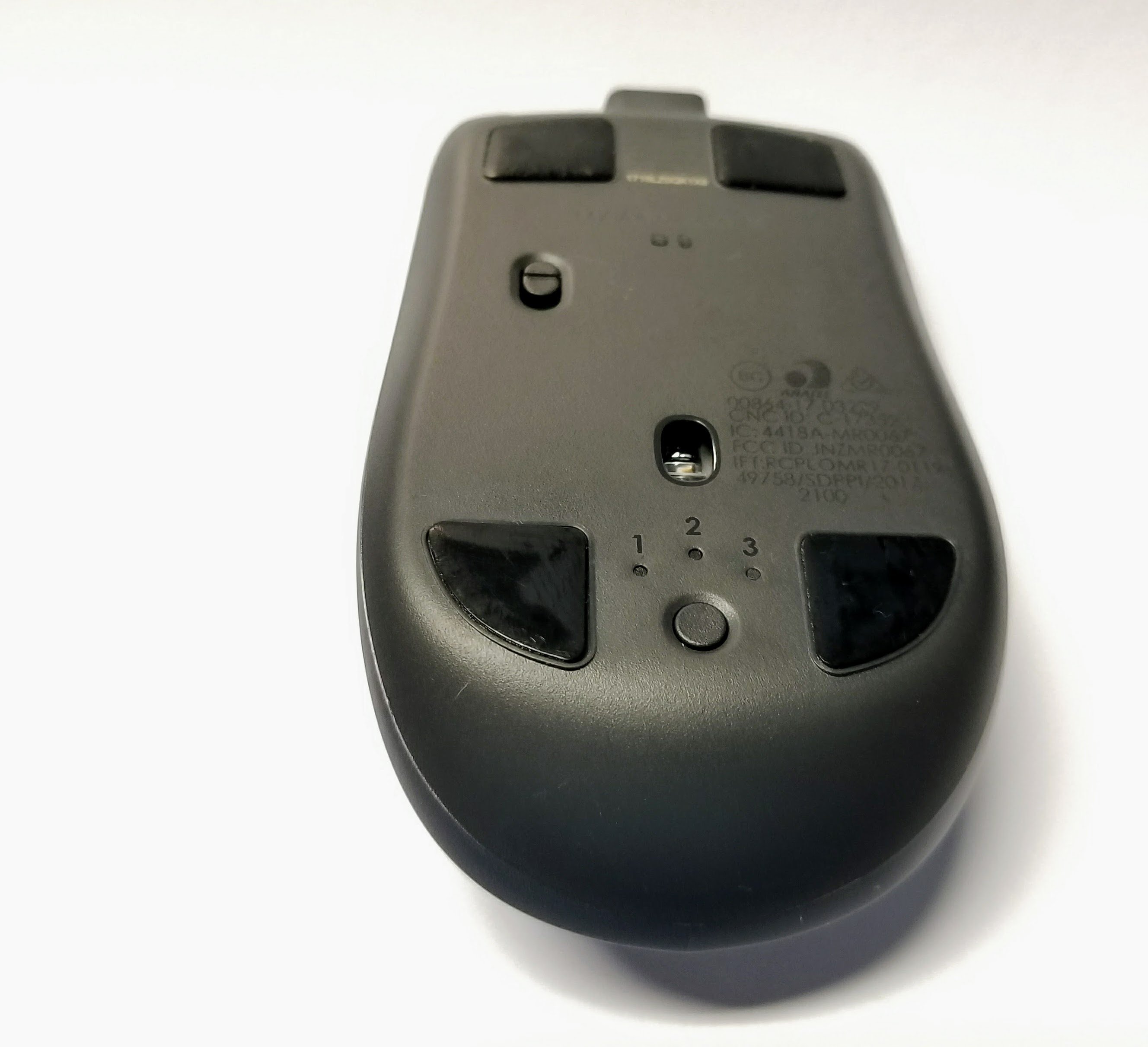 A button on the bottom lets you pick between three different devices.That means users can connect the mouse to three devices. I often carry my Microsoft Surface tablet and an Apple MacBook. This lets me quickly switch between them – using the same great mouse for both devices. Even if you don't use more than one device at a time, it's more convenient to hit that button to connect to your laptop on the road, a desktop at home and a third computer at work.
Logitech MX Anywhere 2S – Software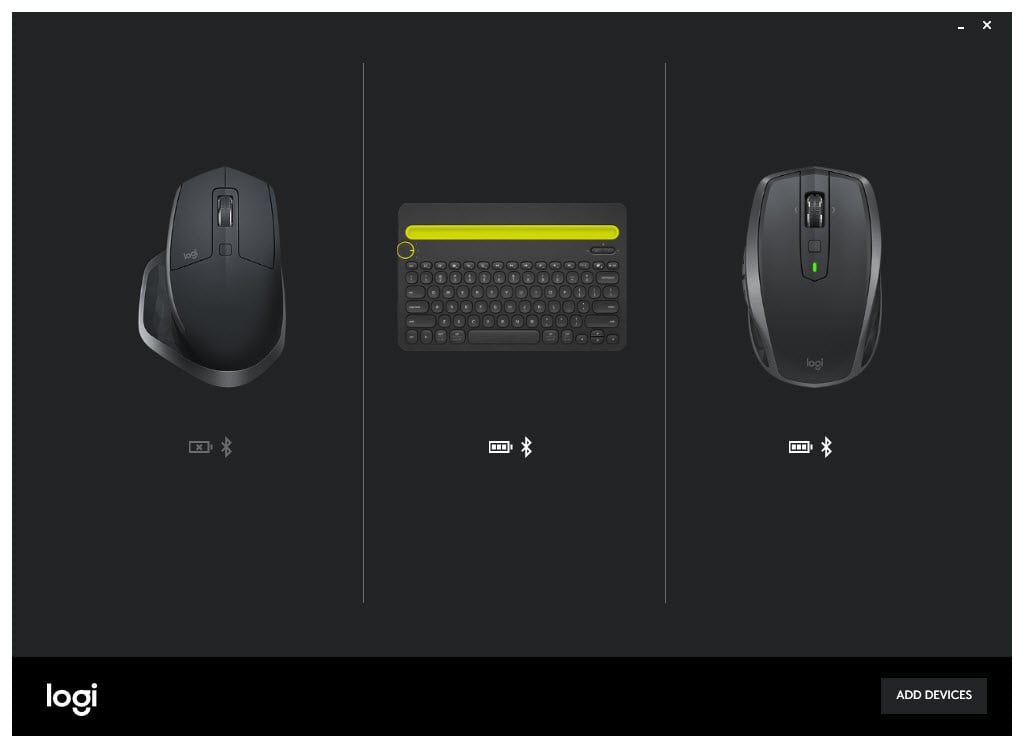 The software that configures the mouse, Logitech Options, lets the user configure most of the features for personal use. Options include:
Pointer speed.
Smooth scrolling (the fast versus clicking scroll  wheel described above).
Scrolling direction.
Button customizations.
Mouse sensitivity, which helps with precision movements while doing photo or image editing or playing first person shooters.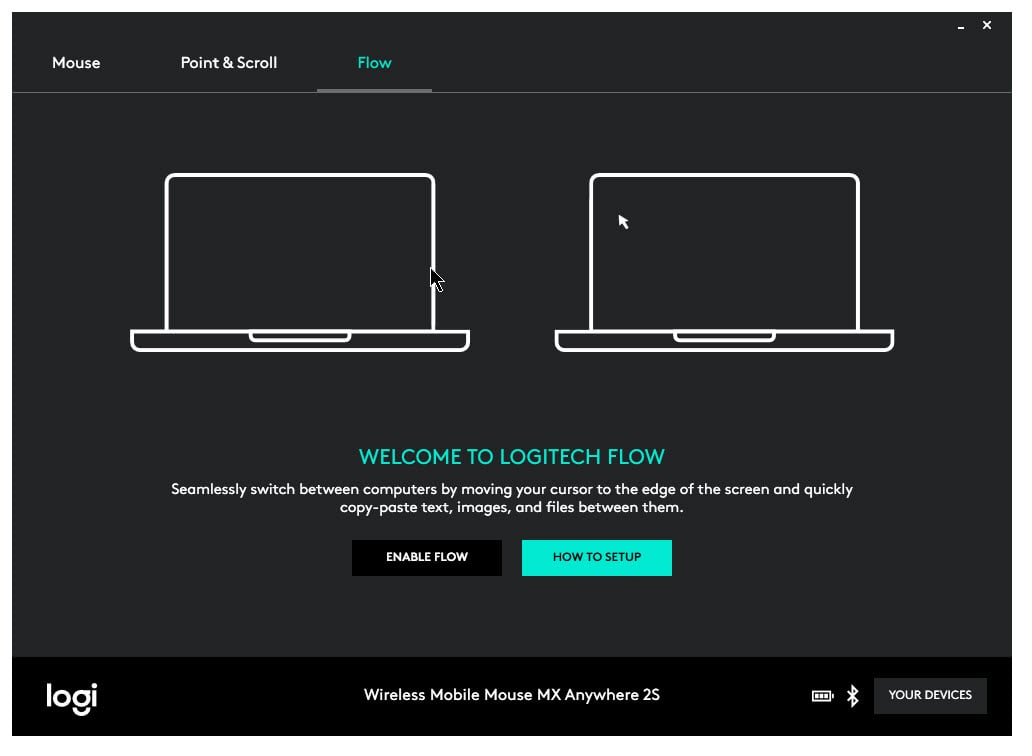 The Logitech software includes a feature called Logitech Flow. This lets users connect their mouse to multiple machines and then use them as if they're connected to each other. Copy from one PC and then paste it to the second.
Open the Logitech Options software and click on the Flow tab. Then, hit Enable to get it set up. The software instructs the user on how to make this feature work with two computers.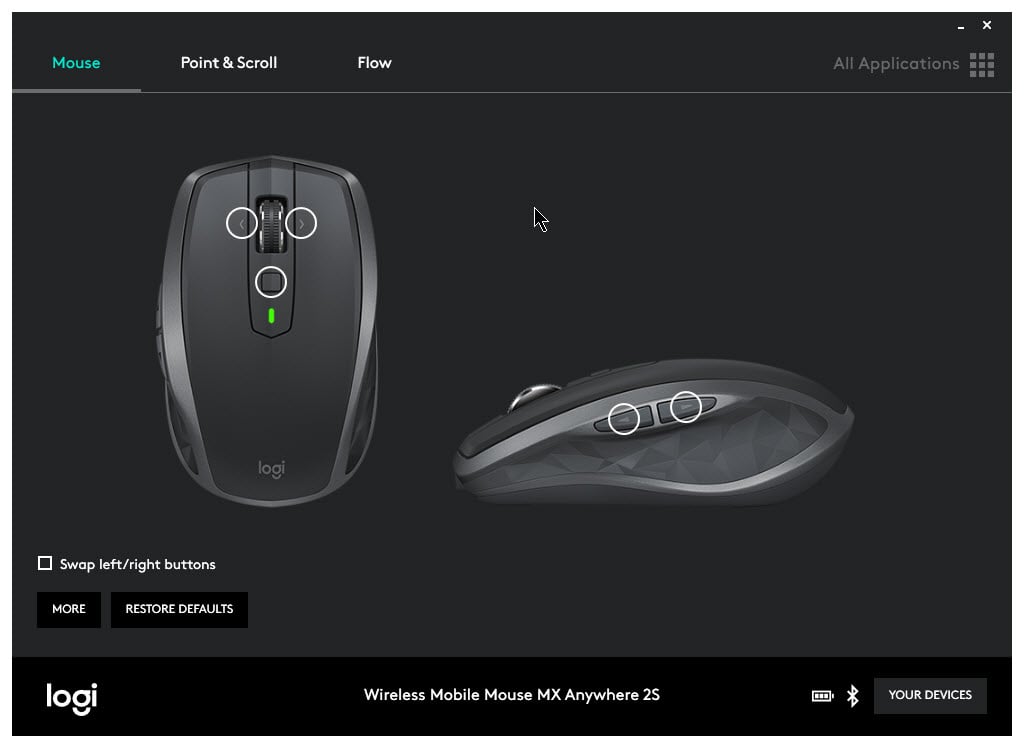 Both computers have to connect to the same network and they both have to have the software installed and configured.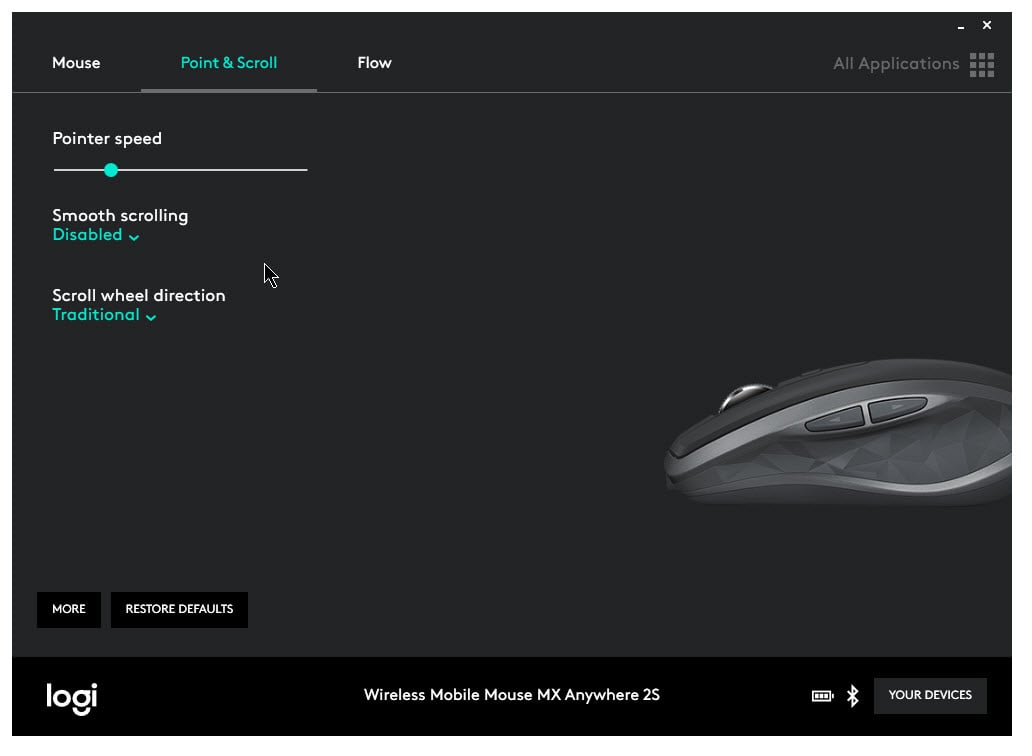 Logitech MX Master 2S
The company doesn't just make a mobile version of this great mouse. The Logitech MX Master 2S brings the same quality, comfort and configurability to the desktop. I got to test one of these out for this review as well and love the new version. They increased the battery life over the first version and change the shape in just the right ways to make it slightly more comfortable to use.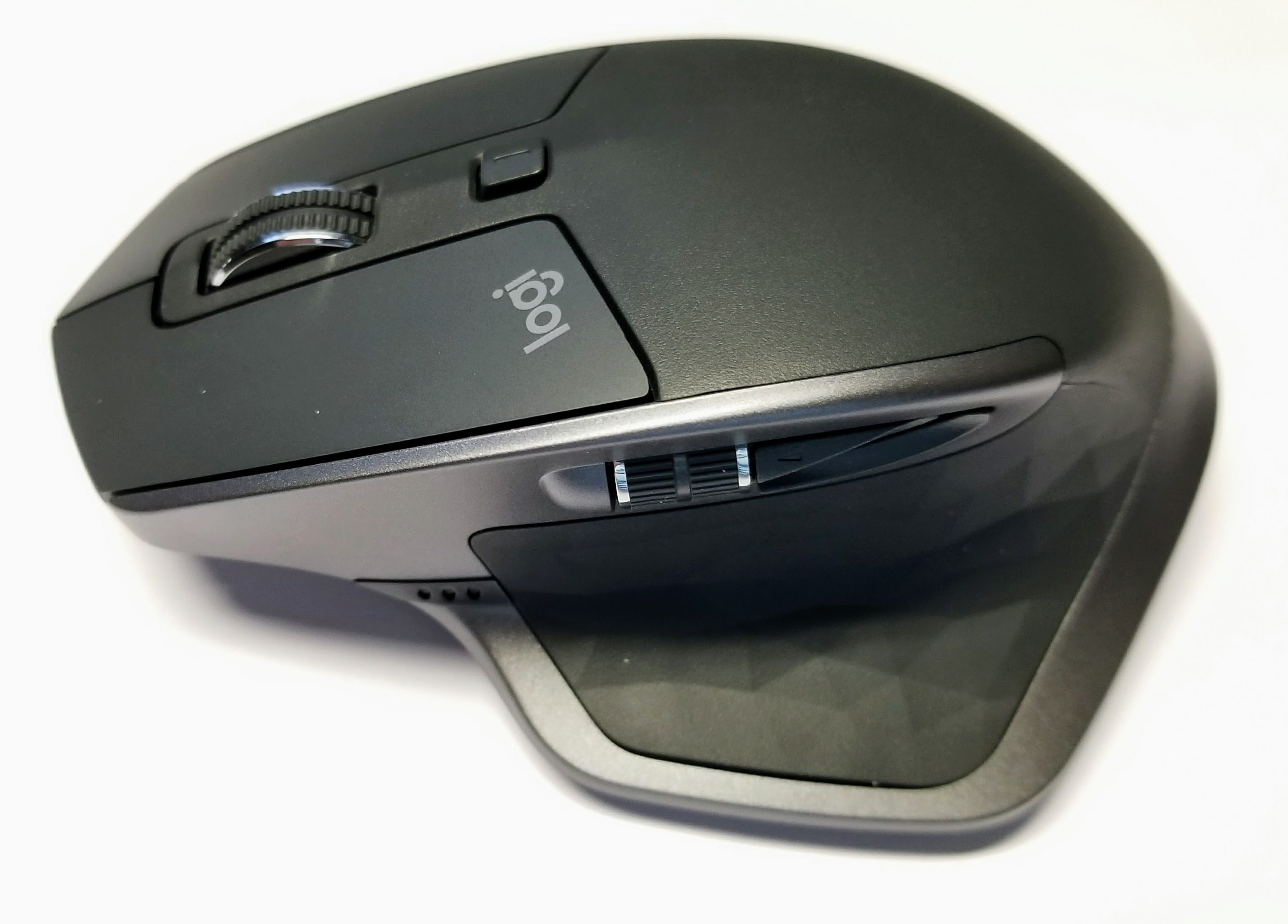 Since the MX Master 2S connects to up to three devices, I can hook up to my desktop PC, my MacBook and my Samsung Galaxy S8+ docked in the Samsung Dex charging dock. This keeps me from having three mice. I put it with the Logitech K480 wireless Bluetooth keyboard, which also connects to up to three devices. Position 1 on each device controls my Lenovo desktop. Position 2 controls the Galaxy S8+ and position 3 handles work with my MacBook Pro.
What's the difference between the two MX mice? The MX Master is bigger and has a thumb scroll wheel. By default it's set to scroll horizontally. It's more comfortable for longer computing sessions. Users could take it on the road as well if they have plenty of space in their bag.
Recommendation
The designers of the Logitech MX Anywhere 2S deserve an award for the best mobile mouse ever made. I've tested a bunch and never used one I like better! It's a nice upgrade over the older version bringing with it better battery life and more comfortable feel. It's worth the price of $79.99, which seems steep. People who hate trackpads and prefer to carry a mobile mouse will likely love the Logitech MX Anywhere 2S.

As an Amazon Associate I earn from qualifying purchases.