Logitech Tablet Bluetooth Keyboard Is An Awesome iPad Keyboard
The Logitech Tablet Bluetooth Keyboard for iPad is an awesome bluetooth keyboard for the new iPad.
Last summer K.T. Bradford reviewed the Logitech Tablet Bluetooth Keyboard for iPad, but it's so good I had to revisit the bluetooth keyboard solution with the new iPad.
This solution gives you a portable Bluetooth keyboard with excellent island style keys and a great feel. The well spaced keyboard travels around in a handy carrying case that doubles as an iPad stand.
In her review, Bradford says, "I don't hesitate to recommend this accessory.", and I agree!
In my quest to find a good Bluetooth keyboard case for my new iPad, I tested solutions from Kensington and ZAGG, preferring the ZAGGFolio over the bulk and poor keyboard of the Kensington model. Kensington offers a similar bluetooth keyboard with a removable keyboard, which Editor Josh Smith likes, but it is too bulky for my tastes.
These cases also mean that I have to deal with the keyboard while holding the iPad to read, play a game or do some living room or bedroom net surfing. I hate taking my iPad out of its case just to use it, but in a keyboard case you almost have to do so. If not, you feel the keys on the back of the iPad as you hold it or it dangles below the tablet.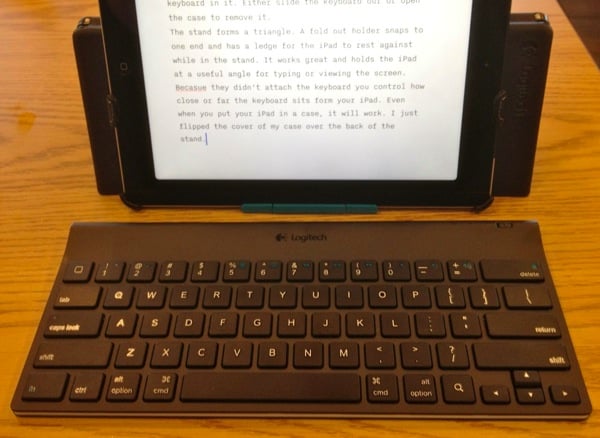 iPad owners who want a separate keyboard solution, should take a look at the Logitech keyboard. I don't think it will disappoint. Let me share my short second look.
Since I only need an external physical keyboard with my iPad on occasion, I don't want to double the size and weight of my iPad to carry one around. That's why Logitech's solution fits my work style so well. I can keep it handy and use it only when I need it, not weighing down my iPad the rest of the time.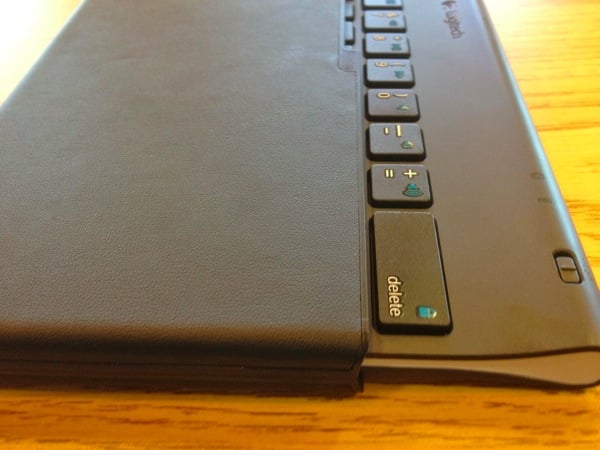 In addition to solving the bulk problem, the Logitech Tablet Keyboard for iPad also gives me more space on which to type. I'm more efficient when I use it because it feels like I'm using a full-sized keyboard for most tasks.
Logitech branded the keyboard for the iPad, but it works with my iPhone too. It has the Apple COMMAND and OPTION keys and a dedicated button for the iPad Home button. You also get the other iPad keyboard buttons for media control (fast forward, play, pause, rewind) and volume control. It has lock screen, Camera Roll slide show and on-screen keyboard buttons as well.
Like K.T., I like the handy carrying case that doubles as an adjustable stand. The lip that holds the iPad's bottom edge slides out, You will have to use a lot of force to extend it. The extension gives room for a lower viewing angle.
Even the packaging impressed me, with one exception. It exudes an Apple-like quality for the most part. However, a sticker, attached to the blue holder that keeps the case in its triangle shape, left some glue residue when I removed it. That's incredibly minor. With some rubbing and scraping it came off.
I decided that I'm not using a keyboard case any more. I recommend you do the same. The Logitech Tablet Keyboard for iPad fits my work flow perfectly. I think I'll be more likely to write on my iPad thanks to the accessory. I plan to keep it in my computer bag or my car and carry my iPad in a slimmer lighter case and only tote the keyboard along when I think I'll need it. The keyboard is smaller than one of Apple's Bluetooth keyboards, but larger than one of those tiny fold out keyboards.
You can get it for $69.99 at Logitech (if you have an Android device you will want this one) or other retail stores or as low as $62.28 at Amazon. If you have an Android tablet or phone, look for their model designed for Android.