Logitech Tablet Keyboard for Android and iPad Review
Bluetooth keyboards are finally back in style thanks to the tablet revolution. It started with a slew of mostly lackluster options for the iPad (with the exception of Apple's offering). This summer we're finally getting some good choices on the Android side as well. And where there are keyboards, one usually finds Logitech.
Logitech's Tablet Keyboard comes in two versions; one for the iPad and one for Android 3.0+ slates. Same price — $69.99 — slightly different hotkeys for the different operating systems. I used the Android model for a week and a half for writing everything from short emails to long blog posts. Is this accessory worth your time and money? Read on to find out.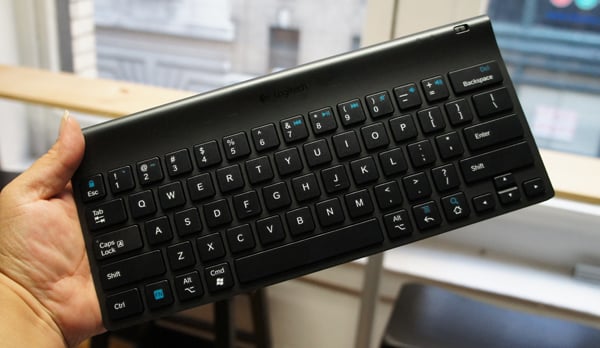 ETA: Due to the issues I experienced with the special key mapping, Logitech sent a new keyboard for testing. A batch of models had the mapping issue, but the versions currently on sale do not. The new keyboard's special keys all worked as the are supposed to. I've updated the relevant sections below to reflect this.
Design
The thing I most appreciate about the Tablet Keyboard is the design of the case, which doubles as a tablet stand. Lined with a felty substance, this case protects the keys and cleans them every time you slip it out. When in stand mode it will hold the tablet in either portrait or landscape at two angles (useful if you're outside). This case+stand idea is obvious, yes, but also elegant and well executed.
Together, the case and keyboard weigh 1.6 pounds. Put it together with the iPad 2 or the Galaxy Tab 10.1 (1.3 and 1.2 pounds, respectively), it weighs as much as the average netbook. It measures 5.6 x 1.2 x 12.3 inches; not purse friendly. Back in the day I loved my folding Bluetooth keyboard for the compact portability. However, since I almost always carry a messenger bag or backpack these days, the size doesn't make a huge difference. If you're looking to cut down on bulk as well as weight, this keyboard might not work for you.
Keyboard
The keys have an island-style layout with flat tops – no concave dip for better accuracy. Aside from the normal QWERTY layout and number row, there are keys for Home and Back plus Menu and Search via the Fn key. Given that this model was made for Android, having all of these functions one keypress away would be better. Logitech should do away with the Cmd and Alt keys altogether.
Thanks to the familiar layout and size, the keyboard is just as easy to type on as a desktop model. I didn't experience very strong tactile feedback, though the keys are comfortable and provide good return.
Setup and Performance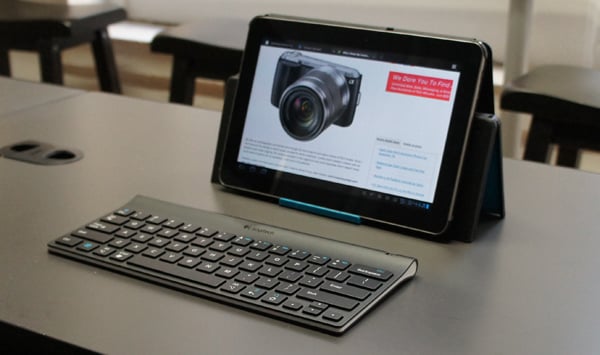 Setting the keyboard up was pretty easy. Turn the tablet's Bluetooth on, press the Connect button under the front of the keyboard, then scan for devices. Once paired, all you need to do is turn the keyboard on; the tablet will recognize and connect right away.
I noticed no discernible delay or lag when typing or using the arrow keys. And even with the keyboard up to 10 feet away from the tablet, typing worked just fine (not that most users will have cause to test this).
Though the keyboard has the basics down, I did encounter a few problems I had to troubleshoot myself. I discovered that almost every issue I encountered all led back to one root cause: the keyboard has no profile of its own in Android.
Right now, the keyboard uses the rules and properties of the default on-screen keyboard when first activated. On the Galaxy Tab 10.1, that's Samsung's keyboard (or SWYPE, if you have TouchWiz). I found that by switching to different keyboards — the default Android one or Swiftkey Tablet X — the Logitech keyboard would pick up that keyboard's traits. Such as accelerated erasing when you hold down the Backspace key (Samsung), choosing the most likely word if you make a typo (Swiftkey). I settled on default Android because it was less likely to throw odd issues my way.
Another issue is that the shortcut keys for Home, Menu, and Search don't work. After some trial and error, I discovered that the keys are mis-mapped — Alt goes to Home, Home makes the Menu come up, Back is always Back even if you have Fn pressed down, Cmd brings up Search. The keyboard I initially used for this review had a problem with key mapping. However, that was specific to a particular batch of units. Logitech sent a new keyboard with correctly mapped keys, eliminating this problem.
There is no extra software listed on the US support page. Out of curiosity, I searched the Android Market and did find an app by Logitech Europe called the Logitech Keyboard Config App. After installing, the app gave me just two choices: configure my tablet for the keyboard or reset my tablet to default. Configuring doesn't add an extra keyboard to the list of available options.
Having a profile will also eliminate one other annoyance: every time I tapped within a document to move the cursor, Android would bring up the on-screen keyboard. This doesn't happen with the Samsung keyboard dock, for instance, because the system knows when it's plugged into a hardware keyboard and the user doesn't need the on-screen one.
The Bottom Line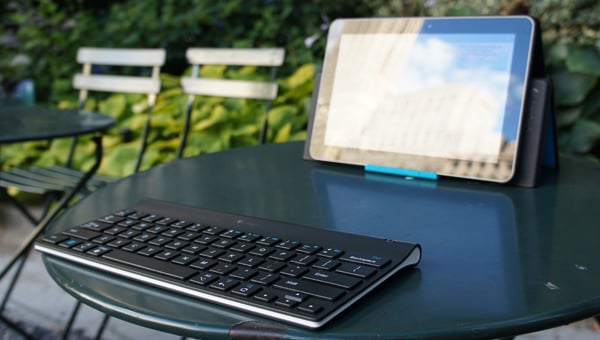 This travel keyboard is light and well-designed, and I like the combo case+stand. Form and function working together always makes me happy. As a basic keyboard, Logitech delivers something comfortable to type on and easy to carry. Witht he special key mapping problems fixed, I don't hesitate to recommend this accessory. That the accessory doesn't have its own keyboard profile causes some minor annoyances, but they're outweighed by the positive aspects.
Logitech Tablet Keyboard for Android 3.0+ $69.99 | Logitech Tablet Keyboard for iPad $69.99
Gallery

As an Amazon Associate I earn from qualifying purchases.