Logitech UE Boom Bluetooth Speaker Offers 360 Sound, Water Resistance
Today Logitech announced the newest addition to its Ultimate Ears line of speakers: the new UE Boom, which features 360-degree sound and a 15 hour-long battery.
Logitech calls the UE Boom "the world's first social music player" because it blasts sound at 360-degrees instead of in just one direction, and its 15 hour battery should last at least a full day of use for most users. The device is even water and stain resistant, so it can sit near a pool, or on a table at a party, and the owner won't have to worry about anything splashing on it.
Like the Logitech UE Boombox, the UE Boom can stream music from any smartphone or tablet via Bluetooth. The UE Boom also comes with a special app for iPhone and Android users that lets them stream music to two UE Boom devices at the same time. Users can use both devices as stereo speakers to amplify the sound, or they can use the two speakers as left and right audio channels for better sound.
With 15 hours of battery life, assuming it holds true, the Logitech UE Boom will last much longer than most other Bluetooth speakers currently on the market. Most other Bluetooth speakers, including those from Logitech, only last for eight hours at most. The UE Boom's estimated time is almost double that.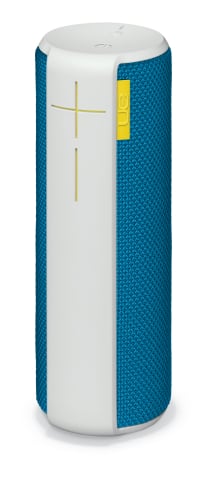 At $199.99, the Logitech UE Boom is just $50 less than the Logitech UE Boombox and $100 more than the Logitech UE Mobile Boombox. The price puts it around the same price as the Jawbone Jambox, one of the most popular Bluetooth speakers on the market.
The Logitech UE Boom will go on sale sometime this month on Logitech's Ultimate Ears website, and should appear in retail stores sometime in the near future as well.