Logitech UE Mobile Boombox Review
The Logitech UE Mobile Boombox is a portable Bluetooth speaker with great battery life, good sound quality and a very attractive price tag.
Logitech offers a smaller package than the Jawbone JAMBOX and a cheaper price, without sacrificing sound quality. Having used both the JAMBOX and the UE Mobile Boombox I feel like the Mobile Boombox is a better product.
The Logitech UE Mobile Boombox is available in five color combinations with a soft finish and large speaker grill with simple controls on the top of the device.
For its size the Logitech UE Mobile Boombox packs in very good sound that is also quite loud thanks to twin 1-inch drivers. The sound quality is very good for a portable Bluetooth speaker, with some low-end and clear highs. This speaker will not replace a larger system, but it blows the doors off of integrated laptop, tablet and smartphone speakers.
The speaker can also act as a Bluetooth speakerphone, but callers reported that I sounded muddy while using it. The quality is much better on my end, but this function is not a selling point.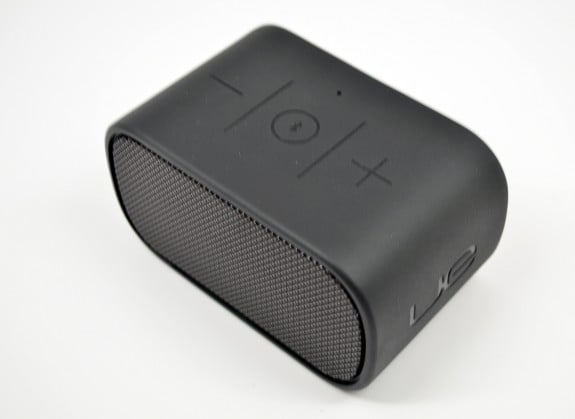 The Logitech UE Mobile Boombox is solidly built with a soft touch finish. I took the Mobile Boombox with me on many trips and the device held up well to travel. There are three buttons on the top of the speaker, volume up and volume down as well as a pairing button that offers hassle free Bluetooth pairing. The Mobile Boombox can pair to multiple devices, up to eight, so it's possible to share the speaker between my handful of items or share with someone else.
Bluetooth range was very good, allowing me to walk around the house with the speaker, leaving my iPad mini in my office without losing connection.
There is also a line in on the back of the device to connect to non-Bluetooth devices. The power switch is a physical toggle so you know the device is on or off, and it did not turn on accidentally while in my bag.
The battery life averages between 8 to 10 hours, which is about what Logitech claims. The only complaint I have with battery life is that there is no indicator that battery life is low until it is too late to do anything about it. It would be great if Logitech built-in a feature to say the estimated battery life left when I turn the speaker on. The speaker does charge with a Micro USB cable so it is relatively easy to find a charge.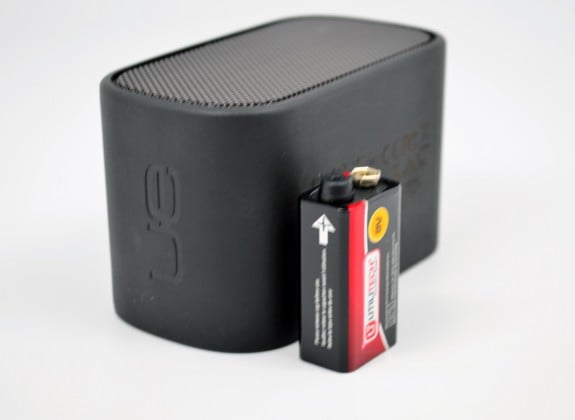 The Logitech UE Mobile Boombox is a great Bluetooth speaker at an attractive $99 price. Users looking for better sound on their phone or tablet should consider picking this up at Amazon

As an Amazon Associate I earn from qualifying purchases.