Logitech Announces Ultrathin Keyboard For iPad mini
Today Logitech announced a new version of its popular Ultrathin Keyboard for the 7.9-inch iPad mini.
The new Logitech Ultrathin Keyboard mini is a Bluetooth keyboard designed to fit the smaller iPad mini. The keyboard fits the dimensions of the iPad mini so it can also function as a cover for the tablet. Like the larger version of the keyboard, the Ultrathin Keyboard mini uses magnets to enable auto-sleep like Apple's Smart Cover.
The smaller size of the iPad mini means the Logitech Ultrathin Keyboard mini has a smaller keyboard than the version for the 9.7-inch iPad. Logitech claims it can still deliver a comfortable typing experience on the smaller device, however. The keyboard itself looks reminiscent of the reduced keyboards that were found on netbooks a few years ago.
Like the larger version of the Ultrathin Keyboard, the iPad mini version also serves as a stand for the iPad mini. The iPad mini rests just above the keyboard on the case, which makes the keyboard appear even smaller.
Read: Logitech Ultrathin Keyboard Review
Unfortunately the Ultrathin Keyboard mini only has one angle for the iPad mini. While the cover is useful for watching movies on the 7.9-inch tablet, it's not ideal because users can't adjust their viewing angle. That's the trade-off for having such a thin and light keyboard cover.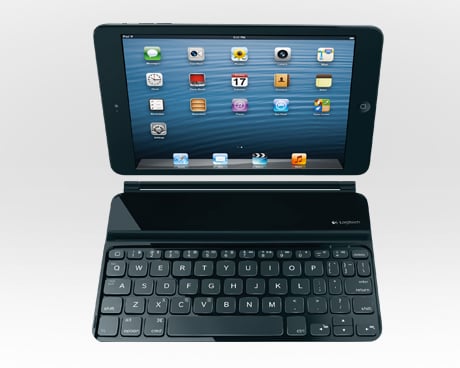 The keyboard on the Ultrathin Keyboard mini includes several iOS shortcuts so users can quickly access parts of their tablets. Those keys include a key to launch Spotlight, media controls, brightness controls and a home button. Like other BLuetooth keyboards for the iPad mini it also support shortcuts such as copy and paste.
Logitech claims the Ultrathin Keyboard mini will last for three months on a single battery charge, based on an average of two hours of typing each day. For many users that means it will likely last longer than three months.
The Logitech Ultrathin Keyboard is available for pre-order now for $79.99. Logitech hasn't announced a shipping date yet.

As an Amazon Associate I earn from qualifying purchases.