Logitech Ultrathin Keyboard for iPad Now Available in White
The Logitech Ultrathin Keyboard is now available in white, which should please white iPad owners. Logitech's Ultrathin Keyboard is perhaps the best mobile keyboard available for the iPad and has completely changed how some iPad owners use their tablets.
The white Logitech Ultrathin Keyboard made its debut at Mercedes-Benz Fashion Week in New York. Until now, the Ultrathin Keyboard was only available in black. The company also showed off its Solar Keyboard Folio in four new colors.
The white Ultrathin Keyboard has a glossy white base and white keys. The back side of the Ultrathin Keyboard is aluminum, mimicking the iPad's  metal finish. One thing we love about this keyboard is that its good looks and build quality match the iPad. If there was an Apple logo on the keyboard instead of Logitech's, iPad users would have no reason to doubt it Apple's own designers built it.
The keyboard is compatible with both the iPad 2 and New iPad (3rd generation). Magnets help keep the keyboard steady and attached to the iPad while typing. A magnetic clip also keeps the keyboard snug against the face of the iPad when not in use. The sleek design allows the iPad and the Ultrathin Keyboard to both slip into many iPad sleeves and cases, which makes it a very practical mobile keyboard solution.
One thing many mobile users hate about many accessories is that it's a hassle to keep them charged. That's not a problem with the Ultrathin Keyboard. The Bluetooth keyboard has an internal battery that seems to last forever in real-world use. Logitech rates the battery to last for six months on a single charge, assuming the keyboard is used for two hours per day.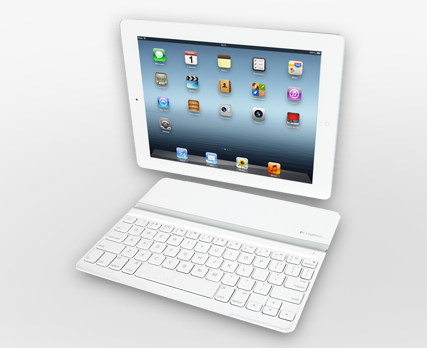 So how does the Ultrathin Keyboard change how iPad users use their tablets? For many, it turns the iPad into a true content creation device. The keyboard is easy to type on, closely replicating the functionality of a netbook's keyboard. This means users can draft long documents and write lengthy emails. This means they don't have to wait to get back to their laptops to get 'real' work done. This keyboard is the closest thing we've seen to turning an iPad into a laptop.
The Logitech Ultrathin Keyboard has an MSRP of $99 and will be available in white at Apple stores later this month. The black version is currently available at Amazon.com and many other gadget retailers. Logitech does sell the Ultrathin Keyboard direct and offers free laser engraving.