How Long the iOS 7 Update Will Take to Complete
After a much-anticipated wait the iOS 7 release nearly here. With iOS 7, iPhone and iPad users will have access to a totally revamped home screen, new features like control center, and a lot of other neat improvements. Besides the obvious new additions there are also a lot of under the hood security improvements that make upgrading a good idea.
If you have the iPhone 4 or newer or iPad 2 and up, your device is capable of running iOS 7. The upgrade process is a fairly simple one to complete but the amount of time that it takes depends on several things. One of the biggest factors is the internet connection you use to download iOS 7. If you have a good internet connection it will help the upgrade process go at least a bit easier.
Read: 7 Things to Do Before Installing iOS 7
One thing that will depend on the day itself is how Apple's servers hold up as soon as the download goes live. In the past the upgrade has went well overall, but depending on how many people are trying to update at the same time this might vary. If you have issues while trying to download the update either try at a later time or wait a day or so for Apple to iron out some of the issues that occasionally happen with these upgrades.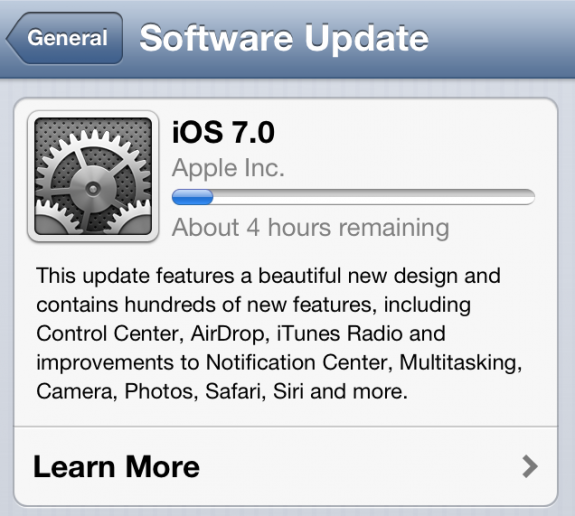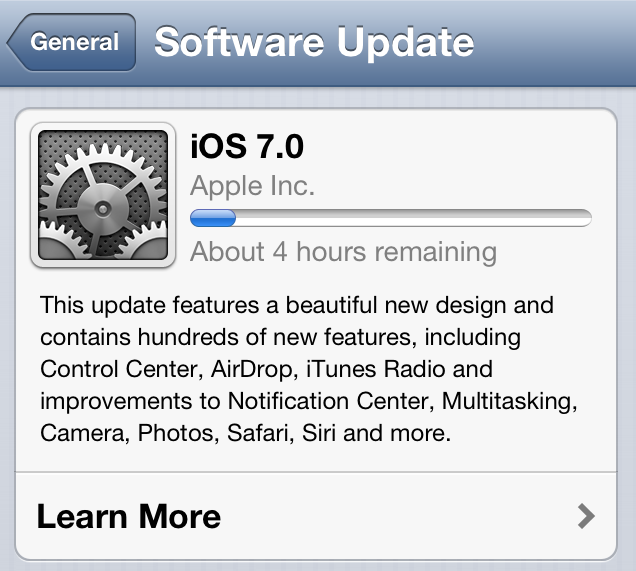 Update: Some users are reporting iOS 7 download estimates of two to four hours.
The iOS 7 update time is typically around 10AM Pacific or 1PM Eastern but this could change. Broken down below is an approximation as to how long the upgrade process will take for you to upgrade to iOS 7. Each step has a time allocation associated with it and is close to what will happen on upgrade day. As a side note it is best not to use the iPhone while upgrading so you do not lose any data that was not backed up in a previous step.
Sync and Backup: 1-60 Minutes (Optional)
Connect the iPhone to the computer that you sync iTunes with and make a backup of your iPhone. This backup is useful if anything goes wrong with the upgrade. Even if you typically use iCloud to back up the iPhone, it is still a good idea to have a backup in iTunes on your computer. Depending on how often you back up the iPhone will reflect the time that this step takes.
Backup and Transfer Purchases: 1-30 Minutes (Optional)
Once your initial sync completes, it is also a good idea to back up purchases made on the iPhone. To do this step choose File —> Transfer Purchases in iTunes.
iOS 7 Download: 20 Minutes to Hours
After fully backing up the iPhone start to download the iOS 7 software. This step will take up to a half an hour (and a long as 3-4 hours during the peak download time) and is depending on your internet connection. If a lot of people are trying to download the software at the same time this could also decrease the speed of the download.
iOS 7 Update Time: 15-30 Minutes
After the iOS 7 software finishes downloading, it will begin to install on the device. This step should take about 15 minutes but could be a bit longer. After the firmware update completes iOS 7 will successfully be installed on the iPhone.
For users who are already backed up and don't feel the need to plug into a computer, the process could be as fast as 30 minutes, but plan for longer.
How Long Does it Take to Upgrade to iOS 7?
Here is a chart that combines all the above steps for a minimum total time of 40 minutes but expect about an hour for full process completion.
| | |
| --- | --- |
| Initial Sync | 1-60 Min |
| Backup and Transfer of Purchases | 1-30 Min (longer depending on last backup) |
| iOS 7 Download | 20 Min to Hours |
| Device Firmware Update | 15-30 Min |
| Total | 40-335 Min |
Check out this video for a walk through of the new features that iOS 7 will bring to the iPhone, iPad and iPod touch.

As an Amazon Associate I earn from qualifying purchases.