LongBox digital comics coming to Notion Ink Adam (and every other tablet)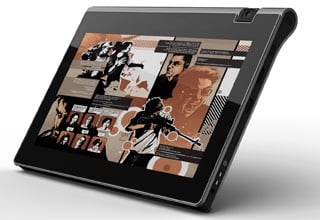 Comforting news about the Notion Ink Adam tablet trickled out today as LongBox Inc. announced their digital comic book system will be pre-installed on the Adam as part of its entertainment package.
Longbox (named after the iconic cardboard storage box that can hold up to 300 comics) has been working out their digital comic book system for a while. Last I heard it was still in private beta, but it went public for PC and Mac a few months ago. Not a major player in the comic book market, but very innovative. Their public announcement of being pre-loaded on the Adam helps assuage my concerns over the tablet's clouded future.
As a comic book eReader, the Adam certainly looks like a winner. The wedge shape should make it easier to grip with one hand than most tablets. And of course, the Pixel Qi display, which works in sunlight or darkness, is a big plus. The two things I don't like about e-ink are grayscale and page refresh, and Pixel Qi has those problems licked. Incidentally, I have two comic book-related reasons for my dislike of grayscale, one of them being that U.S. comic books are in color, and the other being a comic book story showing why color is superior.
While the announcement was about the Adam, LongBox, Inc. CEO Rantz Hoseley went on to state that general support for Android, as well as iOS, would follow shortly after the Adam release. Not sure how much of a following LongBox can get since the top two publishers, DC and Marvel, are doing their own thing, but LongBox has a shot at becoming the defacto standard for independent comics. Again, their software is already available for PC and Mac, so you can see for yourself.
Via Slashgear