Longer BlackBerry PlayBook Demo Video
Research in Motion's PR folks sent over a longer video demo of the BlackBerry PlayBook being shown off at Adobe MAX. This video shows the BlackBerry PlayBook being used to view MRI images, viewing media in Adobe Air apps and playing Flash videos on YouTube. This is the first time that RIM has shown a functioning PlayBook in public. At DECVON 2010 we were only shown looped video on PlayBooks and CGI videos.
https://www.youtube.com/watch?v=zyJVNK7aSW4
RIM Co-CEO Mike Lazaridis said that his company doesn't want to dumb down the Internet for mobile devices, but instead wants to bring the performance of mobile devices up a notch.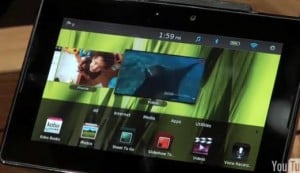 As an Amazon Associate I earn from qualifying purchases.