Look of Lumia 950 & Lumia 950 XL iPhone 6 Rivals Leaked
Thanks to a new leak, we're finally getting to see Microsoft's Lumia 950 and Lumia 950 XL iPhone 6 rivals with our own eyes. All told, the verdict on the design of Microsoft's two new smartphones seems up for debate.
Long time smartphone leaker Evleaks revealed pictures of the Lumia 950 and Lumia 950 XL on social network Twitter yesterday. A social media account for the real Evan Blass, the handle has provided accurate information about Microsoft's smartphone plans in the past.
Of the two, the Lumia 950 XL is easily the most attractive. In the leaked images it's cyan a color Microsoft Mobile used frequently to make its devices stand out back when it was known as Nokia Devices and Services. The front of the Lumia 950 XL has an earpiece and the Microsoft logo above a rather spacious display. There aren't any physical navigation buttons on the Lumia 950 XL because Microsoft has switched completely to on-screen buttons.
The back of the Lumia 950 XL is a sea of cyan-colored polycarbonate. In the center of the device is the Microsoft logo in silver. Just above that logo is a rounded, protruding camera lens since with what appears to be xenon flash. To the right of the camera module is a rear-facing speaker. There are tiny, holes on the top and the bottom of the Lumia 950 XL's casing. It's possible that these are contacts for a wireless charging like the ones we've seen from Nokia before. It's also possible that these holes are for capturing stereo sound with the rear-facing camera.
Specification leaks earlier this month indicate that the Lumia 950 XL everything it needs to take on the iPhone 6 Plus. Allegedly, it has a 5.6-inch OLED display, 8 core Snapdragon 810 processor, 3GB of RAM, 32GB of internal storage with a MicroSD card slot for more, 20 megapixel rear-facing camera, 5-megapixel front-facing camera, QI wireless charging and USB Type-C. For unlocking devices, Microsoft has allegedly, added an Iris scanner to its devices. That's another feature that points to the Lumia 950 XL being the perfect iPhone 6 Plus rival. Allegedly, this device will also include support for Microsoft's Surface Pen, making it a great Galaxy Note 5 rival too.
Read: Leaks Reveal Microsoft's Lumia 950 XL iPhone 6 Plus Rival
The Lumia 950 is the smaller of Microsoft's iPhone 6 alternative. In the leaked photos it is pictured in black. The design seems to be the same for the most part. Its shell is still made of polycarbonate. The front of the Lumia 950 XL has the same earpiece and on-screen navigation buttons. Joining the triple flash on the rear-face of the Lumia 950 is a camera sensor lined with a metal ring for added flare.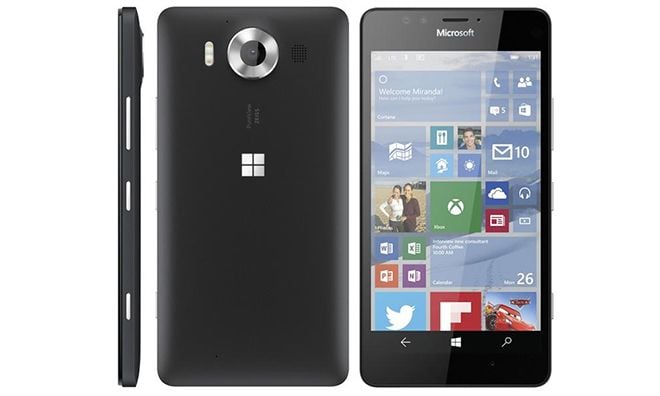 Allegedly, the Lumia 950 has a 5.2-inch OLED display, six-core Snapdragon 808 processor, iris scanner, 3GB of RAM, 32GB of storage, a MicroSD card slot, 20 megapixel rear-facing camera, 5 megapixel front-facing camera with a wide angle lens, QI wireless charging with an add-on cover and a USB Type C port. Because of its relatively small size, it's the Lumia 950 that'll act as chief iPhone 6 rival in Microsoft's line-up
Read: iPhone 6 vs Microsoft Lumia 950: What We Know So Far
A leak in the Onecast podcast early yesterday also gives us a look at the tiny connector that'll let both Lumia 950 and Lumia 950 XL act as PC substitutes complete with fullscreen versions of their phone apps. This feature is why that USB Type C port is so important and one of the only features leaked so far that the iPhone 6 and iPhone 6 Plus have no counterpart for.
Microsoft is scheduled to show off something at this year's IFA 2015 trade-show in early September, but that could be the company revealing more about its Windows 10 Mobile software strategy.
Read: Surface Pro 4 Release & More Rumored for October
Allegedly, Microsoft has a huge device announcement scheduled too. At that hardware event it is said that we'll see the Lumia 950, Lumia 950 XL, Microsoft Band 2 and Surface Pro 4 all revealed.