Looking for a Valentine's Day Gift?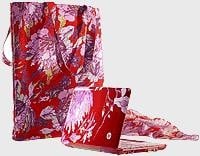 The HP Mini Vivienne Tam Edition may have something just for you. HP is choosing a lucky winner for a Vivienne Tam Edition! The contest rules are posted on the Facebook page for the Vivienne Tam Edition (yes, it has a Facebook page!), but it's pretty simple to enter. You could have one of these darling computers for your very own – or give that woman in your life a techy gift that she'll love!
If you are already the proud owner of a Vivenne Tam Edition, you can get the matching bag and scarf at HP right now for 50% off ($100 right now!). That's actually a great deal for a designer bag and scarf combo. The bag includes a padded pocket specifically designed for your "Digital Clutch". I'm seriously tempted.
I have a couple of other computers right now at home that just aren't getting any love from me because I keep pulling out Viv whenever I want to do something on the computer. Like I said before, there are some gadgets with which I get an emotional tie. Viv appears to be one of them.

As an Amazon Associate I earn from qualifying purchases.