Looks Like I'm the Designated GBM iPad Guinea Pig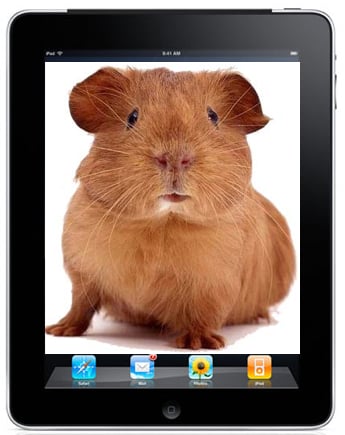 Today was iPad pre-order day and from the sound of things around the Interwebs, Apple is doing quite well. Although nothing is confirmed by anyone I'm seeing reports of brisk sales and hearing reports that folks who may be reserving for pickup in an Apple Store might be waiting a bit if they weren't quick to reserve this morning. Again, none of that is confirmed, and I'm sure Apple is enjoying the rumbles of possible tight supply.
It also looks like I'm the only GBM team member who pre-ordered (at least so far.) A quick survey of the team leaves me standing alone in iPad land. That may change. I pre-ordered a 32GB WiFi only model that, at the moment, is scheduled to arrive on April 3. I guess that means I'll be spending part of my Easter weekend checking it out. I'll be doing an InkShow, or as Xavier puts it, an Ink-less show sometime that weekend, so if you want anything specifically checked out let me know.
Call me stupid, call me foolhardy, call me a dreamer, but a part of what I'm going to be checking out are some of the existing iPhone/iPod Touch apps that let you do some rudimentary Inking. I'm impressed by what I saw of PadNotes earlier today and there are a few others that I've tried out and dismissed on the iPhone/iPod touch. But perhaps they may just offer a passable alternative on the iPad with the larger screen. I've got a Pogo Sketch stylus ready and waiting and I might even pick up a Dagi Stylus before the iPad arrives as well. Of course this assumes those apps are ready and working on the iPad on arrival date. My thinking is this. We aren't going to see anything compared to the Inking on an existing Tablet PC. But, sooner or later a third party solution might get close to a decent Inking experience for note taking. And if it doesn't? Well, there are other alternatives coming down the pike, yes?
So, I'm taking one for the team (although I wouldn't be surprised if gadget lust doesn't change that before all is said and done.)

This article may contain affiliate links. Click here for more details.