Looks Like There Might Be a New Palm OS After All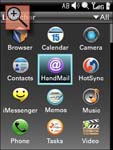 We don't usually cover much about Palm, partly because, well there hasn't been much news other than the lack of news regarding any advances on the OS. But it looks like there will be a new Palm OS coming. According to a report on MobileBurn. Access, the company that bought up PalmSource, unveiled ALP 3.0, which is slated to be the successor to the Palm OS (aka Garnet).   They also unveiled ALP mini for feature phones. No word on a date for ALP 3.0 yet, but ALP mini is available for manufacturers to load up on devices now.
Via CrunchGear

As an Amazon Associate I earn from qualifying purchases.