Loren Heiny, Ink, and Silverlight
If there is a developer out there more committed to getting Ink onto the web than Loren Heiny I'm not sure who it would be. Loren created a version of his SearchTip, using Siverlight, that allows a user to Ink a search query. Someone was watching and the SearchTip was recently mentioned in Microsoft's Silverlight Showcase. Congrats, Loren!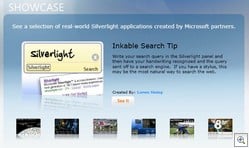 But I don't think he's done by a long shot. As this post shows, he's working on something else and wants you to guess what hit might be.

This article may contain affiliate links. Click here for more details.