Lose the Wires with the LG WCP-700 Wireless Charging Pad
Amidst the many announcements about new phone releases and platform updates from CTIA, the LG WCP-700 Wireless Charging Pad is easy to miss. The new phone charging product from LG promises to help users lose the wires with a variety of innovative features. The device looks like sleek addition to any mobile set-up and comes with the specs you'd expect and a few neat extras.
The WCP-700 has a compact modern design, coming in at 6.29″x3.54″x0.39″. It also sports multiple ways of letting you know your device's battery status: through sound, touch, or color. Additionally, it promises an easier way to charge wireless, allowing a higher range, in terms of position placement on the pad.
Unfortunately, LG hasn't provided any pricing information or set a release date. It's also unclear as to what phones are compatible. Nonetheless, it's nice to see the industry moving closer and closer to adapting wireless charging as a standard product. Check out the photos below, along with a copy of the press release, and let us know what you think!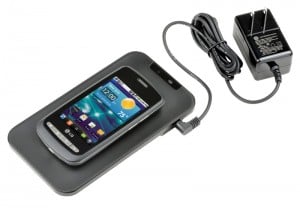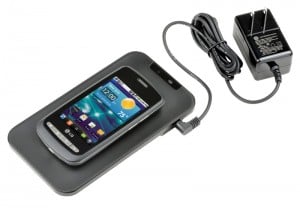 LG MOBILE PHONES INTRODUCES REVOLUTIONARY WIRELESS CHARGING SOLUTION
LG Wireless Charging Pad Features Industry Leading Charging Efficiency
SEOUL, Mar. 22, 2011 — LG Electronics (LG) announced today the LG Wireless Charging Pad (WCP-700). Featuring a sleek and sharp design, LG Wireless Charging Pad is poised to revolutionize wireless charging as we know it. With inductive coils built into the battery doors and internal contacts, advanced wireless charging technology allows for a cord-free power source – alleviating the need for external connections that limit the phones usability.
LG Wireless Charging Pad provides industry leading wireless charging and ergonomics. For easy and intuitive use, LG Wireless Charging Pad features audible and tactile feedback when a phone is placed on the pad, as well as multi-colored LED lights to indicate charging status. Taking the hassle out of charging your wireless devices, LG Wireless Charging Pad also sports a compact, sleek design to easily accommodate an on-the-go lifestyle.
Key Features:
– Visual, audible and tactile feedback – allows user to see, feel and hear when the phone is placed properly on the pad
* Power LED – Blue = Plugged in
* Battery LED – Orange = Ready to Charge
* Battery LED – Flashing Green = Phone is Charging Correctly
* Battery LED – Solid Green = Phone is Fully Charged
– Slim and sleek design – allows for convenient storage, taking up minimal space
– Effective Range – 7mm from center of placement guide
– Dimensions – 6.29″x3.54″x0.39"

As an Amazon Associate I earn from qualifying purchases.