Lowriders GTA 5 Update Release Date & Details Surface
GTA Online, the always-connected multiplayer experience given to buyers of GTA 5 absolutely free, has another update coming. Weeks after revamping its lobby system to make playing in events seamless, Rockstar Games is adding new weapons, vehicles and car customizations with the Lowriders GTA Online Update.
Rockstar took everyone by surprise when it announced the Lowriders GTA Online update this week on its Rockstar Newswire blog. GTA Online launched with GTA 5 back in 2013, but arrived on the Xbox One and PS4 late last year. Many assumed that with the lobby issues fixed Rockstar would move on to other projects. That doesn't seem to be the case at all; GTA Online Lowriders Update arrives for Xbox One PS4 and Windows PC owners on October 20th. This week's announcement doesn't even mention older versions of the game made available back in 2013.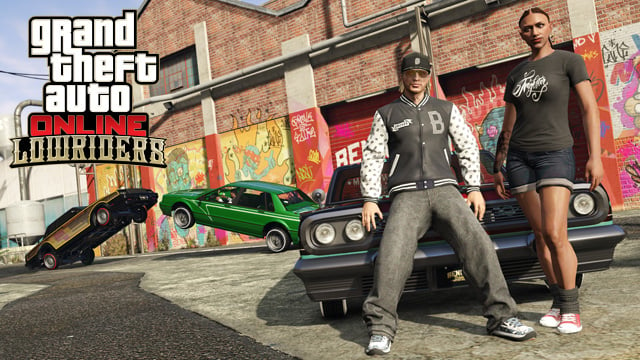 As its name suggests, the GTA Online Lowriders Update is mainly about providing the game's players with some new options when it comes to vehicles. The biggest feature the update adds to the GTA Online experience is a new shop for players to get their vehicles customized at. This new shop is called Benny's Original Motor Works, and it's specifically for lowrider vehicles and classic cars. Options available at Benny's includes steering wheels, air filters, engine covers, peddles, speakers and padded interiors.
To show all of this customization off, Rockstar is adding a new interaction menu. From this menu GTA Online players can open their car doors, trunks or hood, plus control the neon lights and stereo in their vehicles. Put simply, the game developer has made it easier than ever to virtual hold a car meetup within the game. Lamar, a character heavily featured in GTA 5, will provide players with new missions. Two new weapons are joining the rather extensive list of lethal items available for purchase in GTA 5. They are the Machine Pistol and the Machete.  The update allows users to own four different properties in the game world and adds "tons" of new outfits hats and clothing. There are 3 new Adversary Mods for GTA Online players too, with more content being revealed before the GTA Online Lowriders Update release date.
To be clear, all GTA 5 & GTA Online updates are completely free. Players can pick up GTA Online Shark Cards to give their characters some spending cash ahead of the update's release. This update isn't option; Xbox One and PS4 users should find that their consoles download and install the Lowriders Update on their own. That is, unless they've turned off each console's always-connected power-mode.
All told, Lowriders Update seems like another well thought out, will implemented upgrade for GTA Online. It's a shame that Xbox 360 users won't get to enjoy the new features, but Rockstar telegraphed its intent to move away from adding new content to those versions of the game with the last few updates. Those consoles didn't get the new Rockstar Editor video creation too with the last update Rockstar made available. They also weren't updated to support the new seamless GTA Online experience. Rockstar has confirmed that older consoles simply don't have the power or resources that adding these latest features to the game requires.
"Future content updates such as this are only possible on the newer and more powerful systems. As there isn't enough memory available to add to the game on the older systems, we cannot make any more meaningful content updates without putting the entire game at risk," a post about future Xbox 360 and PS3 upgrades from Rockstar Newswire reads.
The price of purchasing GTA 5 for Xbox One and PS4 hasn't fallen. GameStop sells pre-owned copies of the game for $54.99. The game remains regularly priced in the Xbox Store and PlayStation Store too.

As an Amazon Associate I earn from qualifying purchases.