LS800 Hardware InkShow – a reminder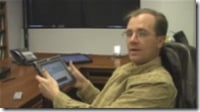 Back in April, I produced a Hardware InkShow of Motion Computing's LS800 Tablet PC. With all the excitment about the LS800 contest that Motion Computing is sponsoring for us, I thought it would be a good reminder to point out the review, and give everyone a little taste of just how mobile the LS800 is.
This review is in Flash streaming format and it is archived by our media hosting company, so it could take a few minutes to download. It is one of our most popular reviews, so it is worth the wait.
Enjoy

As an Amazon Associate I earn from qualifying purchases.