LucidTouch Becomes NanoTouch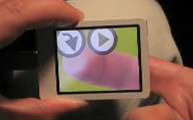 We've seen demos of LucidTouch before allowing users to touch objects on a screen from behind so as not to have bulky fingers covering up buttons and objects the way they do on current touchscreens. The early prototypes were exciting but it looks like the consensus was that the machines were too big and bulky.
Well, now Microsoft and Mitsubishi are showing off a smaller version called NanoTouch, using much smaller devices (and smaller screens.) Check out the video after the jump.
Via Gizmodo

As an Amazon Associate I earn from qualifying purchases.