For a long time, the only thing Microsoft needed to do was make a cheap phone to have its smartphone line be successful. Those were the days when a slew of Android devices struggled to beat it with a truckload of gimmicky features. The Lumia 635, on AT&T, is the antidote to the high-end smartphone market of yesteryear.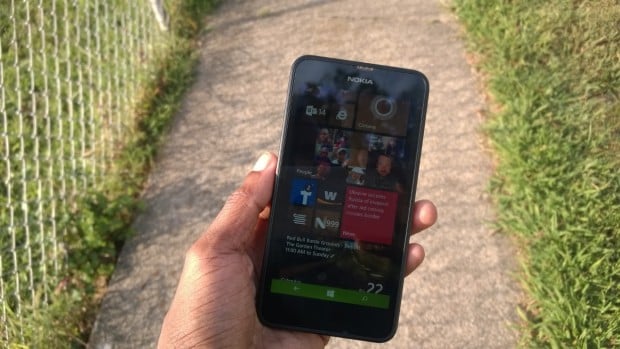 The Lumia 635 isn't a cheap smartphone running Microsoft's Windows Phone 8.1 operating system. It's a monumentally cheap smartphone running Windows Phone 8.1. At $99, it's one of the cheapest Windows Phones available in America right now. Unfortunately, Microsoft – who acquired Nokia's smartphone business back in April – no longer sits uncontested in the cheap smartphone landscape.
Here's how the Lumia 635 stacks up.
Lumia 635 Review: Hardware & Design
The Lumia 635 is a black box, or a white box depending on the color choice users make. The front of the Lumia 635 is all screen and bezel. There isn't a single physical button to be found on the device at all – something that's pretty unique to this device since Windows Phone 8.1 only recently introduced the option for device makers to drop hardware buttons. I call it a black box because it would be hard for  casual smartphone buyers to even identify it as a Windows Phone.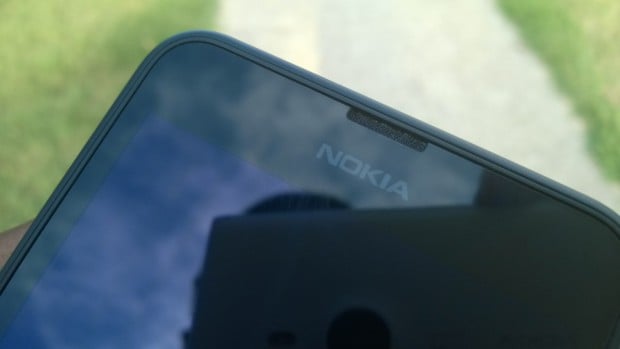 On the right side of the Lumia 635 are power and volume buttons. On the bottom edge of the phone is a microUSB cable. At the top is standard headphone jack. The rear of the Lumia 635 is where all the action is, if there's really any action to be found at all. The sides and back of the phone are covered in polycarbonate plastic that users can replace to add a bit of flair to their device.  A simple rear-facing camera and a speaker hole poke out from the back of the device.
The rounded edges and polycarbonate plastic of the Lumia 635 don't scream elegance. It's plastic – there's really no way Microsoft could have pulled off a miracle and made the Lumia 635 not feel cheap in the hand. That being said, the Lumia 635 doesn't feel all that terrible to hold. It feels solid and sturdy, like it could take a beating. The Lumia measures 5.10 x 2.625 x .36 inches, making it just the right size.
Lumia 635 Review: Display & Internals
Inside the Lumia 635 is Qualcomm's Snapdragon 1.2GHz quad-core processor and an 1830 mAh battery. Both of those are pretty robust and important. After all, a cheap smartphone with a puny processor isn't much use to anyone. At first glance the Qualcomm Snapdragon processor feels speedy and so does Windows Phone 8.1 running on it.
However, the Lumia 635 has a dark secret. The device only comes with 512 MB of RAM and 8GB of storage. The storage thing media lovers can get over, Windows Phone 8.1 allows users to store all of their media and apps on a microSD card, which the Lumia 635 supports. 512MB of RAM is the bare minimum that Windows Phone device makers can put in their handsets and it introduces some compatibility issues.
The display on the Lumia 635 as a 4.5-inch IPS LCD display that has a resolution of 854 x 380 pixels. That's a long way of saying that the Lumia 635 has a 4.5 inch display, one that doesn't come close to looking as good as what's included in high-end smartphones. Viewing angles are fine and color temperature are decent. Purchasing high-definition video to run on the device is a waste though.
Microsoft ditched the ambient light sensor that's shipped inside smartphones since the first iPhone in favor of having users manually toggle screen brightness from the Action Center. In theory I thought the ambient light sensor being missing would be a small inconvenience. In reality, it'll probably bother anyone who switches lighting situations an awful lot
In building cheap phones, device makers have always had to make some sacrifices. With the Lumia 520, Nokia sacrificed 4G LTE connectivity. In short, connecting to a mobile internet network on that device was slow compared to most devices released today. The Lumia 635 supports both T-Mobile and AT&T's 4G LTE network, so songs stream fast and web pages don't take a long time to download.
Camera and Extras
This being a cheap smartphone, the Lumia 635 is a bit light on extras, and by extras I mean some very basic functionality.
The Camera
In GottaBeMobile reviews a smartphone's camera normally gets a breakout section of its own. The camera has become one of the most-used and defining features of the modern smartphone. When users buy a smartphone, the first thing they examine is how the camera stacks up.
The Lumia 635's rear-facing 5 megapixel rear-facing camera doesn't get such an honor in this review for one simple reason. Pictures taken with it are alright, but they don't have a high level of detail. Things in the back of photos always have a grainy texture to them.
Compounding this less than stellar camera showing is the omission of two key features. First, the Lumia 635 doesn't include a camera button, something that most Windows Phones have included for ages. Microsoft makes up for this by allow users to quickly access the camera from the Action Center notification area just about anywhere. It's a valiant effort, but when I have at least three button presses separating me from my camera app I'm a less likely to capture the moment I want when it happens
Windows Phone 8.1 allows companies to replace the default camera app with one of their own making. With the Lumia 635, Microsoft does this, opting to take users directly to Nokia Camera instead of the stock Windows Phone camera experience. In testing the Lumia 635, I repeatedly ran into some horrible lag when I opened the camera app.
Lastly, the Lumia 635 doesn't have flash. You read that right. Unless you're in decent lighting that means you're counting on the phone's image algorithms to automatically improve on the photos you take for the best lighting. Sometimes it pulls off spectacular photos and sometimes, well, it doesn't.
Sensor Core
Where the Lumia 635 falls down on some things, it makes strides in others. The Lumia 625 is one of the first Nokia Windows Phones to come with Sensor Core. Nokia has a long explanation of what the system actually is, but to end users it's merely software and sensors that allow the phone to track how many steps they take or how many miles they run.
I found the software pretty accurate. It's worth noting that using it didn't kill my battery quickly, like some Bluetooth options for health tracking do. Users can get their data out thanks to the syncing built into the Health & Fitness app.
Sensor Core sounds like a gimmick, but I have found myself slowly thinking more about being active and staying healthy. I woudn't go so far as to say it's a big reason to buy the Lumia 635, but it does provide the device's only unique extra feature.
Lumia 635 Review:  Software
Windows Phone 8.1
The Lumia 635 runs Microsoft's Windows Phone 8.1 mobile operating system. That's the version that includes the Cortana personal assistant and tons of customization options. Additionally, Nokia makes its own mapping technology, photo editing tools and more available to users exclusively.
Read: Windows Phone 8.1 Review: It's an iPhone Killer, Almost
Many of the apps that are Nokia exclusives are a bit gimmicky, but a few do come in handy, mainly Nokia Camera and Nokia Play To, which surface options still not seen in Windows Phone, generally. Nokia Camera is by far, the easiest camera app available on any smartphone, but the amount of time it takes to load is outrageous.
My Experience
I'm native to Windows Phone. The first and last smartphones I've purchased were Windows Phones. As the platform has grown many of the apps and games that users crave have arrived on Windows Phone. I felt confident that going into the Lumia 635 review all of my favorite apps and games from my Lumia 925 would be available to me.
Thanks to the Lumia 635's 512MB of RAM, that's not what necessarily happened. Soon enough I found myself unable to install the basic apps that were available to me on other Windows Phones. We're talking basic apps too, like the Xbox Live Avatar Editor and Spotify. Developers have to explicitly make their titles available for smartphones with less RAM. Many of my basic app needs were met but I ran into those RAM requirements more often than I thought I would.
Another issue I had with the Lumia 635's software experience was directly related to Windows Phone 8.1. When Microsoft announced the operating system it said that users would be able to hide on-screen buttons on devices that support them. On the Lumia 635, I can't, which practically ruins the mobile video experience. When you're watching a show the last thing you want are bright icons on the side of your screen.
I really did find myself just not bothering to take photos after a few tries either. The missing camera button was one thing, but that loading time just sapped any enthusiasm I had for picture taking.
Too often, many smartphones include a lot of extras and miss on the battery life. I don't know what I expected from the Lumia 635 in terms of battery life. I do know that what I got was a smartphone with absolutely amazing battery life. Nokia rates the Lumia 635 at a standby time of around 17 hours and music playback time of around 40 hours. I don't know how scientific their testing was, but I do know I charged the Lumia 635 on a Monday and, with mild usage, didn't charge it again until Thursday.
Conclusion
In the end, the only thing you can judge the Lumia 635 by is whether it reliably delivers on the things it promises and the market it's aimed at. The Lumia 635 is a decent smartphone for users who aren't too demanding, with the only real downsides being its rear-facing camera's lack of flash and those apps that aren't available on it. For a larger smartphone platform, this wouldn't be a problem, but the Lumia 635 is a Windows Phone, which already takes its share of knocks for not having as many apps as Android or iPhone. Thankfully, many Windows Phone 8.1 apps are being updated to take advantage of less powerful devices.
The Lumia 635 is a great smartphone at a great price with two huge issues. Its camera isn't great, but including flash would have at least helped in low-light. Not including flash hurts what's otherwise a pretty robust package. The Lumia 635 is great for new smartphone owners and users who aren't too demanding when it comes to games.
Clearly, though, photographers and those used to other high-end smartphone like the latest  iPhones should look elsewhere. Under no circumstances is the Lumia 635 to be purchased with any kind of photography in mind. That's a shame because design-wise the Lumia 635 is pretty solid.