Lumia 830 Is the Latest iPhone 6 Rival Confirmed for AT&T
Late last night Microsoft Mobile's Stephen Elop revealed that the iPhone 6 will have a new competitor when it hits at least one American wireless carrier in just a few weeks. There's officially an AT&T Lumia 830 coming.
Elop, who heads Microsoft Mobile, revealed there was an AT&T Lumia 830 on its way on stage during a wireless industry event. The carrier then confirmed that an AT&T Lumia 830 was on the way with a press release of its own.
As there's no name change – as would be customary with Microsoft Mobile if the AT&T Lumia 830 had any different features from the international version – we can conclude that the device is internally identical to the Lumia 830 that Microsoft Mobile revealed back at IFA 2014. That means that users can expect the same Snapdragon processor, 10 megapixel rear-facing camera, front-facing camera and 5-inch display.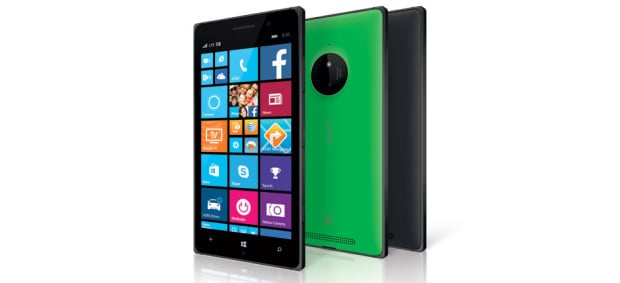 From a picture included with the press release, we do know that the AT&T Lumia 830 will come in two color combinations that are a bit more muted than what Microsoft Mobile has showed off in the past. One device included in the picture has a black metal rim with black polycarbonate plastic. The other has a black rim but a sort-of forest green polycarbonate plastic backing. The Instead of ruining the front of the device, the AT&T logo will sit on the back casing of the Lumia 830.
AT&T is conforming that the Lumia 830 arriving on its network will be able to talk to its 4G LTE network. As such, users can expect that they'll get pretty fast music downloading, and video streaming where ever they are. AT&T is also confirming that it'll include its standard bevy of navigation apps, television streaming app, account app and AT&T Locker service on the Lumia 830. That might not please a lot of Windows Phone buyers looking for a device without carrier influence, but each one of the apps included by AT&T can be removed from the Lumia 830.
If AT&T stays true to form it will also force Microsoft Mobile to ditch the QI Wireless charging compatibility from the Lumia 830. It's done that in the past with smartphones made by Microsoft Mobile, mainly because it backs a competing wireless charging standard that isn't compatible with QI.
Read: Microsoft Announces Lumia 830 & Lumia 730 Ahead of the iPhone 6
The international version of the Lumia 830 comes with 16GB of storage and a MicroSD card slot for adding more storage. The 1.2 GHZ quad-core processor and 1GB of RAM that are included in the Lumia 830 led Microsoft to repeatedly refer to the Lumia 830 as an "affordable flagship."
That is Microsoft is hoping that the $430 off contract price will help make up for its less-than-current processor and limited amount of RAM when compared to rivals like the iPhone 6. Even the Lumia 830's display isn't flagship material. It's 5-inches like most modern smartphones, but isn't full-HD video capable.
Pricing and exact availability remain a mystery. Yesterday, Elop was only willing to confirm that both companies had plans for the AT&T Lumia 830 to be available before the holiday shopping season.
That the device actually does arrive before the holiday shopping season is absolutely crucial. The Lumia 830 isn't just the only "affordable flagship" Microsoft has available in the United States, it is the only flagship smartphone with a normal screen made by Microsoft that's available on a carrier other than Verizon. It joins the Lumia 1520 phablet, which came out last year. The Lumia 635, which is also available on AT&T and arrived on store shelves this year is aimed at those buying their first smartphone.

As an Amazon Associate I earn from qualifying purchases.