Lumia 830 & Lumia 735 U.S. Release Date Confirmed
Microsoft Mobile & Nokia's website have confirmed what many potential Windows Phone buyers hoped would happen some point soon. The Lumia 830 and Lumia 735 will come to carriers in the United States if postings to the site are accurate.
Official specifications, images and information for the Lumia 830 and Lumia 735 began appearing on the website late last night, but it wasn't until this morning that some Windows Phone enthusiasts began putting the pieces together. The page isn't a collection of different phones available world-wide. Instead, it's meant to show case the Microsoft Mobile smartphones that are or will be available for purchase in the United States for sure.
Unfortunately, the page doesn't indicate what carriers the Lumia 830 and Lumia 735 will be on. That being said, Nokia has long-standing relationships with AT&T, Verizon, T-Mobile, Cricket & MetroPCS. Presumably, if the phones are coming to the United States they'll definitely show up at one or all five of these carriers. Microsoft Mobile doesn't have any devices available on Sprint, the nation's third-largest wireless carrier. As such, it's highly unlikely that the Lumia 830 or Lumia 735 will be available there.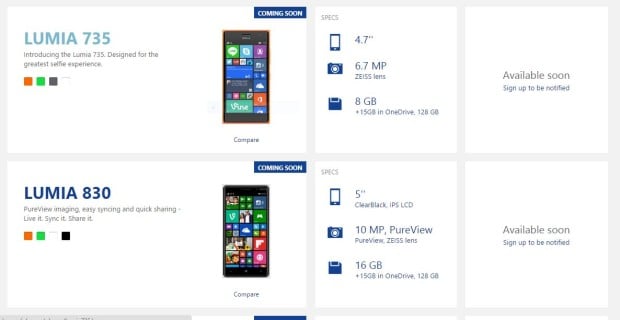 Other than acting as an official confirmation that the Lumia 830 and Lumia 735 will have a U.S. release date at some point, the page also confirms that these devices won't be getting significant hardware changes just for Americans. On the page the Lumia 830 is listed as having the same 5-inch 720p display, 4G LTE compatibility and 16GB of storage as the version Microsoft announced yesterday. The Lumia 735's 4.7-inch display 6.7 megapixel camera and 8GB of storage are also the same. That might sound like a given, but Microsoft Mobile has earned a reputation for making carrier specific models of their phones that have slightly different specifications and storage.
Announced at IFA 2014 yesterday, The Lumia 830 represents Microsoft's effort to compete in the mid-range smartphone space. Costing roughly $450 before subsidies and discounts, the Lumia 830 has a 10 megapixel rear-facing camera, a quad-core processor, 1GB of RAM and a spacious 5-inch display. Wireless charging, a MicroSD card slot and a front-facing camera for taking self-portraits make it a very decent device. Microsoft is billing it as an "affordable flagship," highlighting its decision to provide value in the face of ever cheaper smartphones like the Moto X.
The Lumia 735 is a value proposition as well. The 735 has a 4.7-inch 720p display and a rear-facing 6.7 megapixel camera provide a competitive experience with most high-end phones. There's also built-in wireless charging so that users don't have to stay tethered to USB cable. A 1.2 GHz processor and 1GB of RAM will are inside. The Lumia 735's claim to fame isn't its brightly colored exterior or even its low $285 price tag before carrier discounts. Instead, it's the 5 megapixel front-facing camera that's included on every device. Nokia hopes that the better-than-average camera will help the device take off since Lumia 735 buyers will be able to take high-quality self-portraits than other phones with more modest front-facing cameras.
Read: Microsoft Announces Lumia 830 & Lumia 735 Ahead of the iPhone 6
They're both modest smartphones, but their importance to Microsoft's Windows Phone efforts in the United States simply can't be understated. After Nokia announced plans to sell its Devices and Services division to Microsoft last year, the supply of new Windows Phones simply dried up. It's been a solid year since a flagship Windows Phone was available anywhere else except on Verizon. AT&T users are stuck choosing between refurbished versions of the Lumia 925 and the huge Lumia 1520. T-Mobile users only have the Lumia 630 to take seriously at this point.
With the iPhone 6 expected to be announced early next week and Android smartphones getting better all the time, the Lumia 735 and Lumia 830 need to arrive as soon as possible.