Lumia 929 Becomes The Lumia Icon, Gets Leaked By Verizon
Nokia is getting closer and closer to releasing a device with a quad-core processor for potential Windows Phone buyers on Verizon. At least, that's the conclusion wireless watchers are arriving at after the Nokia Lumia Icon surfaced online.
Verizon leaked details of the Lumia Icon on its website this morning when it added the upcoming Windows Phone's detail page on its website.
The Nokia Lumia Icon completely matches the rumored specifications of the Lumia 929, the device that most leaks indicated Nokia would announce along with the Lumia 2520 tablet and Lumia 1520 phablet it formally announced back in September.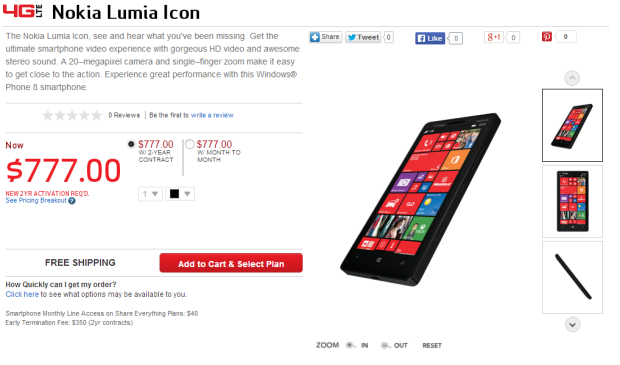 Gone is the 8 megapixel camera from the Lumia 928 device that acts as the current Nokia flagship on Verizon. Instead, the Lumia Icon packs a 20 megapixel rear-facing camera. The device also features a huge display upgrade. According to this page, the Lumia Icon will sport a 5-inch display that'll please any Verizon user who already had their eye on a device with a large screen. The Lumia Icon does borrow the quad-core processor the Lumia 1520 uses to speed uploading of apps and games.
Unfortunately, those specifications and a few photos are the only thing confirmed by the leak. The Verizon specifications list the device as costing $777 dollars with or without a two-year contract. Clearly, that price is simply a place holder included by the Verizon employee who posted the page early.
We don't yet know when Nokia plans to launch the Nokia Lumia Icon, however with this page up the Lumia Icon's launch can't be that far away. Whenever it arrives, the Lumia Icon will become only the second Windows Phone 8 smartphone to include a quad-core processor.
Today, only the Lumia 2520 and the Lumia 1520 include a quad-core processor. Of those two, only the Lumia 2520, which is a full-sized Windows RT tablet, is available to Verizon users. Should the Lumia Icon actually make it to store shelves it would become the first Nokia smartphone to arrive with custom branding. Typically, Nokia opts to assign each device a model number based on where it fits into the company's portfolio.

As an Amazon Associate I earn from qualifying purchases.