Lumia 950 & 950 XL Release Date: What We Know So Far
Microsoft has made it clear that it doesn't want to be in the business of creating what most consider iPhone killers. That is, the company is no longer trying to eclipse the sales of the iPhone or even devices running Google's Android operating system. At least, it's not trying to do so with its own line-up of smartphones. For now, it's hoping to inspire hardware partners take on that fight.
Today, the Lumia line dominates the Windows ecosystem, setting the standard by which all Windows Phones are judged. At an event in New York City in October Microsoft announced two new Windows phones that it expects to act as guiding lights for the hardware that its partners make. The Lumia 950 XL is a super-size smartphone meant for users who want the best camera and biggest screen they can find. It has the fastest processor of any Lumia device ever released. The Lumia 950 XL doesn't have a display as big as the Lumia 950 XL or a processor as fast. It's aimed at users who want power and need a smartphone they can actually stuff into their pocket.
Read: Lumia 950 & Lumia 950 XL Release Date Details Revealed
Since announcing the Lumia 950 and Lumia 950 XL on stage on October 6th, the company has said very little about the two devices. Here's what we know about the Lumia 950 and Lumia 950 XL ahead of their release, which should be sometime this month.
Lumia 950 & Lumia 950 XL Release Date & Pre-Orders
Microsoft is definitely playing a dangerous game with the Lumia 950 family. Without announcing a Lumia 950 release date officially, it's leaving potential buyers to twist in the wind.
Officially, the Lumia 950 and Lumia 950 XL are set for a release sometime in November. That's the release window that Microsoft provided to journalists who attended its briefing or watched it online. On reveal day it added listings for the Lumia 950 and Lumia 950 XL to its Microsoft Store websites around the world.
None of those entries in the United States show a potential release date for any of these devices, even the unlocked versions that Microsoft plans to sell directly to users instead of forcing everyone through a carrier. Windows Central reports that users will be able to purchase an AT&T Lumia 950 beginning November 20th, but Microsoft has yet to confirm that. For its part, AT&T's website doesn't list a release date for the device either. The UK Microsoft Store shows a release date of December 3rd for both devices. The German Microsoft Store shows a release date of November 28th.
We do know that the Lumia 950 XL will cost $649 Unlocked and without a carrier subsidy. The Microsoft Store in the United States doesn't list any pricing for the smaller device. Users able to shop at the international Microsoft Stores should be able to place pre-orders now. Potential buyers in the United States are still out of luck.
Lumia 950 & Lumia 950 XL Specifications
The bigger of the two, the Lumia 950 XL is miniature tablet user's dream. It has a 5.7-inch AMOLED Quad HD display with a resolution of 2560 x 1440. That's a longer way of saying that users won't be able to see the individual pixels on this devices screen. Inside is a Snapdragon 810 processor with 3GB of RAM.  There's a 20 megapixel camera on the rear, along with optical image stabilization and a triple flash module that'll make taking life-like, low-light pictures a lot easier. The familiars are there, like built-in wireless charging and a front-facing 5 megapixel camera. Inside is 32GB of storage and SD card slot to add more.
The Lumia 950 has a Snapdragon 810 processor with just six cores instead of the eight its bigger brother does. The 32GB of storage is the same, but this device has a AMOLED display with a resolution of 1440 x 2560 pixels that measures 5.2-inches from corner to corner. The camera optics are exactly the same as the Lumia 950 XL's camera.
Lumia 950 & Lumia 950 XL Why Buy?
So why buy the Lumia 950 family? In this world of iPhones that come in every size and Android devices that provide every possible configuration you could want, why would anyone purchase these?
If the somewhat muted release that Microsoft has planned thus far is any indication, Microsoft is biding its time until it or a partner has a device it can better make that argument with. The company describes both devices on its websites as "The phone that works like your PC." It is tying the future of Windows Phone with the future of Windows. The apps that you buy, the games that you play and the account that you use on your notebook, desktop or tablet running Windows 10, works on these new devices. The apps are exactly the same too.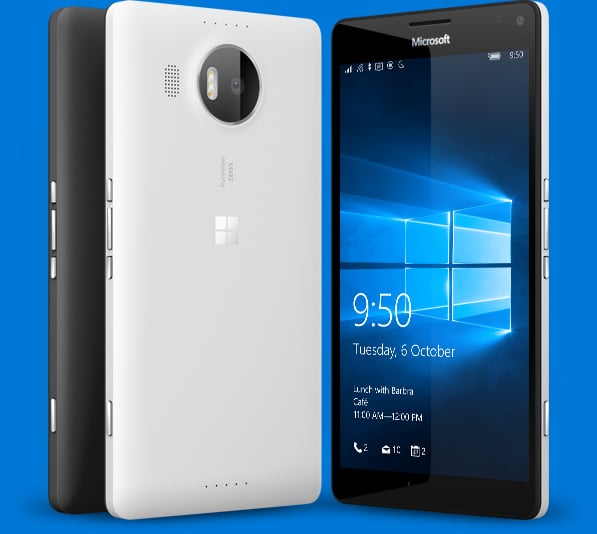 Windows Hello is a feature that lets users login with just a gaze. It's available in both of these devices, effectively acting as substitute for a fingerprint reader. USB Type C ports and a special dock allow both of these devices to be used as PCs, provided that users don't want to install anything from outside the Windows Store. Microsoft calls this feature Continuum, the same name it's given to the system that allows Windows 2-in-1s to switch in and out of Tablet Mode.
Read: Microsoft Reveals Stunning Windows 10 for Phones Feature
For Windows to survive Microsoft has to do better in mobile devices. For mobile devices to do better Microsoft has to tie them to Windows. If Windows 10 for phones shows modest games, other device makers could rush in, boosting the operating system's profile. Its the same tactic the company used for Surface devices.
Good luck with the Lumia 950 and Lumia 950 XL release date. Hopefully, Microsoft has more news to share about the two flagship devices soon.