Lumia 950 iPhone 6s Rivals Leak Again
It seems Microsoft just can't keep quiet about its coming iPhone 6s rivals. Just a week after slides from a presentation leaked almost every thing there is to know about them, the Lumia 950 and Lumia 950 XL are back on the web again. This time it's not slides, but the Microsoft Store website that has the details.
Sometime in the last day or two the Lumia 950 and Lumia 950 XL began showing up on the Microsoft Store website for shoppers in the United Kingdom. Reportedly, the Lumia 950 and Lumia 950 XL are the flagship smartphones that Microsoft has talked up at every press event this year. It's Lumia line of smartphones have been without a proper high-end smartphone since the Lumia 930 launched in June of 2014. The devices will be the very first to carry Windows 10 for smartphones and tablets.
Listed on a page for "Windows 10 Ready Phones," the Lumia 950 and Lumia 950 XL entries don't include a price, which is one of the few pieces of information that hasn't leaked. In fact, the entries aren't fully working just yet. Selecting either doesn't take users to a page full of all of their features.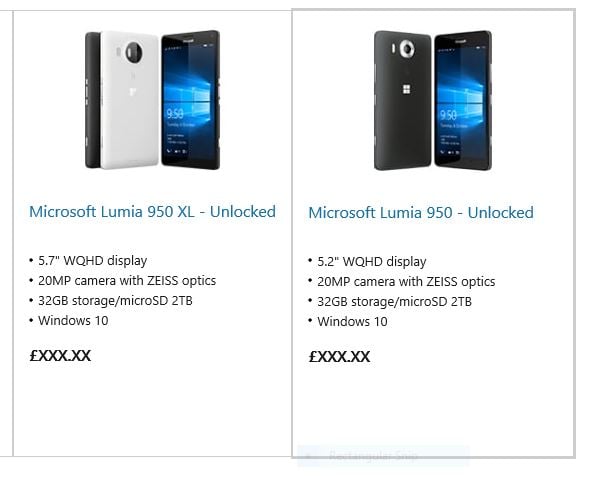 That isn't to say that these listings don't reveal anything new. Previously leaked materials didn't indicate a microSD card slot for the Lumia 950 and the Lumia 950 XL. These listings indicate that both the Lumia 950 and Lumia 950 XL will come with 32GB of storage. The devices also have built-in microSD card slots for adding even more storage. For comparison, the iPhone 6s still comes with 16GB of storage. There isn't a way to add more local storage to any Apple-made smartphone.
Read: Lumia 950 Leaks Reveal All on iPhone 6s Release Day
Each Lumia has come in a wide variety of colors. For other devices listed on the page, those colors are on full display. The Lumia 950 XL and Lumia 950 entries on the Microsoft Store don't include pictures of any colors that we didn't know about. The leakers seemingly confirmed that the Lumia 950 XL will only come in either white or black and that the Lumia 950 will only come in black. It's a step back for Lumia and bizarre considering Apple's iPhone 6s comes in four different colors now. The page also confirms that the Lumia 950 XL has a 5.7-inch display and that the Lumia 950 has a 5.2-inch display.
Apple has long sold unlocked versions of its iPhone devices in its own stores and on its website for full price at launch. Both listings on the Microsoft Store indicate that Microsoft is following that example. Unlocked devices are more expensive up-front, but buyers don't have to worry about signing a two-year contract to pay for their device and an expensive service plan.
Apple launched the iPhone 6s to great sales last Friday. Microsoft hopes that by slimming down its portfolio and releasing high-end devices it'll see some traction in the United States. Windows phone is the third most popular smartphone operating system, but the overwhelming majority of devices are sold outside of the United States. Inside the United States carrier exclusives, poor marketing and bad pricing have led to stagnant sales behind iPhones and devices running Google's Android operating system.
The Lumia 950 and Lumia 950 XL have iris scanners that let users log in without having to enter a passcode. Microsoft calls the feature Windows Hello and it's already available on notebooks, tablets and desktop PCs with the right hardware. Both devices also include support for Continuum, a special feature that lets them emulate a Windows 10 desktop or notebook when connected to an optional dock. To pull this trick off both have access to the new Windows Store and Windows apps. Each ditches a standard microUSB port for a USB Type C port too. Wireless charging and quick USB charging are rumored features too.
Read: Surface Pro 4 & iPhone 6s Rival Event Set for October
The Lumia 950 and Lumia 950 XL will be the first flagship smartphones launched since Microsoft purchased Nokia's Devices & Services business. Besides announcing these devices at its October 6th event, Microsoft is also expected to reveal the Surface Pro 4.