Lunatik Review: iPod Nano as a Watch is Awesome, But Does Not Impress the Ladies
The Lunatik is the best iPod Nano wrist watch solution on the market and I was very excited to finally pick up a sixth-generation iPod Nano this weekend. If you're the kind of person that liked having a calculator on your wrist when you were a kid, you'll absolutely love the iPod Nano and Lunatik combo.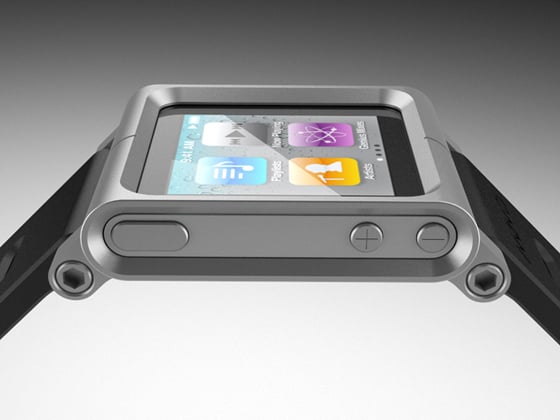 I admittedly didn't 'need' an iPod Nano since I already have an iPhone 4, iPad and a couple of older iPods floating around. But my wife's always told me that my outfits never looked complete without a watch. When I ran across the Lunatik on Kickstarter I thought it was the perfect answer to her request. So I pledged some cash to the project and waited a couple of months for my Lunatik to show up.
The Lunatik is made up of two parts- the enclosure that holds the iPod Nano and a rubber watch band. The aluminum matches the silver iPod nano perfectly and it could pass as an Apple-made iPod accessory. The wristband has a sporty appearance and matching aluminum fasteners. The headphone jack, control buttons and iPod cable port are all readily accessible.
The Lunatik designers insist that the band is big enough for most people, but my wrists max this thing out. If I gain an ounce I'll have to go shopping for another watch band. Fortunately, the Lunatik is designed to accept any 28mm watch band.
The iPod Nano can be set to wake up and display a watch dial. You can choose between a white or black face. It doesn't matter which way you strap the iPod Nano onto your wrist because you can rotate the display any way you wish using multi-touch gestures.
So what am I using the iPod Nano for besides a watch? So far, my biggest use case has been listening to radio while I work. The iPod Nano has a built-in FM radio tuner that works quite well. It automatically scans for stations and lets you set up favorites. My favorite local station is KCSM 91.1, a commercial-free jazz station in the San Francisco Bay Area.
While the iPod Nano doesn't have anything like the apps offered for iOS devices, it comes loaded with a handful of useful utilities. I like the pedometer feature, which simply tracks how many steps you take and estimates the number of calories you burn.
I've been cooking more these days and I've started to use the iPod Nano's timer function. Yes, my iPhone has a similar app, but having it readily available on my wrist is really convenient.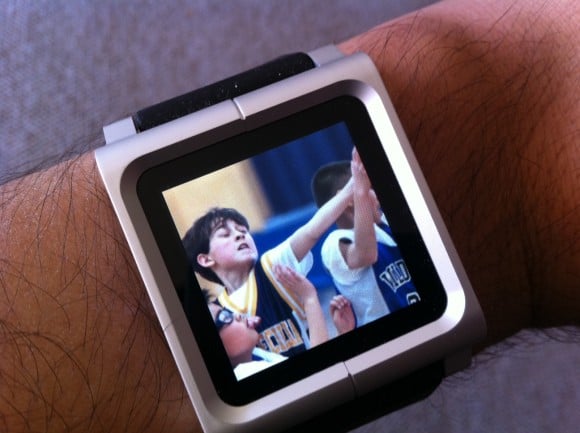 The iPod Nano can also be synched with photo libraries. I set up the iPod Nano to save all of my 5-star photos from iPhone.
Obviously I'm enjoying my new iWatch, but like I mentioned in the headlines, it does not impress the ladies. My wife has already threatened that my new watch might get 'lost' while I'm sleeping. She's also made me promise not to wear it out when we go out with her friends to save her from embarrassment. When I wore it out on Saturday night to a dinner, one of our friends insisted that her fiance would NEVER be allowed to wear such a watch.
If you're a single guy looking for love you probably will want to skip showing the Lunatik off while on dates. If you're an old married guy like me that doesn't much care what the chicks think, the Lunatik is the best way to turn an iPod into a watch.
You can order a Lunatik from Lunatik.com, but you'll have to wait 1-2 weeks to receive it as they're extremely backordered. The pre-sale that launched back in November raised $941,718 and they have thousands of orders to fulfill. You can also opt for the more affordable TikTok, but it isn't as durable or protective as the LunaTik. The one advantage of the TikTok is that it's easier to remove the iPod Nano should you want to clip it elsewhere.

As an Amazon Associate I earn from qualifying purchases.