LunaTik Touch Pen Stylus – Ballpoint Pen in an iPad Stylus Tip
I had a new favorite stylus for my iPad until I saw an awesome looking Kickstarter project called the LunaTik Touch Pen Stylus, made by the same folks who came up with one of the most elegant and successful iPod Nano watch bands (also branded LunaTik and also sold via Kickstarter).
The Dagi stylus that I just purchased now seems very ordinary with this beautiful new stylus from LunaTik.
The Touch Pen Stylus comes in a number of different styles and colors but the coolest thing has to be the ballpoint pen inside the stylus tip. I've used styli that have pens integrated into the opposite end, but this thing puts in right in the stylus tip. Click the button, like you would with most retractable ballpoint pens, and the tip protrudes through the stylus tip. You'll have to be careful to not scratch your iPad with the ballpoint tip, but you will no longer have to keep up with a cap. I have yet to find one with a cap that fits over the other end with the stylus nub, like a normal pen has.

I'm not sure how well it works, since it hasn't reached the production phase on Kickstarter, but the LunaTik looks awesome. It looks large enough for someone to write comfortably despite having big hands like mine. You can pick between many colors and a few designs. It has an "aircraft grade aluminum barrel" with silicon rubber gripping or a cheaper plastic barrel. The designers even brag about the sturdy clip to hold it in your pocket protector or your iPad case, which is where I store my stylus.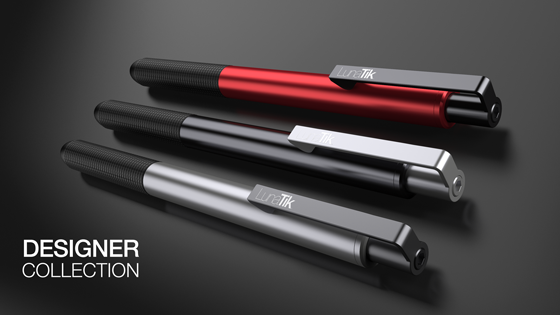 Kickstarter lets customers "invest" in the product by pledging support for an item before it is manufactured, saving the designer the need to get significant investments until after it knows whether it has a hit or not. You can give as little as a buck to most projects just to help them out, or as much as $500 in the case of LunaTik's project. Varying degrees of support offer varying levels of reward.
$30 gives you two plastic versions of the pen in black and white
Another $30 support level offers just one pen – the higher quality aluminum model
$50 pledged gives you the MNML Collection, which includes 1 aluminum pen in silver with a graphite clip and a pair of plastic pens in both black and white
$75 gives you the CMYK Collection, which comes with plastic pens in Cyan, Magenta, Yellow and Black with a bonus white pen
$100 gives you the Designer Collection with red, black and silver anodized aluminum alloy pens each with a clip
$200 gives you the Anniversary Collection with a pen and the iPod Nano watch band in matching colors
$500 gives you all of the above
These pens/styli look great and I find myself really wanting one. I was satisfied with my Dagi, which has a precision that no other stylus offers thanks to the unique tip molded into a clear plastic circle that protects the iPad screen from the metal tip. It works great and I loved it. It just feels really flimsy and looks even less attractive by comparison to this project. So, I'll likely be throwing my support behind this Kickstarter project. I'm leaning towards the $50 level.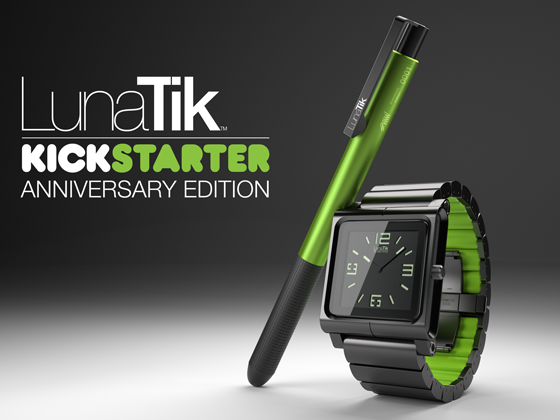 Check out the project on Kickstarter and bid if you like. They are a nearly 2o,000 away from being fully funded.