Mac App Store Built Into OSX Lion, Gets In-App Purchases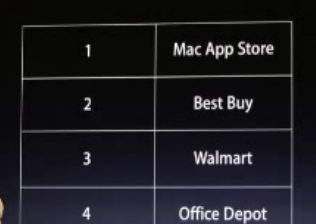 Apple announced that the Mac App Store will now be built into OSX Lion. That means every Mac sold will have a portal to the Mac App Store, just as every iPhone and iPad has built-in access to Apple's mobile App Store and iTunes Store.
According to Apple, the Mac App Store is now the number one store for personal computer software. Launched earlier this year, developers large and small have had success with the Mac App Store.
At the WWDC keynote, Apple revealed some impressive numbers. Autodesk has seen a million Mac users install Sketchbook pro via the Mac App Store. The publishers of Mini Ninja have doubled their revenue thanks to the store. Pixelmator saw a million dollars in revenue thanks to the Mac App Store in the first 20 days.
The new version of the Mac App Store includes in-app purchases, which is a big deal for Mac developers. In-app purchases allow developers to sell again and again to loyal customers for added functionality or new features.

As an Amazon Associate I earn from qualifying purchases.