Mac Mini 2014 Release Could Arrive Next Month
The rumor mill has been awfully quiet about the next-generation Mac Mini, but a new report suggests that we'll see a refresh next month during the iPad event.
According to MacRumors, Apple is expected to launch a new Mac Mini in October during the company's iPad event and OS X Yosemite launch. This would make perfect sense given that Apple has launched new Macs in the past during its iPad events, so unveiling a new Mac Mini seems fairly plausible.
However, no more details were provided about this new Mac Mini, including specs, although it's safe to assume that it'll come equipped with a faster processor, more RAM, and updated connector ports like Thunderbolt 2 and USB 3.0.
It'll be a bit interesting to see what processor Apple decides to use if it does indeed launch the Mac Mini next month. Intel is in between processors right now, with its Broadwell chips not slated to arrive until early next year, and its current Haswell processors are beginning to lose their cutting-edge "new-ness" so to speak.
Rumors of a new Mac Mini have been swirling all year long, but we've seen no move by Apple yet as far as updating the smaller desktop machine.
Back in June, the company discounted the Mac Mini over in Europe, which possibly hinted at an impending hardware refresh, but we have yet to see that. Pricing of the Mac mini dropped anywhere between €30 and €60, depending on the country and model, while the Apple TV saw a drop of €10 and £20 in the UK.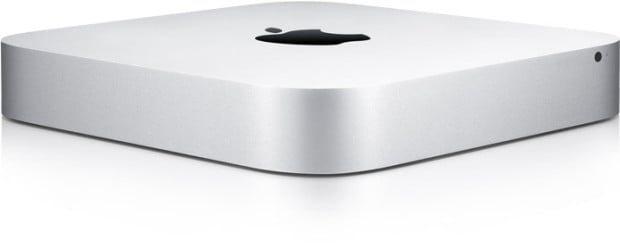 Of course, no such price cuts for the Mac Mini have hit the US, which could point to the fact that Apple simply rolled out a limited time deal to boost sales a bit in select markets across the Atlantic.
The Mac Mini is a product that needs updated badly. Apple hasn't updated the Mac Mini since late 2012, but that's not surprising considering that the product isn't a huge focus for Apple. MacBooks and iMacs are the company's money-makers, but the Mac Mini still has purpose as a smaller, discreet system for those without a lot of desk space, and we can see Apple finally refreshing the smaller Mac machine in 2014, hopefully with new Intel Haswell processors and faster internals overall, as well as more RAM and updated Thunderbolt and USB 3.0 ports.
We've heard of other reports throughout the year about the possibility of a 2014 Mac Mini release, including a reference to a "mid-2014" Mac Mini on Apple's Support page. However, it doesn't appear that it was real, since we're well past the summer months of 2014.
Nonetheless, while the Mac Mini isn't Apple's top product, it still has a purpose for many users, and a refresh would go a long way as far as selling more computers. There's always a demand for low-powered desktop machines for casual users that don't need a lot of power out of their computer. The Mac Mini hits this need for many users, and it's low cost makes it a tempting buy for these types of users.

As an Amazon Associate I earn from qualifying purchases.