Mac OS X 10.9 Could Feature Better Full-screen Support, Tabbed Finder
Apple may bring some iOS functionality and new features for power users to OS X 10.9. The company will likely debut these at WWDC 2013 in June.
9To5Mac reports that OS X 10.9, code-named "Cabernet," won't completely change how OS X works like Lion and Mountain Lion did. But it will add more features to appease power users. These include a new Finder that supports tags and tabbed windows, as well as improved full-screen support for multiple monitors.
In OS X 10.8 users with multiple monitors can't fully take advantage of full-screen apps because the mode uses just one monitor. When in full screen, all other monitors display the grey stitched linen pattern Apple uses behind Mission Control. The next version of OS X may let users put other spaces of full-screen apps on other monitors in their setup, making full-screen useful for them.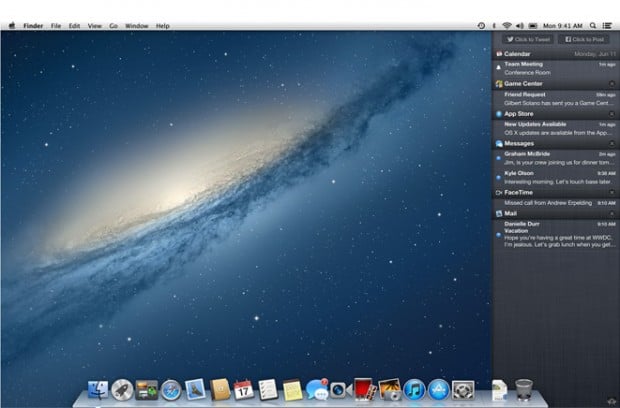 Apple Senior Vice President of Software Engineering Craig Federighi hinted at such a feature in an email to a 9To5Mac reader in October 2012. In regards to full-screen on multiple monitors, he said the company is "absolutely aware of [its] customers' passion on this topic."
OS X 10.9 may also introduce an enhanced Finder, which many users have craved for a long time. The new Finder may include tags and tabbed browsing, making it easier to find files both manually and through search. There are third-party apps that add such functionality, including full Finder replacements, but OS X 10.9 may render those unnecessary.
OS X 10.8 Mountain Lion brought iOS apps like Messages, Notes and Game Center to the Mac. OS X 10.9 will focus more on system functions. Previous rumors said Apple would bring Siri to the next version of its Mac OS, but after the recent executive shift following Scott Forstall's departure, those plans may have changed.
One source claims Apple is currently testing a multitasking feature similar to the one found in iOS for OS X 10.9. Such a feature "will be functional for applications in the background." Apple may also bring app-pausing features of iOS to OS X to pause background processes.
Bringing iOS multitasking features to OS X will likely help increase battery life for MacBook. A potential upgrade to Intel Haswell processors will further help increase battery life if such rumors are true.