Mac Pro Available Now at Best Buy
Apple's new Mac Pro is now available for purchase at Best Buy. If you'd rather not wait until February to get one directly from Apple, you can order the non-customizable base models off of Best Buy's website right now, which seems to show only a "1 business day" handling time until the store can ship it out to your doorstep.
Mac Pro availability on Apple's own website is rather bleak, and the new machines quickly sold out. The website lists that there won't be more units coming in until next month, so if it's something that you need as soon as possible, it's probably best to go another route and order it from Best Buy instead.
Of course, Best Buy only has the non-customizable base models of the Mac Pro, with one priced at $2,999 and the other priced at $3,999. The entry-level $2,999 model sports a 3.7GHz quad-core Xeon processor, 12GB of RAM, dual FirePro D300 graphics, and a 256GB solid-state drive. The $3,999 model packs a 3.5GHz 6-core processor, dual FirePro D500 graphics and 16GB of RAM.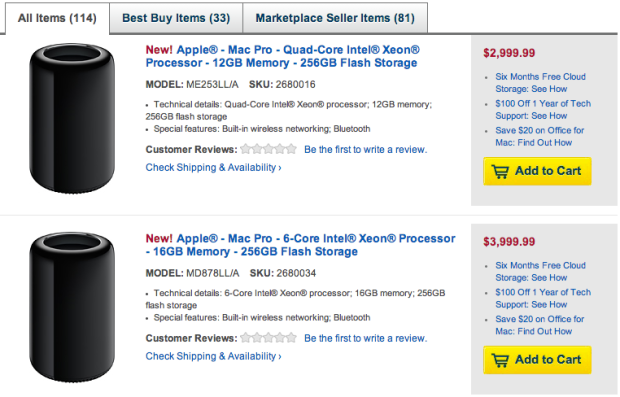 While the Best Buy units may not be customizable from the store, the new Mac Pro is surprisingly upgradable. iFixit recently tore down the new computer and gave it a repairability score of 8/10, which is one of the highest scores of an Apple product in a while, so it should be fairly easy for folks to upgrade the RAM if they really want to, although the entry-level model is plenty fast.
Of course, if you buy the Mac Pro directly from Apple, you can customize and upgrade it to pack in 8- or 12-core processors, D700 graphics and a whopping 64 GB of RAM. It turns out that a fully maxed-out Mac Pro will cost $9,600, but seeing as you'll most likely want a keyboard and mouse (which are sold separately for some unknown reason), as well as a couple of Thunderbolt displays (one of which is a 32-inch 4K display from Sharp), that will bring the cost up to a whopping $14,330 for the full setup.

As an Amazon Associate I earn from qualifying purchases.