Mac Pro Available Now, Begins Shipping December 30 (Update)
As promised, Apple has put its all-new Mac Pro up for sale in its online store. The new computer starts at $2,999, which will get you a a 3.7GHz quad-core Xeon processor, 12GB of RAM, dual FirePro D300 graphics, and a 256GB solid-state drive. There's also another model that starts at $3,999, which is a step up with a 3.5GHz 6-core processor, dual FirePro D500s and 16GB of RAM.
Both models can be customized and upgraded to pack in 8- or 12-core processors, D700 graphics and 64 GB of RAM. It turns out that a fully maxed-out Mac Pro will cost $9,600, but seeing as you'll most likely want a keyboard and mouse (which are sold separately for some unknown reason), as well as a couple of Thunderbolt displays (one of which is a 32-inch 4K display from Sharp), that will bring the cost up to a whopping $14,330.
UPDATE: And just like that, shipping estimates for the new Mac Pro have slipped to February.
The Mac Pro certainly isn't for everyone, and only the multimedia professionals will want one of these, but even then, not just anyone will be able to afford a new Mac Pro, but we wouldn't be surprised to see them pop up in the enterprise space, like at game developing studios or even movie studios.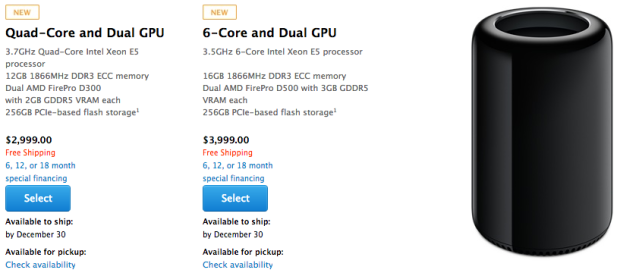 Apple initially introduced and teased the all-new Mac Pro back in June during the company's WWDC event, letting attendees take a peek at the new computer, but only behind sealed glass where it couldn't be touched. The new Mac Pro has been completely redesigned from the ground up, ditching the traditional tower design and going for a sleek cylindrical look that Apple thinks will be the next generation of desktop computers.
The company announced yesterday that its new Mac Pro would be available to order starting today, but unfortunately, it won't actually start shipping until December 30, which means you probably won't get yours until after the turn of the year into January.
On thing's for sure; insane computing power isn't cheap, and just the starting price of $2,999 is something you don't see every day with computers. You'll definitely cough up the cash if you need the processing power for your intensive projects, and the new Mac Pro is certainly one of the most expensive computers we've seen.

As an Amazon Associate I earn from qualifying purchases.