Mac Pro Detailed With December Launch, Starting at $3,000
After showing off the all-new Mac Pro earlier this year, today Apple just confirmed all the details. The latest and greatest Mac Pro, design changes and all will officially be available in the US this December. All jokes aside with the trash can shape, this impressive and powerful productivity machine will start at $2,999.
Today Apple took the stage and shared the details we've all been waiting for when it comes to the Mac Pro, and it sure sounds impressive. The base model alone starts off with a 3.7 GHz quad-core Xeon processor, 12GB of RAM, and dual graphics cards. And that's just the base model. Apple VP Phil Schiller had all this and more to say about its latest system today at the company's event in Cupertino, where the main focus will be the iPad lineup.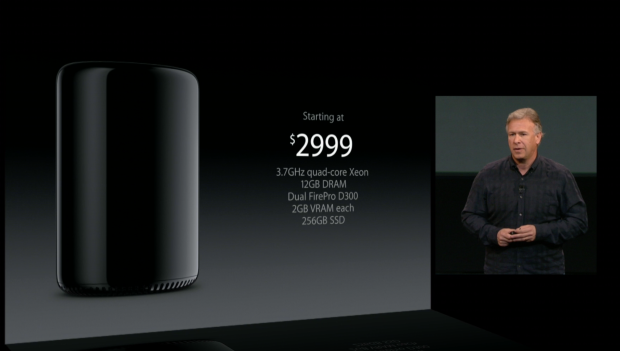 As we mentioned and shown above, the base model is no slouch and starts at $3,000. Offering a 3.7 GHz quad-core Xeon, 12GB of DDR3 RAM, Dual AMD FirePro D300 graphics cards featuring 2GB of VRAM each, which should help with all those video editing tasks. Then Apple wraps it up with 256GB of SSD storage. All in a completely redesigned cylinder frame.
This is the first update to the Mac Pro in a long, long time. Add in the huge price that will come with a new one, and many consumers may be hesitant. Don't worry though. As Apple is calling this computer a system you'll have for "the next 10 years." Which is a pretty bold claim. If you really want it to last though, the next set of options may be worth adding, but we don't have any additional pricing at this point.
The configuration above is the base model, then Apple will also offer a 64GB RAM option with 1TB (1024GB) of SSD flash storage, just to name a few. Adding 1TB of SSD storage won't be cheap, but Apple didn't share pricing.
Phil goes on to boast some other impressive stats about the new Mac Pro. Some of those being that industrial and evolutionary design. Offering a cylinder design and single-fan system the new Mac Pro is over 70% more efficient than the previous model, not to mention extremely quiet. No longer will users hear loud fans, with Phil touting it as being as quiet as the Mac Mini.
Apple ends by claiming the new Mac Pro is "a computer that packs an incredible amount of power into something an eighth the volume of before." That power will come by way of four, six, eight, or even 12 core processor options, and as mentioned above all starts out at just $2,999. Made and assembled in the United States.