Mac Pro in High Demand, Will "Take Time" to Catch Up
Apple's all-new Mac Pro was officially launched yesterday, where those wanting to get the new machine could finally order one for themselves, with a ship time set for December 30. However, within just a couple of hours, that estimate quickly slipped to February, proving that either Apple was in very low stock or the new Mac Pro is in very high demand.
According to a statement by Apple provided to Forbes, the company says that "Demand for the all new Mac Pro is great and it will take time before supply catches up with demand." However long it takes for supply to catch up is a mystery, but we wouldn't be surprised if we ended up seeing an iPhone 5s-like launch event again, where we didn't see supply fully catch up until a couple months after the phone's launch.
The Mac Pro certainly isn't for everyone, but it seems that enough people want the new Mac Pro now that they're sold out until February. Furthermore, the new machine is being assembled right here in the US at a new factory in Austin, Texas. We knew supply of the new Mac Pro would be pretty tight, and it didn't seem like a huge deal considering that it would be a very niche product, but it seems that isn't the case.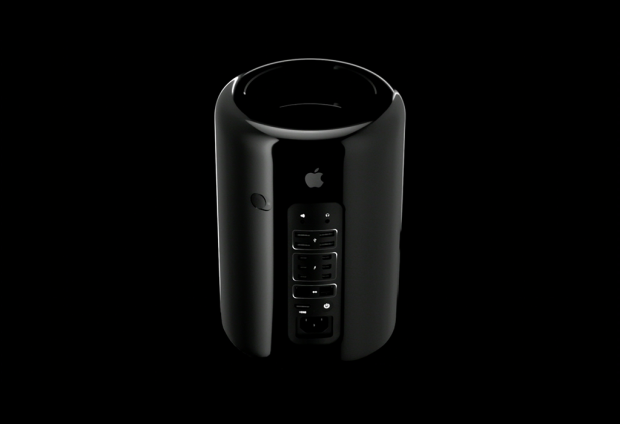 The Mac Pro starts at $2,999, which will get you a a 3.7GHz quad-core Xeon processor, 12GB of RAM, dual FirePro D300 graphics, and a 256GB solid-state drive. There's also another model that starts at $3,999, which is a step up with a 3.5GHz 6-core processor, dual FirePro D500s and 16GB of RAM.
Both models can be customized and upgraded to pack in 8- or 12-core processors, D700 graphics and 64 GB of RAM. It turns out that a fully maxed-out Mac Pro will cost $9,600, but seeing as you'll most likely want a keyboard and mouse (which are sold separately for some unknown reason), as well as a couple of Thunderbolt displays (one of which is a 32-inch 4K display from Sharp), that will bring the cost up to a whopping $14,330 for the full setup.
Again, it's up in the air as far as when supply will catch up with demand, but we'll be on the lookout for when it does.