MacBook Air Deals in December: Cheapest MacBook in Town
Christmas is right around the corner, making it a great time to buy a new MacBook Air for a loved one, and many retailers are taking advantage of that by offering deals on Apple's portable notebook this month.
The MacBook Air is Apple's ultrathin portable laptop, packing in a lot of performance in a very small package that makes it extremely great to carry around without feeling like you're tugging a boat, and it's one of the lightest and most portable laptops on the market.
However, even though the MacBook Air is the cheapest MacBook available, something that many buyers complain about is the cost of MacBook Airs, with prices starting at an easy $900 for the entry-level 11-inch model. This is why it's so critical that shoppers look for deals when it comes time to buy one for yourself or for someone else as a gift on Christmas. Luckily, there are a small handful of deals that you'll find throughout the month of December.
Unfortunately, you won't be able to find a MacBook Air for less than $700 at retail stores, even with big discounts, but there are other avenues that you can take as well, including looking refurbished models from Apple, as well as seeing what eBay has to offer on used MacBook Airs, even on the latest 2014 models.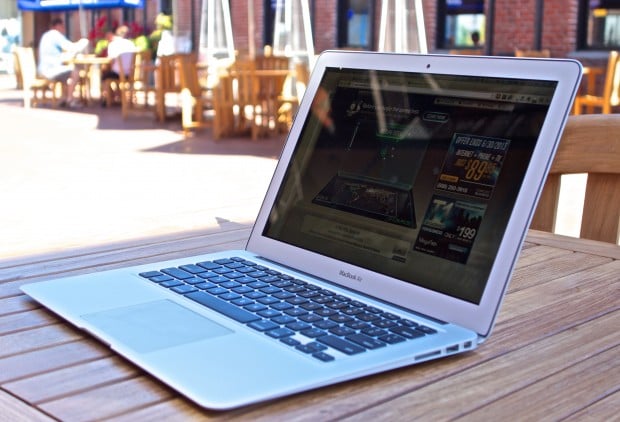 The 2014 MacBook Air received a small performance boost with a lowered price tag. The processor in the entry-level model is a slightly modest upgrade, with the usual 1.3GHz Intel Core i5 now clocked at 1.4GHz. Memory and storage has stayed the same, though, keeping the 4GB of RAM and 128GB of flash storage as the standard.
However, what's perhaps most impressive is that all MacBook Airs have received a generous and permanent $100 price cut, which means that the entry-level MacBook Air costs only $899 instead of $999. This is also means that you can get the larger 13-inch entry level MacBook Air for $999. This model comes with the faster 1.4GHz Core i5 processor as well, along with the standard 4GB of RAM and 128GB of flash storage.
MacBook Air Deals in December
You won't find a lot of deals on the MacBook Air, but the deals you will find offer some good discounts on the laptop.
Best Buy as an 11-inch model that comes with the entry-level 1.4GHz processor and 4GB, but has 256GB of flash storage, all for $899, which is $200 off the normal price. This essentially means you're getting the storage upgrade for free.
If you want to pay just a bit more cash, Best Buy also has a 13-inch MacBook Air that comes with a 1.4GHz processor, 4GB of RAM, and 128GB of flash storage for $949, which is $50 off the normal price.
Over at B&H Photo,  you can get a MacBook Air for as low as $799 for an entry-level 11-inch model that is usually priced at $899. You can also get that same $100 discount on the entry-level 13-inch MacBook Air.
That's about it for retail store deals, but don't end your search there. You can also find some great deals in Apple's online refurbished store, where you can grab one for as low as $769 for a 2014 model.
Currently, you can save as much as $200 off a MacBook Air in Apple's refurbished store, but you'll still be paying a pretty penny, since MacBook Airs certainly aren't cheap by any means.
Apple's refurbished products are available year-round at discounted prices that are very much worth taking a look at, and they can even provide steeper discounts than those you'll find on Black Friday.
Arguably, Apple offers some of the best refurbished products around. Most of the Apple products that I've bought over the years have been refurbished, including gifts to other people for Christmas or their birthday, and guess what? They never know the difference between refurbished and brand new.
With all this said, you have a lot of options when it comes to buying a MacBook Air at a discounted price, and hopefully you can find a deal that suits your wants and needs as we approach Christmas day.

This article may contain affiliate links. Click here for more details.