MacBook Air Review Part 1: The Best Laptop I've Ever Used
I picked up a new MacBook Air a few days after it was first introduced and have been using it as my primary mobile computer since then. If you want to skip reading a long block of text, I'll get to the point. The new MacBook Air is the best laptop I've ever purchased or used.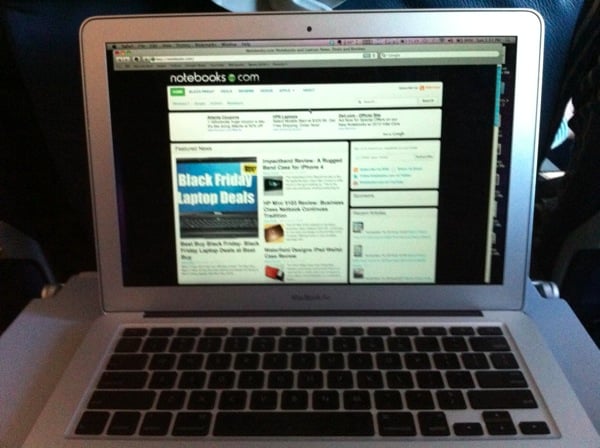 As someone that's bought, used and reviewed dozens upon dozens of laptops over the years it's actually easy to make the above statement.
So why do I call the 13″ MacBook Air the best laptop I've ever used? Simple: The user experience. It's been the best overall experience I've had with any new device since…well ever.
Though I own a lot of Apple products, I'm not a blind fanboy that simply drools at anything with with a glowing Apple on the back of it. This laptop's beat just about all of my expectations in almost every department. Is it perfect? Absolutely not. But its compromises have me setting aside almost every other mobile device in my gadget arsenal.
When the new MacBook Air was introduced during one of Steve Jobs' keynotes I was quickly drawn in and got that familiar 'gotta have it' feeling and my credit card was almost out of my wallet. I decided to wait a few days until I could actually go hands on  with the MacBook Air and decide which model to buy.
Fully Spec'd 13″ MacBook Air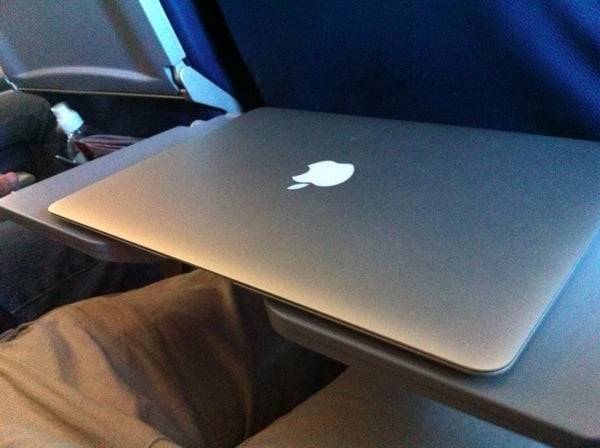 I admit that the 11″ MacBook Air's $999 price tag was something that quickly caught my attention. But I quickly climbed up Apple's MacBook Air pricing ladder. I have a few-months old MacBook Pro, ( 2.66GHz Core i7, HD matte display) and a plethora of Windows based machines at my disposal, so I didn't exactly 'need' a new laptop. The price tag started to grow as I justified each step up. 'Only $200 more for the 128GB drive' I thought to myself. 'And for $100 more I can get the bigger display, longer battery life AND faster processor…' You're seeing where this is going.
After playing with a review sample, I decide that the base 11″ MacBook Air wouldn't fit my needs. The 64GB of storage capacity was too limiting and five hours of battery life was less than what I wanted. I also wanted more pixels since I work with Web sites and photos on a daily basis.
I continued up Apple's MacBook Air pricing ladder until I reached the top and decided to get the 13″ MacBook Air with the 2.13GHz Intel Core 2 Duo processor, 4GB of memory and 256GB of solid state memory. The total price tag was $1,799. The only problem was that the main San Francisco Apple retail store had nothing in stock except the base 11″ and 13″ MacBook Airs.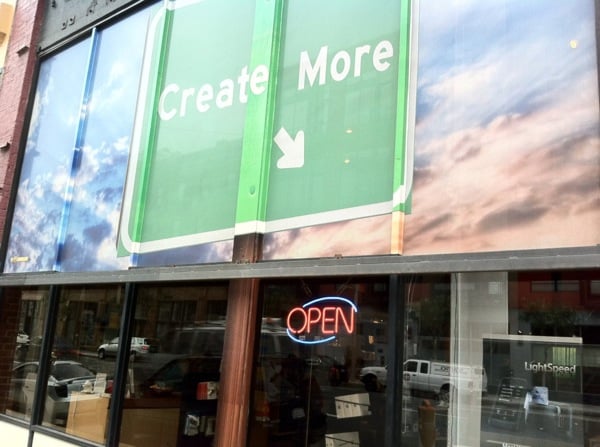 I called MyAssist, a personal assistance service that I use on a near daily basis, to find the MacBook Air I wanted. It was a Friday when I decided to make the purchase and I didn't feel like waiting for the FedEx guy or checking with every Apple store or retailer. I emailed MyAssist the specs I was looking for and they emailed med back within an hour to let me know that they'd reserved what appeared to be the only MacBook Air in San Francisco with these specs. They'd located a small Apple retailer downtown that'd just gotten in a fully spec'd version for the owner. Somehow MyAssist convinced them that I really needed it and the store's owner said he could wait a week for another one to make a new customer happy.
Out of Box Experience
As I mentioned above, the reason this is the best laptop I've ever used is its overall user experience. That starts when users open the box. There's no junk in the box and the MacBook Air came partially charged. Witin a couple of minutes I was online and USING the MacBook Air to get some real work done. I didn't have to run any updates and I didn't have to kill any crapware.
Kevin Purcell of Notebooks.com recorded the unboxing experience of his 13″ MacBook Air here.
A clean out of experience is standard fare on Macs these days, but the one thing that made my jaw drop was how fast the thing booted up. It's not instant on, but it's closer to instant than any other machine I've used.
Moving Experience
At less than three pounds, the MacBook Air is very easy to carry around. I really like the slim profile, especially since I prefer wearing my gadgets than carrying them.
My wife and I are in the middle of a move to our new house. While it's less than two miles from our old apartment, there's been a lot of back and forth and living out of boxes. I've also been saddled with a nasty illness that got bad enough for me to have to spend half a day in the emergency room.
Instead of lugging around my MacBook Pro in a backpack, I've been carrying the new MacBook Air in my pocket. Scott from SCOTTEVEST sent me an OutBack SeV jacket after finding out that I have an interest in weapons. The Outback SeV jacket has a pocket that's designed to stow an iPad. It's actually large enough to accommodate both my iPad and MacBook Pro, but that's pushing the limits in terms of bulkiness. The MacBook Air fits nicely inside the OutBack jacket and I've been using it in lieu of a case as I move from place to place.
Traveling with the MacBook Air
I've worn my MacBook Air on a cross-country trek from California to Pennsylvania that's consisted of four long flights. It's the best traveling experience I've had with any laptop. The battery life far exceeds Apple's claims of up to seven hours.
Today I started using my computer at about 9am EST while waiting for our flight from New Jersey en route to San Francisco. I used it for an hour and 10 minutes while at EWR and while on board the plane. There was a mechanical problem and we were escorted off the plane to be re-routed. I used my MacBook Air for about an hour and a half while waiting for our new flight on WiFi, with my Sprint MiFi. Our short flight to North Carolina didn't have WiFi, so I only used the computer to browse through some of my photos from the trip for about half an hour.


We boarded the plane about half an hour early and I continued using the MacBook Air to update Notebooks.com until the flight attendant asked us to turn off our electronics. When we hit 10,000 feet a few minutes later I started using the MacBook Air again, this time with GoGo Inflight WiFi. At that point there was 65% of the battery remaining. It's 9PM EST now and I have been using the MacBook Air non stop to write articles over at Noetbooks.com, catch up on my news feeds and write email. There's still 18 minutes remaining (5%), which is more than enough, considering we're on our way down to SFO in a few minutes. I've been using it for four hours and thirty minutes with only one restroom break.
I don't know how Apple is benchmarking its laptops these days, but it is not quoting theoretical maximums. Instead it's offering reasonable estimates that consumers can actually achieve (and beat) with a few tweaks. What did I do to accomplish this kind of battery life with my MacBook Air? Not much. I simply dimmed the screen to as low as comfortably possible throughout the day. At some points it was at 50%, during this last stretch I had it at the minimum. I also shut of Bluetooth and ran as few apps as possible. Instead of running Chrome, which is my current favorite browser, I relied on Safari, which is easier on the battery.
I've used other laptops with long battery life before, but I've never used one that's so portable and that isn't saddled with a goofy extended battery.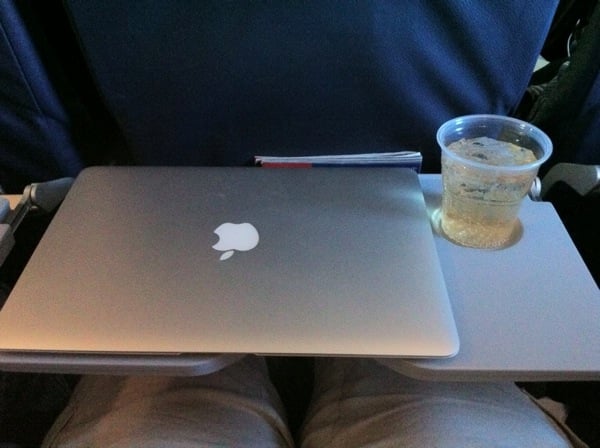 Another thing that's been a life saver is the MacBook Air's near instant sleep and wake function. I'm in a middle seat and the girl in the window seat's gotten up several times. Closing my MacBook Air and reopening isn't an issue. The guy next to my at the aisle seat is using a pretty nice Dell Latitude with an Oracle logo on it. He's been trying to watch a movie on DVD, but every time he closes the llid he gets frustrated as Windows is relatively slow to resume and he's had to reboot at least twice due to freezes.
The slimness and footprint of the new MacBook Air is similar to the old MacBook Air and my HP Envy 13. It really does make a difference when using it on a tray table as there's room to spare for a drink or your other devices.
Even though the MacBook Air has a smaller display, it doesn't feel small since it has a resolution of 1440×900, which is what many 15″ notebooks have. I can't stress enough how much of a difference this makes for me in just about every application I use.
That's all for now…
I can see lights on the ground now and the flight attendants are starting to make the rounds, which means it's time for me to stop writing for now. I'll continue this review soon and tell you more about why the new 13″ MacBook Air is the best laptop I've ever used. Next up, I'll share more about how it performs and what I don't like about it.
Here's Part 2 of my MacBook Air Review:It's Like Driving a Mercedes Benz
Here's part 3 of my MacBook Air Review: Keyboard and Trackpad
MacBook Air Review Part 4: Blazing Fast Boot, Usable Browser in Less Than 15 Seconds

As an Amazon Associate I earn from qualifying purchases.