MacBook Pro 13 vs Surface Book: Which Should You Buy?
When Apple needed to recalibrate its messaging and get in touch with users, it gave up on trying to appeal to average users looking for competitive prices and apps. Instead, it tailored its entire portfolio to those that make things with their computers. The Mac was no longer a different kind of PC. It was a something beyond a PC, a device that professionals knew they could count on to get their jobs done. Artisans – no matter what they create – usually have a MacBook Pro. Now Apple hopes that halo will extend to the MacBook Pro 13.
Just setting out in the hardware market itself, Microsoft started its Surface line by making an appeal to every kind of user. When that didn't work, it focused on that same creation class that Apple had conquered with the MacBook Pro. Eventually, the strategy would lead to it creating a high-end notebook PC for makers of digital content of all kinds. Today, The Surface Book is one of the most odd-looking, forward thinking, and well-designed PCs that you can buy running Windows.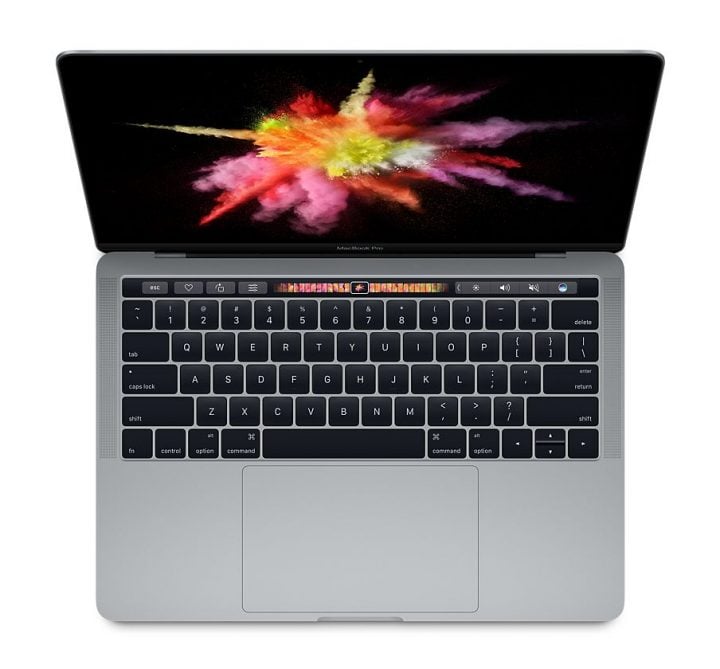 When Apple created the first MacBook Pro, few would have guessed that they'd eventually get competition from Microsoft. And still, that's where we find ourselves today. Choosing between what's traditionally been the best notebook you can buy, and an up-start challenger from a maker of software.
Here's how the new MacBook Pro 13 compares to Microsoft's entry-model Surface Book.
MacBook Pro 13 vs Surface Book: Design
The MacBook Pro 13 is part of a refreshed line of workhorses all designed with the needs of current professionals in mind. It's both thinner and lighter than the machines it replaces at, 3.02 pounds. As it's an Apple device, the design esthetic hasn't changed that much. It's still made of machined aluminum and still has gently curved edges on its lid and bottom. An Apple logo still sits in the center of its lid.
All the changes worth caring about are visible from the moment you open the notebook. The trackpad on all the new MacBook Pros are huge; they use the Force Touch technology that allowed the MacBook to reach new levels of thinness. Also coming from the regular MacBook are the so-called "Butterfly" key mechanisms. They've been improved here for a more tactile feel, Apple told watchers of its unveiling.
The cheapest and smallest version of the new MacBook Pro 13 costs $1499 and includes a traditional row of function keys. The $1799 model that we're using for this comparison dumps function keys in favor of a Touch Bar and Touch ID fingerprint reader built into its power button.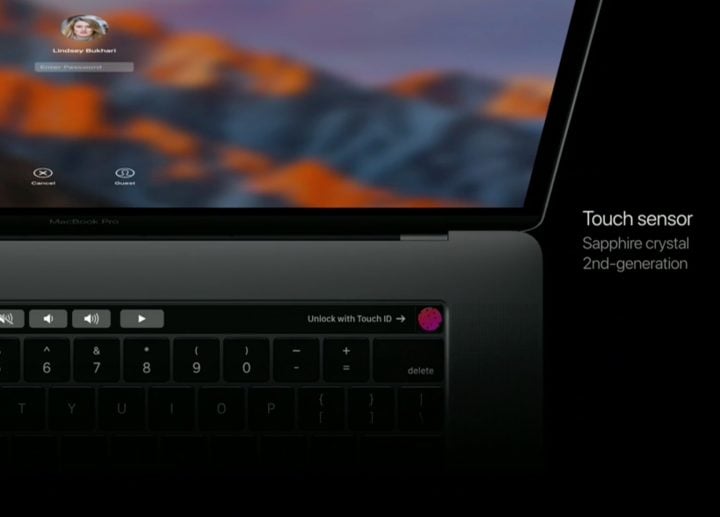 The Surface Book with Performance Base picked up some huge upgrades this week, but the basic model has stayed the same. When closed, a reflective Microsoft logo reminds users who designed the device. The 13.5-inch display is connected to its base by a fulcrum hinge that looks like the binding of a metal-clad dictionary of some kind. The Surface Book is definitely heavier than the MacBook Pro 13. It weighs 3.34 pounds. The Dynamic Fulcrum Hinge also ensures that it takes up more space in a bag than the MacBook Pro 13. There's always a gap when closed.
MacBook Pro 13 vs Surface Book: Internals
Last year, every major PC maker had hardware coming with Intel's Skylake chipsets. Almost all of them suffered in some way. Intel's drivers and software for Skylake caused all sorts of issues with the Surface Book and the Surface Pro 4. There's no way of knowing for sure, but it looks like Apple decided to learn the lesson Microsoft had to and hold back on using the latest chips from Intel
The MacBook Pro 13 comes with 8GB of RAM, but can be configured with 16GB of RAM. A 256GB Solid State Drive comes standard too, though users can add 512GB of even 1TB SSDs. The standard processor is Intel's 2.9 GHz dual-core Core i5 processor. Which is a little faster than the 2.4GHz standard clockspeed on the Surface Book. Again, buyers can boost that with more powerful options and a higher price tag.
Neither the entry-level Surface Book nor the MacBook Pro 13 come with discrete graphics cards. The MacBook goes with an Intel Iris 550 graphics. The Surface Book has Intel HD 520 graphics.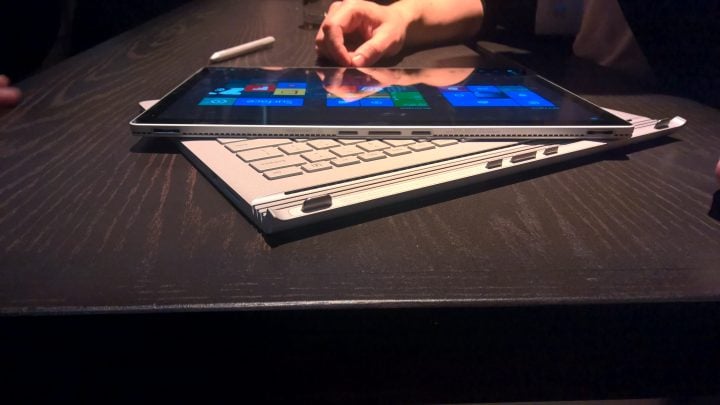 The MacBook Pro 13 is a notebook in the simplest terms. It's dominated by a 13.3 inch display that has 227 pixels per inch. Apple says that it's capable of displaying "millions" of colors. The 13.5-inch display in the Surface Book has 267 pixels per inch. It's also a multi-touch display, because the entire screen of the Surface Book detaches for a pure tablet experience.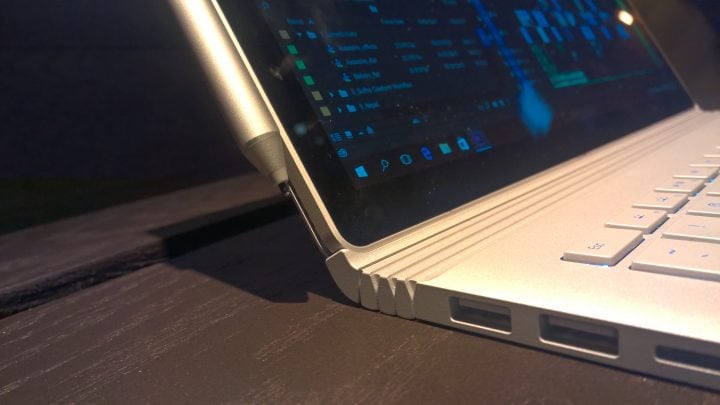 The Surface Book has Intel Core i5 and i7 variants, but most users will opt for the i5 version. Spending on more than the $1,349 basic configuration gets users a discrete graphics card, storage options and more RAM. The entry model comes with 8GB of RAM.
As of late, Apple has thrown itself into supporting the latest ports. The MacBook Pro 13 has four Thunderbolt 3/USB 3 Type-C ports. There's also a headset jack. When connecting with a monitor or a phone that doesn't support USB Type-C, users will need a dongle. By comparison, the Surface Book has two standard USB 3.0 ports, an SD Card reader, a headset jack and Mini DisplayPort. That SD Card reader is a huge advantage for Surface. Most professionals aren't going to take too kindly to Apple eliminating the SD card slot and forcing them to buy yet another dongle.
MacBook Pro 13 vs Surface Book: Extras
The extras are what really define these two top-notch machines. Apple isn't so much ignoring touch as it is betting on different use case. The MacBook Pro 13 shows that Apple thinks touchscreens are useful, but only in so much as they can finally allow for evolving interaction.
Steve Jobs bet on the multi-touch screen for the original iPhone because it allowed developers to change buttons and the interface to suit their needs. The Touch Bar does the same for the MacBook Pro. The options that are inside the Touch Bar change depending on what apps users have open. Microsoft Word will add commonly used formatting settings to its apps there. Music creation software will add timeline scrolling so that its easier to edit an entire track with little scrolling on your device's main screen.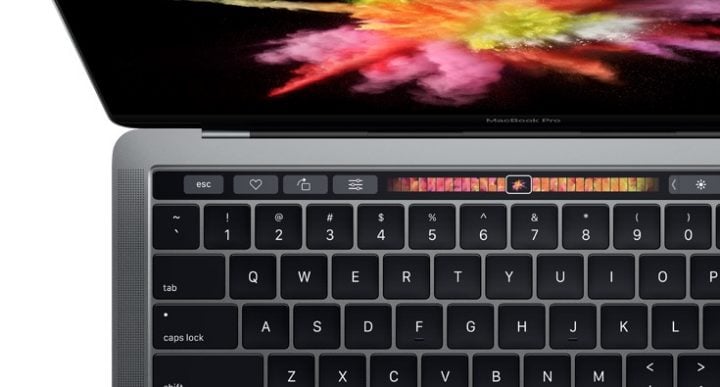 Microsoft believes in the power of touch so much that the Surface Book's entire 13.5-inch display completely detaches from its body for up to 3 hours at a time. An included Surface Pen lets users take handwritten notes and draw. The screen can be flipped on top of the keyboard to get a decent touch experience and the full 12-hours of battery life that Microsoft promises.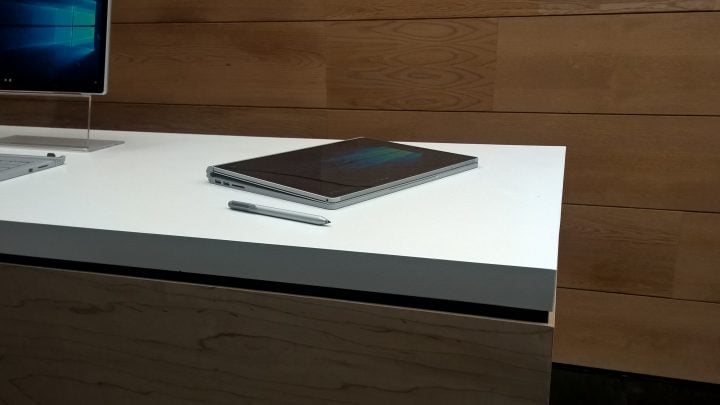 Whereas Apple is betting on Touch ID for letting MacBook users log in, Microsoft is betting on optical sensors that unlock Windows the moment someone sits down in front of the Surface Book. Apple says that the MacBook Pro 13 lasts 10 hours between charges when playing video.
MacBook Pro 13 vs Surface Book: Which Should You Buy?
Apple has spent a very, very long time at the top of the high-end notebook market for reasons that everyone understands. The company offers a potent mix of style, the right apps and performance. The MacBook Pro 13 is thin and light. The larger trackpad is welcome. The Touch Bar seems like a gimmick at first, but could be could prove very useful to some.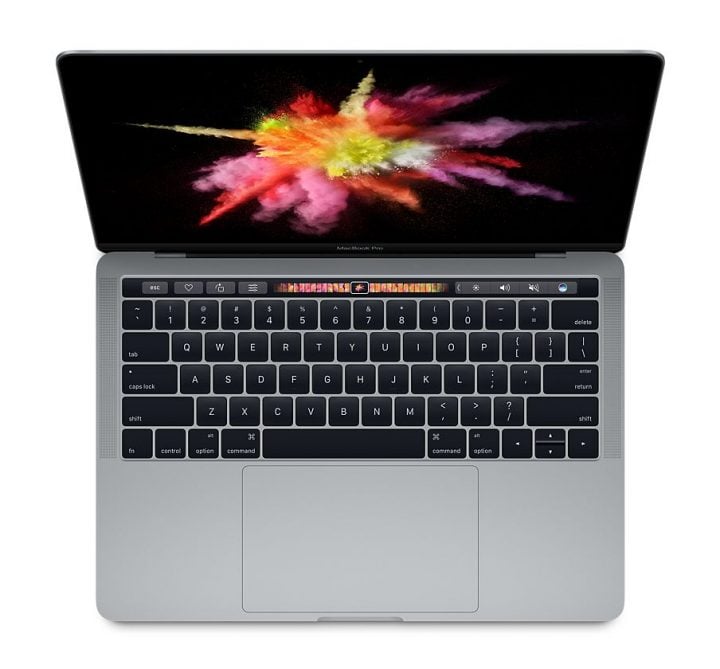 Microsoft has Apple on pricing and battery life though. The Surface Book is $1,349. Compare that with the $1,799 you'll need to spend to get a MacBook Pro 13 with Touch ID and Touch Bar. Not even dropping down to the MacBook Pro without Touch Bar saves this machine. It still costs $1,499, and it also drops two USB Type-C ports and gets the same amount of battery life.
The Surface Book gets 2 hours more screen time. It can become a tablet or notebook in just seconds. Meanwhile, Apple is hoping that users will want to draw on the MacBook Pro 13's Force TrackPad.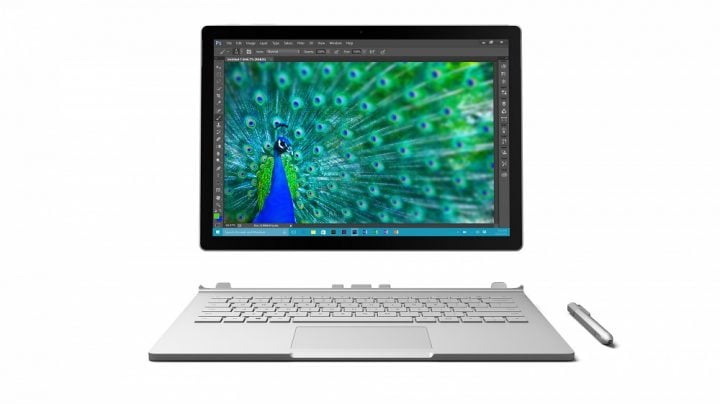 Microsoft definitely loses some points for not embracing Thunderbolt yet. Also, its basic machine has less storage than the MacBook Pro 13. Still, those two things together aren't even for the MacBook Pro 13 to come out ahead.
Ultimately, it might prove difficult for those already in the Mac ecosystem to transition to Windows 10 and Windows apps for their craft. They might have to spend money on new programs and piece together a new workflow. If it wasn't for that, the Surface Book would be the winner in any situation.
Certainly, if you haven't invested in the Mac ecosystem already, it's better to just buy the Surface Book.