MacBook Pro 15″ Review (Early 2011) – A Fast Workhorse
The new 15″ MacBook Pro released this year focuses on speed. From the processor to the graphics to the new Thunderbolt port, Apple designed the refresh to become a speedy workhorse that will please anyone looking for a premium notebook computer. That is the conclusion from the MacBook Pro Review, at Notebooks.com, GBM's sister site. We looked at the base model MacBook Pro 15 with a 2.0GHz Sandy Bridge Intel Core i7 quad-core processor, 500GB 5400rpm hard drive, 4GB of DDR RAM and switchable graphics. It comes with the Intel HD 3000 integrated graphics chip for common daily tasks and the fast AMD Radeon HD 6490M for more graphically intense tasks like gaming, video editing and photo editing.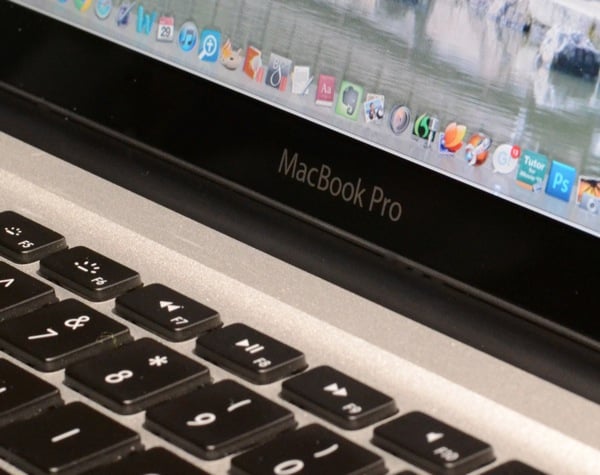 Speed isn't the only trick this powerful notebook offers. It has a great keyboard, beautiful 1440×900 glossy display, and decent battery life.
We can't imagine many people being disappointed with this system. Creative types will love it for its power and the display. People on the road should be pleased with 5+ hours of battery life. That's less than what we heard some were getting from previous MacBook Pro systems, but you can always turn down the brightness, turn off things like Bluetooth and turn on Wi-fi on only when needed and you will get another hour or more. Gamers will enjoy the system for its power and good keyboard. Office types will enjoy typing on it and using the best trackpad we've ever used.
We also did a little surgery on the machine and found that if you up the memory to 8GB and install a hybrid flash/optical drive, you will get better speed without harming the battery life much at all. Put an SSD in this thing and you should have one of the fastest notebooks on the market. We liked the hybrid approach for the best of both words – speed and storage capacity.
There were only a few minor complaints. We'd rather have an anti-glare display and more USB ports. The Thunderbolt port may be great, but you can't test it yet with no accessories supporting the new standard. And while battery life was good, it is not the 7 hours that Apple promises unless you handcuff the system so much that it is less useful. The fans are loud when it switches on the faster dedicated graphics. And the $1800 price tag is a little steep for some people. But no other 15″ computer will run Mac OS X and Windows 7 this well at the same time.
This is our second MacBook Pro review since the refresh. You can read more about the MacBook Pro 13 here.

As an Amazon Associate I earn from qualifying purchases.