MacBook Pro Retina Review: 6 Months In
The latest MacBook Pro with Retina display has officially been out on the market for six months, and several of us on the Gotta Be Mobile team have been using the 13-inch model every day since the refresh back in October and we initially reviewed it late last year. It's certainly one of the best Mac machines to get if you're looking for a good mix between power and portability, starting at $1,299.
Obviously, it can't compete with the 15-inch models that come with quad-core processors and dedicated graphics chips, but we can't say that'll be a huge issue for a lot of everyday consumers.
I upgraded to the new late-2013 13-inch MacBook Pro Retina model after using a 2011 MacBook Pro, and I have to say the difference is astonishing. I've been keeping an eye on all of the MacBook Pro refreshes over the last couple of years and none of them were really a big step forward until the latest refresh back in October of last year.
Apple introduced Intel's Haswell processors to the MacBook Pro line, not only boosting CPU performance, but also giving the MacBook Pro the biggest battery life boost we've seen in a while. If there was a time to upgrade your MacBook Pro, it's now. Six months later, though, does the new model still impress?
Design
The latest MacBook Pro with Retina display obviously sports a thinner and lighter design than the non-Retina MacBook Pro, but the late-2013 model is also just a tad thinner and lighter than the 2012 Retina model, by about 0.03 inches and 0.1 lbs. It's certainly not a huge difference, but every bit helps.
Read: Best MacBook Pro Retina Cases and Covers
It's definitely the sleekest MacBook Pro yet, and while it rocks the same 13-inch display as older non-Retina MacBook Pros, the body is slightly smaller length- and width-wise by about a quarter-inch or so. The difference between the two models is quite significant overall, though. After getting used to the size and weight of the new MacBook Pro, the older model felt like a brick when carrying it around.
Another big improvement with the Retina MacBook Pro is the stereo speakers, which are mounted on either ends of the laptop just below the side edges. This allows for impressive stereo sound when listening to music or watching video content — much better quality than older MacBook Pros which had the speakers mounted near the hinge.
As for ports and connections, the latest MacBook Pro has two Thunderbolt ports on the left side, along with two USB 3.0 ports on either side of the laptop. There's also a full-size HDMI port and SD card slot on the right side as well, and a combo headphone/microphone jack on the left side, with separate dual microphones for video or audio chatting, which work together to silence background noise.
While I would prefer the microphone to be located on the keyboard area rather than on the side, it still picks up my voice really well and the quality isn't half-bad, although you'll definitely want a better microphone if you're recording something that needs to be of good quality.
While the full-size HDMI port is nice to have, I rarely use it, so I wish I could swap it out with maybe a third USB 3.0 port, but there have been times where I've needed to plug the MacBook Pro into a TV, and it was nice not having to bother with Mini DisplayPort adapters.
SD cards stick out a bit with the SD card slot, which isn't ideal if you want to leave the card inserted and take your laptop somewhere, but we'd recommend getting something like the MiniDrive so that memory cards can fit flush with the side of the MacBook Pro.
Hardware
I'm working with a slightly-modified configuration of the new MacBook Pro, rocking the entry-level 2.4GHz dual-core Intel Core i5 processor and 128GB of solid-state storage, but boosted the RAM from 4GB to 8GB, since 4GB usually doesn't cut it for slightly-intensive work anymore, but 128GB of storage is just fine for me, considering that I store most of my larger files on external hard drives and flash drives.
If you need more power, though, you can squeeze in a 2.8GHz dual-core Intel Core i7 CPU with 16GB of RAM and 1TB of solid-state storage into a 13-inch unit if need be. Of course, that will cost you a pretty penny, but it'll definitely be the most-powerful portable laptop you can buy.
Performance
For most users, however, the entry-level model will be plenty. The performance is outstanding overall. Apps open quickly and I can have numerous windows open without a problem. Perhaps the most intensive work I do is process 720p HD video in iMovie, which the MacBook Pro has no problem doing. Of course, the fans usually kick in on high, making it sound like a jetliner preparing for takeoff, but it keeps on performing without an issue and the loud fans are nothing to be worried about.
I'm even able to do a bit of gaming on this MacBook. Granted, I can't really play any of the new video games that have amazing graphics, but older titles like Call of Duty 4: Modern Warfare played really well on medium-high settings, which I was really happy about since I absolutely love that game.
Battery Life
With the latest Haswell processors now in the new MacBook Pros, battery life is quite outstanding. On a normal day of work for me, the MacBook Pro can usually last at least 6 hours, which isn't fantastic, but that's mostly because I have an external display plugged into it, along with several peripherals that take up some of that battery juice.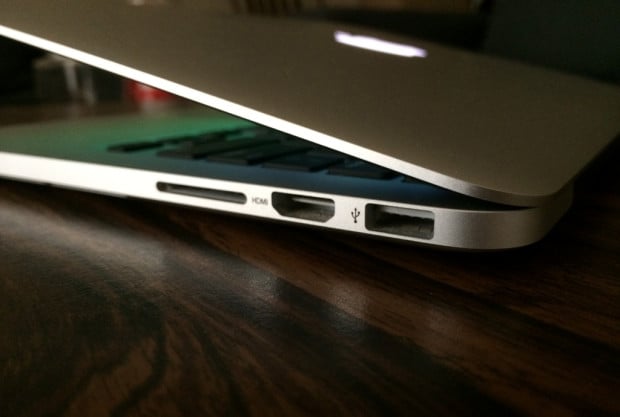 However, when it's just the laptop and all I'm doing is surfing the web and writing, I can easily go a full work day without needing to plug it in. I was even able to make it last for about 12 hours with the screen brightness down. In fact, I'm so confident with the battery life, that I usually don't bother bringing my charger with me on overnight trips, since the MacBook Pro can usually last as long as I need it to until I get home the next day.
Of course, your mileage will vary significantly based on what you do on your MacBook Pro, but you'll certainly get the best battery life possible out of these new models, thanks to the Intel Haswell chips.
Wrap-Up
After six months of usage, I'm still in the honeymoon stage with the new MacBook Pro. Will I get sick of it eventually and want to throw it out the window? Someday, yes. But right now, the latest Retina MacBook Pro is one of the best laptops on the market.
Its portability is about the best it gets out of a full-sized laptop — any lighter and you'd have to downgrade to the MacBook Air, which still performs well, but isn't as powerful as a MacBook Pro.

As an Amazon Associate I earn from qualifying purchases.