MacBook Pro Retina vs MacBook 12-Inch: What We Know
While Apple has already slightly updated its MacBook Pro for this year, rumors are still coming in as far as a new MacBook model that we could see in the future. It's not said whether it will be a part of the MacBook Pro or MacBook Air lineup, but there are already a flurry of rumors that tell us a bit about the device. Here's how it could stack up against the MacBook Pro with Retina display.
This new MacBook could be in a new MacBook category altogether, with a new 12-inch display and a thinner and lighter design that's said to be even thinner than a MacBook Air.
It's also said to come with a Retina display and the new USB Type-C connector, which is a redesigned USB connection that gets rid of the infamous "duck bill" design in favor of a smaller plug that's reversible. Whether or not we'll actually see something like this on a new MacBook is up in the air, but reports suggest that this new MacBook could get it first.
In any case, here's what we know about this 12-inch MacBook that we could see soon, and how it could compare to the MacBook Pro with Retina display.
What We Know
Technically, we don't "know" anything about the rumored MacBook that we've been hearing about all year, but we do know what it might be all about according to a handful of rumors.
This new MacBook will supposedly support a 12-inch display that will sit between the 11-inch MacBook Air and the 13-inch MacBook Pro (and MacBook Air). However, it will come with a Retina display just like the newer MacBook Pros do, giving it a higher resolution and a crisper image.
Furthermore, alongside the new Type-C USB connector, the new MacBook 12-inch will supposedly get rid of the MagSafe charging feature in favor of another option, which is still yet to be decided on at this point.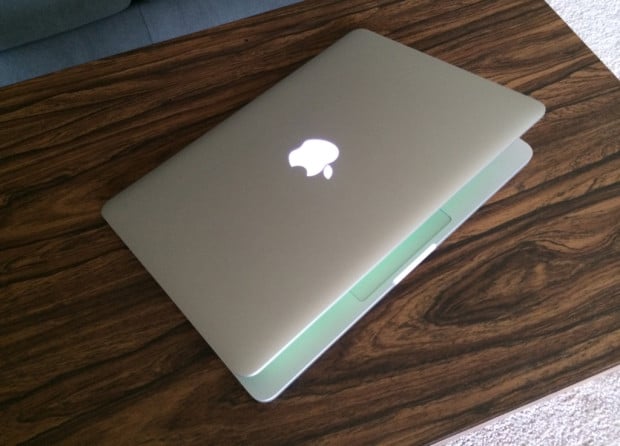 The switch to the new USB Type-C standard could mostly be because of the thinner design, although it's also killing two birds with one stone because Apple will now be able to use the latest and greatest USB standard. Furthermore, the new USB port could also come with DisplayPort functionality, allowing users to plug in displays through the USB port. This could cut down on the amount of ports needed on the new laptop, but this is still very much a rumor and isn't close to even being confirmed yet.
The MacBook is also expected to come with a fanless design and will instead use more heatsinks. Apple is said to be using Intel's new Broadwell processors with this new MacBook Air, which are designed to be able to produce low heat at high performance without the need for a massive heatsink. This would allow Apple to get rid of the fans and go for a thinner design.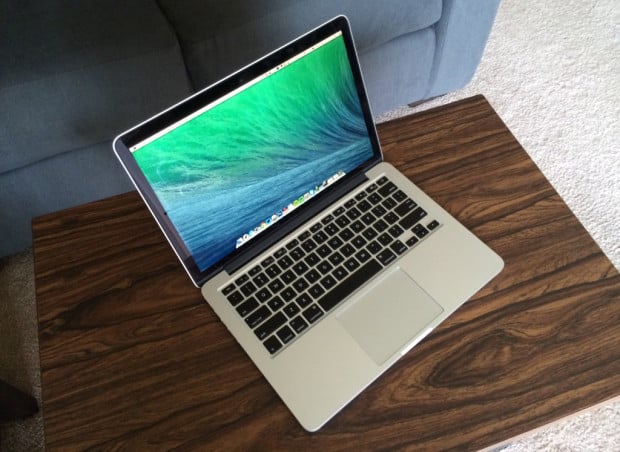 As for some other smaller details, the keyboard design will leave "almost no space on the side", effectively giving users a large keyboard without sacrificing overall laptop size. Plus, it's said that the speaker location will be "above the keyboard and visible," which is different than current MacBook Pros, which have the speakers situated on the sides, while the current MacBook Airs have the speakers situated below the keyboard.
Comparing the MacBook Pro Retina
How will this new 12-inch MacBook compare to the current MacBook Pro with Retina display? Well, for starters, the 12-inch MacBook will most likely be similar to the MacBook Air, considering that it will take on a thinner and lighter design, which means that the 12-inch MacBook would be the optimal choice for portability purposes.
The 13-inch MacBook Air weighs just three pounds, but the 12-inch model that we could see will most likely weigh less, which will widen the weight gap between the MacBook Pro with Retina display, which isn't far behind at 3.5 pounds.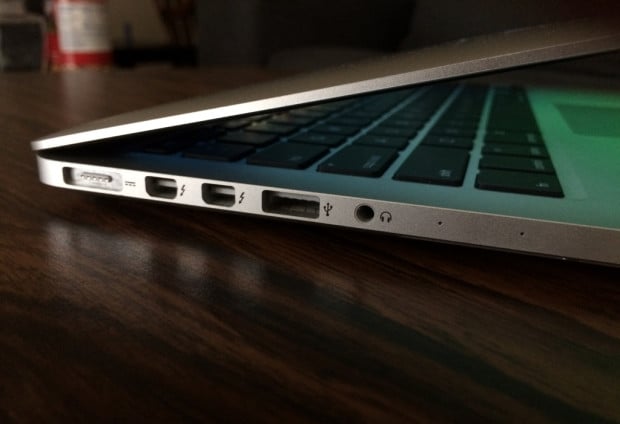 Of course, I've been toting around a Retina MacBook Pro for almost a year now, and I'm not so sure that I'd want to sacrifice the power I have just to save a half pound on weight; the MacBook Pro is already extremely thin and light, and it can make potential MacBook Air buyers just as happy for the most part. However, the 12-incher could be even lighter, which would make for a tougher argument on my part.
But as I mentioned, the MacBook Pro is a power user's dream. If you're looking for a laptop that can do more than just browse the web and check email, you'll probably want a MacBook Pro. Granted, the 12-inch MacBook will most likely have the performance to run photo editing software and do some light video editing, but if you need a portable machine that can do this without much hiccuping, the MacBook Pro is the only obvious choice at this point.
However, it may come down to battery life. One big difference you'll see between the MacBook Pro and the MacBook Air is battery life. You'll get an impressive 13 hours with the MacBook Air compared to 10 hours with the MacBook Pro. 10 hours isn't anything to scoff at by any means — that's still incredibly impressive — but if you absolutely need the best battery life you can get with a laptop, the 12-inch MacBook could come with some crazy battery life that could even put the MacBook Air to shame, but we'll ultimately have to wait and see what Apple plans to do.