MacHeist Wants to Give You Free Presents for Christmas!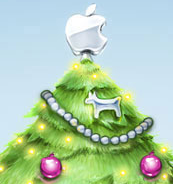 Want to add a few Mac goodies under your Christmas tree?   Head on over to the MacHeist Giving Tree where the MacHeist folks are promising some free goodies for your Holiday Season.   Refer a friend and they'll give you a few early presents.   Check out the packages under the tree now and on Christmas day to see if you've been naughty or nice.
Free applications available now includes:
Synergry, a music management application. (usually cost $14)
Enigmo 2, the sequel to the popular iPhone puzzle game. (usually $19)
Refer a friend and wait until 12/25 to see what else awaits . . .

As an Amazon Associate I earn from qualifying purchases.