MacTablet to be unveiled next week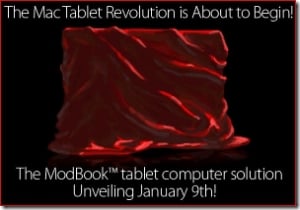 Looks like we might be getting a MacTablet soon. According to a press release from Axiotron, Other World Computing will be unveiling the ModBook, as designed by Axiotron, on January 9th during MacWorld.
With CES and MacWorld next week, it should be one heck of a week for tech news, especially for Tablet PC related news. I'm looking forward to seeing what OWC comes out with.
Thanks to GBM readers Kevin Bals and Greg Chodaczeks for the tips.
Here is Axiotron's press release on the ModBook Tablet from Axiotron
El Segundo, CA – Solution hardware manufacturer Axiotron, Inc. and technology solutions provider Other World Computing (OWC) today announced that they will be unveiling the ModBookâ"¢, the first ever Mac ® tablet computer solution, on January 9th, at the Macworld Conference & Expo in San Francisco. After an invitation-only press showcase, the Axiotron ModBook will be unveiled to the general public at 2:30 PM at the Other World Computing Booth #S2218.
The ModBook is a high-end slate-style notebook computer solution, which was designed in California by Axiotron's team of German and American engineers and will be available in the U.S. through an exclusive joint-venture arrangement between Axiotron and Other World Computing. Following a demonstration by Axiotron engineers and OWC product specialists, consumers will be able to experience hands-on trials of the Axiotron ModBook at the Other World Computing Macworld booth, #S2218.
The Axiotron ModBook features WACOM Penabled ® hardware for true pen input and is fully compatible with Apple's Inkwell, a Mac OS X Tiger feature that provides system level handwriting and gesture recognition to all Mac applications. Drawing and writing directly on the screen provides for a uniquely intuitive user experience and its slim, slate-style form factor makes the ModBook the ultimate companion for mobile users, artists, professionals and students.
The ModBook is also the only portable Mac solution that features an optional built-in Global Positioning System (GPS). The Axiotron ModBook GPS Module was developed in cooperation with GlobalSat Technologies Corporation utilizing the industry leading SiRFstarâ"¢ III chipset for shorter first location fix times and improved tracking capabilities.
Designed by Axiotron, the ModBook will be available in the US exclusively through Other World Computing. Visit www.MacSales.com or call (800) 275-4576.
Here is a snippet from News.com:
OWC's ModBook will be unveiled on Tuesday at Macworld. The ModBook is a MacBook that has been converted into a slate tablet. It will run Mac OS X and allow users to draw pictures or write text directly on the screen, according to Lawrence O'Connor of OWC. Apple's Inkwell technology is what will allow ModBook users to draw on their Macs.
The ModBook will be featured on the show floor, and more details are expected to be revealed at the show. It will also come with integrated GPS (global positioning system) technology, a built-in iSight camera, and a CD/DVD drive, according to OWC's Web page.

As an Amazon Associate I earn from qualifying purchases.