Mad Catz Pro Racing Force Feedback Wheel Hands-On
The circumstances that led to Microsoft launching the Xbox One and Forza 5 without proper racing accessories might have upset some buyers, however those same buyers may forgive the company and accessory partner Mad Catz for the oversight once they've had some time with the Mad Catz Pro Racing Force Feedback Wheel.a
Showcased today at the Showstoppers event during this year's Consumer Electronics Show, the Mad Catz Pro Racing Force Feedback Wheel includes everything racing fans demand from a quality steering accessory.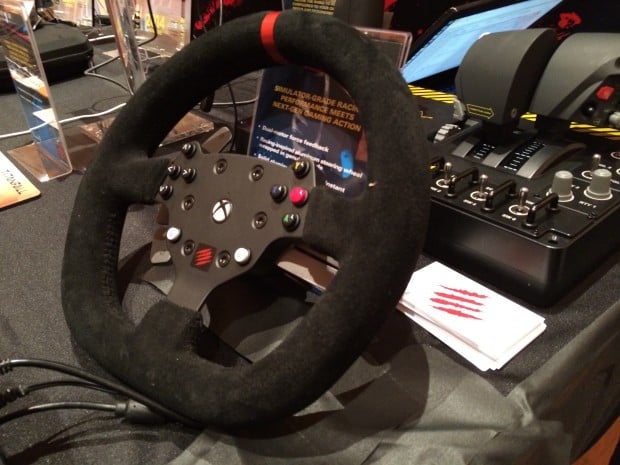 For starter's the Xbox One accessory is completely wireless and includes all the same buttons that users would expect from a stand-alone Xbox One controller, including the updated Xbox One button layout. These buttons enable users to modify settings and more without having to take their hands off the wheel.
The Mad Catz Pro Racing Force Feedback Wheel's most thought-provoking feature might just be the ability for users to switch out the steering wheel itself. Mad Catz says that it'll make extra wheels available on its website when the wheel lunches sometime in February.
Read: Microsoft Showcases Driving Accessories for Xbox One
Users will find that the accessory's support for individualized force feedback gives them the feeling of a real race. That's true even if Forza 5's sometimes overzealous physics engine leaves them in perpetually crashing in-game cars.
Unfortunately, the company isn't yet ready to talk about the final cost of the device. Company representatives were able to confirm that they are aiming for a price tag of around o$300 for a standard version of the Mad Catz Pro Racing Force Feedback Wheel and its included foot pedals.
Representatives also hinted at upcoming support for the PC once Microsoft formally makes accessory drivers available for users to download.